Most adults who use the internet also engage in social media. This makes creating social posts important for most brands, whether you are a business or an influencer. Being able to manage everything from a single dashboard could be key to your success.
In August 2022, Hootsuite was crowned as the top tool for managing social media. It was crowned "Best Overall Social Media Management Platform" at the MarTech Breakthrough Awards.
This post will cover the best features of Hootsuite so that you can decide whether or not this tool may be best for you and your social strategy.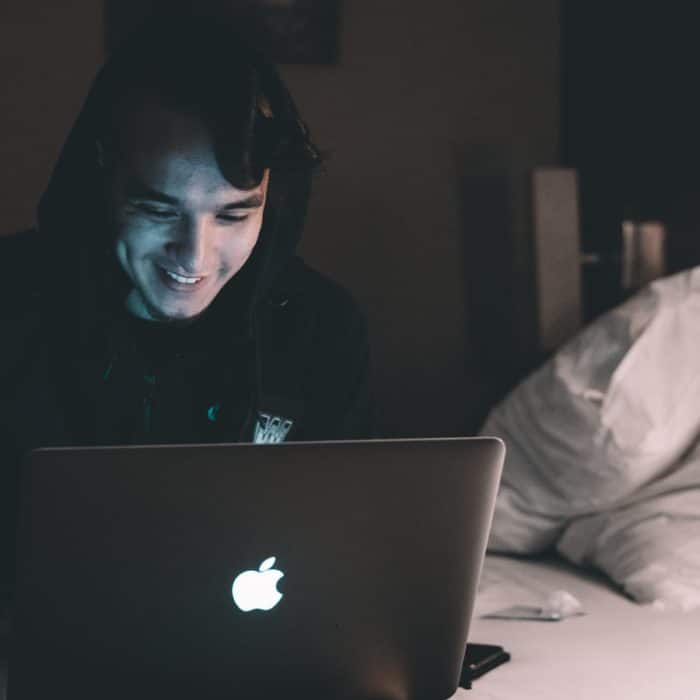 Hootsuite Social Media Management Features
Whether you need to schedule posts or design them, Hootsuite makes it easy for account owners to reach their audience or customers. With the ability to plan both your Twitter feed and your LinkedIn posts at the same time, you are more likely to get the response you want from your efforts.
Manage Multiple Social Media Accounts

Hootsuite allows you to manage several social accounts at once. The platform integrates with over 20 social media platforms, including the major ones: Facebook, Instagram, Twitter, TikTok, YouTube, LinkedIn, Twitter, and Pinterest. You can even connect multiple accounts from the same platform.

The benefit of having multiple social networks connected to one place is that you can quickly plan and schedule social posts across each platform. That way, you can ensure that your content is published at the right time. These strategies will allow you to create campaigns that will meet your objectives, whether you are a solo influencer or a team of professionals.

"Favorite" Your Favorite Social Media Accounts

Hootsuite allows you to star your top social accounts so that you can quickly find and manage them without having to search through your entire list. You are also able to favorite teams so that you can access those quickly as well.

Schedule Social Media Posts For the Future

Being able to schedule posts is a great feature for saving time and ensuring that posts are released at the optimal times to be seen. You can schedule each individually, but you can also bulk-schedule 350 posts simultaneously. At that point, you must quality-check them to ensure they will be released in the way you wish.

Hootsuite also can combine all your social calendars so that you can see everything happening from a single dashboard. You won't have to scroll down a page or move from tab to tab. Instead, you can move things to get the best engagement for your audience.

Post Duplication Across Social Media Channels

Whether you want to duplicate a post on multiple social media accounts or duplicate them to change and repost in the future slightly, Hootsuite makes this aspect of social media marketing a lot easier. You can set up several variations of the same post to publish at scheduled points in the future.

You also can suspend a post before it publishes without having to delete it. That way, if you are still working out details with a sponsor or realize that a post will conflict with another event, you can pause it until a more appropriate time.
Hootsuite Social Media Strategy Features
Hootsuite makes it easy for its users to grow their social networks from a single platform. They offer several advanced features that teams can use to create strong strategies that will maximize growth. These include the following:
Detailed Social Media Analytics

Not only will Hootsuite analytics automatically track many metrics relating to your social profiles, but you can mark specific social posts to track additional data. Whether you are one user with Hootsuite Pro or you take advantage of team assignments with a business plan, you can use these analytics to create better social media content in the future.

Hootsuite also generates customizable reports that will score your social media accounts so that you can create strategies based on the analytics on the site. Having your users follow these helpful suggestions will allow you to see your rankings, score, and analytics improve week over week.

Social Media Listening

Hootsuite will keep track of social media trends and information related to your niche across all social accounts. This will minimize the time you need to spend researching and plotting new campaigns.

Social media teams have utilized social listening to create new campaigns, connect better with an audience, and find the right hashtags for a post.

While social media is global, you can also target different locations to hone your strategy to meet a specific target audience.

Social Media Messages All in One Place

The ability to manage all messages and comments in a single platform makes Hootsuite a great tool. You can respond to a DM on Facebook, then immediately send a joke in response to a comment on Instagram.

Whether you are trying to grow your personal influencer brand or you wish to offer the ultimate customer service, collecting all inbound messages from different networks can save you a lot of time and hassle.

When managing social media, it is often best to put specific engagement and messages in front of different team members. Hootsuite allows you to assign specific comments or DMs to other users on your account to give your customers the attention they need.

Message Templates

You can also make message shortcut templates that will allow you to message people faster and more efficiently. This will allow your customers to get a response in a reasonable amount of time without having to waste more of your own resources.
Hootsuite Post Creation Features
Creating content for your social profiles isn't always easy. Hootsuite makes it easier with some of their post-creation tools. These include the following:
Composer Post Templates

Hootsuite has a content library full of templates that you can use to craft the best post for your social presence. They detail each template with tips and strategies to help you succeed and even provide royalty-free images to make it much easier to publish content.

Hootsuite offers a variety of templates, so you will be able to find something that works specifically with your brand and your overall voice.

Hashtag Recommendations

This social media management tool was designed to help you monitor trends so that you can network successfully and reach your target audience. One of the features that they provide is an in-built hashtag generator.

While you can find hashtag generators or look through lists of trending tags elsewhere, this is one of Hootsuite's advanced features. It is inbuilt straight into your post creator so that it can use its AI to select curated hashtags that will benefit not only that particular post but the account and brand as a whole.
Hootsuite Plug-In and Integration Features
Hootsuite will allow integration with many of the tools you already use, maximizing efficiency and ROI. You can edit posts and messages from Slack or add tools and plugins to ensure that your posts are the best they can be before they are published.
A few of the top options you may be able to take advantage of include the following:
Cloud Sharing Integration

While you can organize your posts in Hootsuite's content library, the platform also integrates with many of the top cloud storage platforms and premium apps. These include the following:

Adobe Creative Cloud
Dropbox
Cloudview
Google Drive

Integrate with Third-party Apps

There are several apps that will allow you to create better content easier. A couple of the most popular apps include the following:

Canva

With Canva integration, you'll be able to quickly access their library of templates or images to add one to your post. You will also be able to view any designs you have previously saved.

Grammarly

Integrating with Grammarly will allow you to check your post's grammar and find better words that drive your message home. This helpful tool can be used for post-creating and responding to incoming messages.

Ad Integration

If you want to manage your ad spend better, you can use Hootsuite's features to enable ads on Instagram, Facebook, and LinkedIn. The platform will keep track of this side of your business and provide valuable information from past campaigns that you can utilize to do better in the future.

You will also be able to quickly create different variations of your ads so that you can duplicate a successful again with a slightly different copy.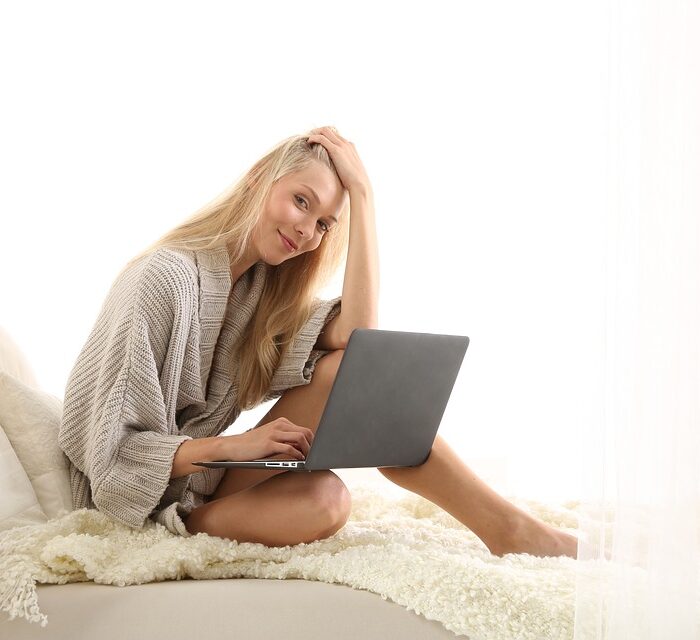 Additional Hootsuite Features
Several other Hootsuite features help people grow their social networks. As with everything, Hootsuite tries to make it easy for you to access these features from one dashboard so that you don't need to use several tools at once.
Vanity URLs

It is no secret that many social media sites have character limits on their posts. Being able to condense your character count is key to maximizing reach, ad spend, and more. People with Hootsuite accounts can take advantage of their vanity URL: ow.ly, to create short links that will redirect to the website of their choice.

Post Collaboration and Social Media Teams

When you have multiple Hootsuite users on the platform, each can go through scheduled posts or collaborate on content before it goes live. Double-check copy to ensure it has its max potential with no spelling errors, or tweak your hashtags to boost posts.

With every team member able to see things, you won't have to worry that things weren't copied over correctly.
Frequently Asked Questions
Does Hootsuite Have a Free Plan?
Hootsuite has a free version available once you go through a free trial of one of the paid plans. Hootsuite's free plan comes with minimal features, such as only adding two social accounts (this could be one of two different platforms, such as Instagram and Facebook, or simply two different Twitter accounts).
How Much Is HootSuite?
Hootsuite has 4 available paid plans. These are as follows: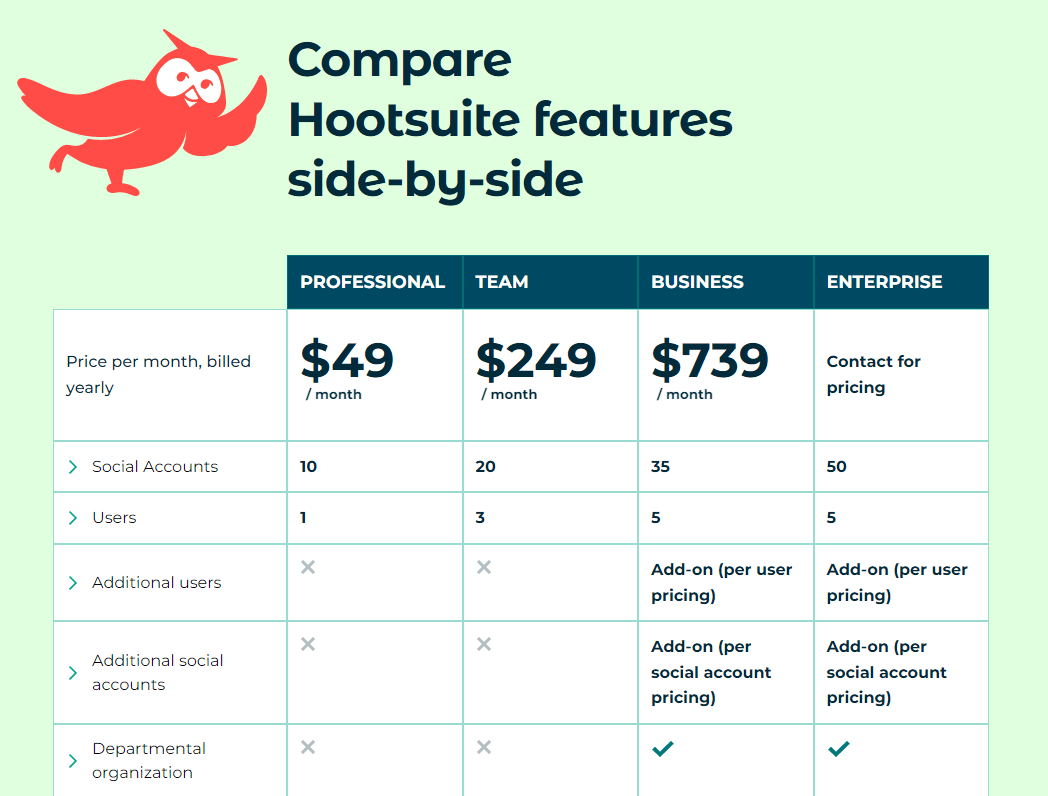 Professional Plan

The plan allows one user to add 10 social media accounts. At the time of this writing, this plan costs $49 per month.

Team Plan

This plan allows up to 3 users and 20 social accounts. It currently starts out at $249 per month.

Business Plan

The business plan allows 5 different users to manage up to 35 social accounts. It currently starts at $739 per month.

Enterprise Plan

This plan is adjustable based on what a business may need to manage. It starts with 5 users and 50 social accounts. Its pricing is based on what is needed and is determined by the sales department.