Although earning on TikTok isn't as big as YouTube, it's still possible for creators to monetize their content in some ways. There's the Creator Fund and of course brand sponsorships. Another way for content creators to earn money is by receiving gifts from fans whenever they are live on the platform.
What are TikTok Coins?
TikTok coins are in-app currency paid by users that they can use to purchase virtual gifts to their favorite creators during a LIVE video. Besides that, users can also buy TikTok coins to purchase other services such as shoutouts and promotions. The TikTok user whom you send gifts which are turned into Diamonds. Once they hit the right amount, they can withdraw their earnings in the form of cash. If you're familiar with virtual currencies used in Twitch to support streamers, TikTok coins are used in a much similar way.
To get TikTok coins, you need to buy them using real money. When sending a gift to other users, however, you will not directly give them coins. Instead, you send them emotes or special emojis. Each emoji has a different corresponding value. For example:
Rose = 1 coin
TikTok = 1 coin
Finger Heart = 5 coins
Money Gun = 500 coins
Record Player = 600 coins
Concert = 2888 coins
Rocket = 20000 coins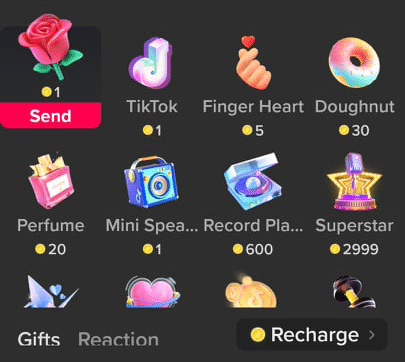 To send virtual gifts such as those above, just tap the gift icon at the bottom of the LIVE video: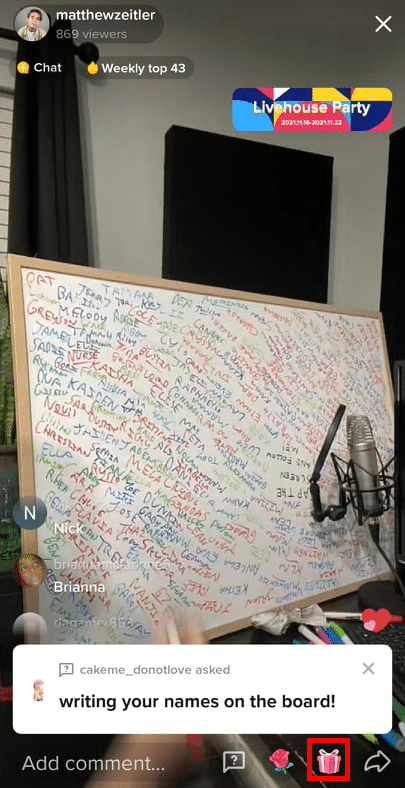 You can also tap the rose icon beside it if you only want to send roses, which costs one coin each. Pressing them longer will make you send multiple rose gifts. Make sure you have enough balance in your TikTok account to be able to send virtual gifts.
Note: You can't gift coins directly to the user, so you must select a virtual gift you want to send them. You can send a gift valued as low as one coin to several thousand coins.
To buy TikTok coins, follow the steps below:
Step 1

Open the TikTok app, and head over to your profile page by tapping the person icon.

Step 2

Tap the three horizontal lines icon on the top right corner of the screen to access Settings and privacy.

Step 3

Select Balance.

Step 4

On the Balance page, you will see the number of coins on TikTok you currently have. Tap Recharge.

Step 5

Select the package you want to purchase. As of 2021, you can buy coins for as little as one dollar. The price of coin packages depends on where you live.

Step 6

Choose a valid payment method. If you use TikTok iOS or Android App, you can pay them through the App Store and Google Play, respectively.

Step 7

Proceed with the purchase. When you return to the Balance page, you will see the number of coins you have.
And you're done! You can now use your coins to buy gifts for other users you support whenever they go LIVE on TikTok.
Alternatively, you can also buy coins on TikTok by tapping the recharge button on the page of the LIVE video. You can find it by pressing the gift icon. A pop-up will appear which lists all the virtual gifts you can send. Near the bottom, tap the button labeled with Recharge or the current coin balance of your TikTok account: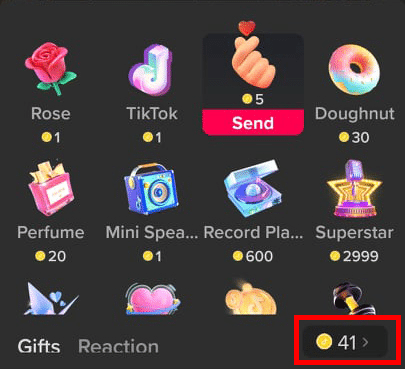 You can proceed to buy TikTok coins the same as above.
You can also buy coins on the desktop version of TikTok. To do this, simply follow these steps:
Step 1

Go to TikTok. Click your profile picture on the top right side of the screen.

Step 2

Select the option Get coins on the drop-down menu.

Step 3

Select a package, click Buy Now, and choose your payment method. If you purchase them through the TikTok website on browser, you will need to provide a credit card.
Can You Get TikTok Coins for Free?
The short answer is no. There is no safe and legitimate way to get TikTok coins without paying real-world money. By searching "free TikTok coins" or "TikTok coin generator", you will perhaps find websites that allegedly give or generates TikTok coins for free. In other words, it's like a sort of cheat that lets you get an unlimited number of coins either by signing up on their site or giving your information.
Furthermore, TikTok states in their Virtual Items Policy that they don't acknowledge coins purchased or acquired outside their app to be legitimate unless there is written consent from them. This means that as of the moment, you can only acquire coins for your account on the TikTok app or website itself. Purchasing or acquiring coins on TikTok through other means or outside the site is prohibited, which can get your account banned.
To be safe, purchase TikTok coins directly from the app itself. Any third-party app or site that claims they can give you free coins might be a scammer or hacker in disguise. This might put your personal data, such as your account and credit card details, in harm's way. There's also no guarantee that these sites can give you free TikTok coins, and you might get scammed or your account hacked without getting something in return.
If you consider hacking into TikTok, keep in mind that there are potential consequences such as getting your account banned. Worse, you can get in trouble with the law.
Plus, it feels so much better to support TikTok content creators by paying for it using real-world money. Giving them gifts coins acquired illegally kind of defeats the purpose of TikTok coins–which is to support creators financially.
Requirements to Get TikTok Coins
There are only two basic requirements to buy coins on TikTok:
You must be 18 years or older
You must have an authorized payment method that is connected to your Google Play or App Store.
The easiest way to buy coins is by using the TikTok app, which needs a Google Play or App Store. Remember to connect a valid payment method to your accounts, such as your credit card or PayPal.
If you're using the desktop version, you need to link your credit card as it's the only payment method accepted as of now.
What if you don't receive your coins or your recharge is suspended?
If you purchased coins and you don't see them reflected on your TikTok wallet, refresh the Balance page first. You can also try closing and re-opening your app, as well as checking if your internet connection is good to see if it's the problem.
If you still can't see your coins after troubleshooting a few times, you should contact TikTok customer support by telling them your issue and sending a full screenshot of your receipt. You can usually find the receipt in the email confirmation sent by either App Store or Google Play detailing your purchase.
Your recharge might also be suspended if TikTok detects unusual transactions on your account. In this case, you can send a message to TikTok support by detailing your problem. Don't worry. Recharge suspensions are usually temporary and you will be able to recharge again after TikTok checks your account.
To access TikTok support, find FAQ at the bottom of the Balance page. Proceed to Other and then send your feedback.