Every Twitter account is linked to a person's email address, and phone number. This is quite risky for a data breach.
In this article, we will answer this question and many more; and we also aim to help you by providing step-by-step guidelines on how to protect your personal data and your Twitter account from being traced and/or stolen.
What Can Twitter See About Your Account?
Of course, you would be curious if Twitter and other users are able to see all the activities on your Twitter account. Well, for starters, the only people who can see your tweets are your followers, that is, if your account is set to private. However, if you opted your account to be public, anyone can see your tweets, retweets, mentions, and other interactions on this social media platform.
As for Twitter, because they have access to your personal Twitter account, they have information about you, such as the following:
IP Address

An IP address is a series of numbers and characters with identifying information of a computer or any mobile device such as an iPhone or Android phone through unique identifier codes that give an approximate location of your device.

Search History

Since Twitter has access and permission to store data and information on your personal Twitter account, it can see your search history. Through this, Twitter can customize user experience and give you a custom-tailored feed based on your search history.

That is why when you type a relevant hashtag or keyword on the search bar, you will notice that you will come across these topics even after you're done with them.

E-mail Address

Because you linked your email address during the signup process, Twitter now has access to your email address. You will receive notifications, verification codes, password reset, and others related to those in your email.

Devices used to access Twitter account

Whenever you use a different device (like a new phone) to open your Twitter account, Twitter will be notified, and you will need to verify the device to make sure that you are indeed the one accessing the application and that your account has not been hacked by a third party.

Phone number

Upon signup, you must also link your phone number to your Twitter account. It's important to note that you cannot attach multiple phone numbers to a single Twitter account, even if your phone has a dual SIM slot. You also cannot use the same phone number for different Twitter accounts. In simple terms, one phone number = one Twitter account.

Direct messages

Unlike WhatsApp, which has end-to-end encryption on chats, Twitter can see your interactions on direct messages: what you send and receive in your inbox.

Tweets

Twitter can see when a person tweets, and any other interactions on Twitter, such as the photos they upload, react to, mentions, etc.
How to Create an Anonymous Twitter Account
There is always the risk of exposure, hacking, and other troubles a Twitter user could face while using this platform. Moreover, if you think about it, it's kind of suspicious why Twitter collects everyone's data, especially direct messages.
Don't worry, though! There are solutions to protect yourself against internet data leaks. You can also create an anonymous account or even accounts on Twitter.
Below are some of the solutions you can look into, as well as step-by-step guidelines on how to utilize them.
Tor Browser
Every website you visit using your devices while connected to your home or any office Wi-Fi network or your phone's data plan can be tracked by your service provider, the authorities, and the website you visited.
Tor browser is a website browser that blocks and bypasses internet censorship through its decentralized network servers. Once you connect your Twitter account to the Tor browser, it will automatically block Twitter's IP address tracking feature. Instead of your real IP address, a series of random Tor server IP addresses will show up, and you will be safe as even the volunteers who run Tor will not be able to know your whereabouts on the internet.
While using a virtual private network (VPN) can be accessed by the authorities through internet surveillance, this isn't the same with Tor.
Just like any web browser, Tor can be used to search any website on the internet. Even so, Tor hides your real IP address by rerouting the internet traffic to the Tor server, thus hiding your true IP address. By using Tor, you can access websites anonymously.
To use the Tor browser, you can download it through https://www.torproject.org/download/
Note: It's better and recommended to use an operating system (such as Qubes) specifically designed to protect anonymity and block any security bugs.
Anonymous E-mail Address
The widely known email addresses are Gmail and Yahoo mail. And while anyone can make an account for free, they must give personally identifying information such as a phone number for account verification, which means they will know your identity.
To create an anonymous email address, it's better to use an email provider to generate anonymous addresses.
Here are some examples of an email provider:
SIGAINT

This email provider is a darknet-only service that requires users to log in using the Tor browser to send and receive emails. Be careful, though, as sketchy ads redirect to darknet websites. Make sure to take the necessary precautions.

RiseUp

This email provider is a technology collective that not only provides email addresses but also VPN, and a mailing list. This provider is free, although you do need an invite code from someone who already has an account on RiseUp.

ProtonMail

This email provider asks for a little bit of information in creating an account; a phone number to be precise. Even though they promise not to store it, you can still never be sure. So for that, you would need an anonymous phone number.
A Burner Phone
As mentioned, some email providers like ProtonMail still require a phone number for verification. That's why buying a burner phone is the way to go. You obviously should not provide your real phone number as it clearly takes away the purpose of creating an anonymous account, so using a burner's phone number can solve this problem.
You can buy a burner phone in most stores on 7/11. It's best to pay in cash when buying it, as well as your pre-paid service. Don't use your credit card to avoid compromise. Also, make sure to buy a burner phone that is a bit far from your area. Since stores have security cameras, it's better to wait a week or two before you start tweeting on your new account, just in case security cameras take that long to overwrite their old footage for new footage.
Because cell towers will connect to your burner phone, don't turn it on or activate it. Instead, go to a public place, such as a coffee shop, before activating your burner phone. Significantly limit your usage and it's best to only use it for verification and nothing else.
Moreover, don't forget to discard your burner phone once you finished verifying your new account.
Creating an Anonymous Twitter Account
Since you've already acquired a phone number and email that are completely unrelated to your identity, you can now create an anonymous Twitter account. Remember that when you do so, you must be using a public Wi-Fi network connection to avoid compromising your IP address. Make sure you use the Tor browser during signup.
You can use any name you can think of for the 'Full Name' of your fake Twitter account. Input your acquired email address from the email provider, and create a strong password. Proceed to type in your burner phone number and click "Call Me". A robot will then call you to dictate a six-digit number for verification. You will then proceed to the next step which is to create a username. You can choose any username as long as it's still available. A few more clicks and you're done!
Once everything is up and going, you can turn off your burner phone and get rid of it.
Best Twitter Privacy Settings for Your Personal Account
Upon creating a Twitter account, the default privacy is set to public. However, you can easily change your privacy settings for your existing account by changing a few settings on Twitter.
Here are the things you can do to secure your Twitter account:
Twitter Website – Audience and Tagging
STEP 1

Open the Twitter browser on your computer and click on "More."

Step 2

Click on "Settings and privacy."

Step 3

Upon clicking settings and privacy, another menu will appear on the right. Click on "Privacy and settings", and then another menu will appear. Choose "Audience and tagging."

Step 4

Check the box that says "Protect your Tweets."

Confirm this change by clicking on the "Protect" button.
Your Tweets
On settings and privacy, check the box that says, "Mark media you Tweet as having material that may be sensitive." Turning this setting on protects other people from seeing sensitive tweets that may trigger something bad for their mental health and protects your Twitter account from getting banned.
You can also edit your audience's reach for your individual tweets. You can opt for either public or only people you follow or follow you will be able to see your tweets.
Direct Messages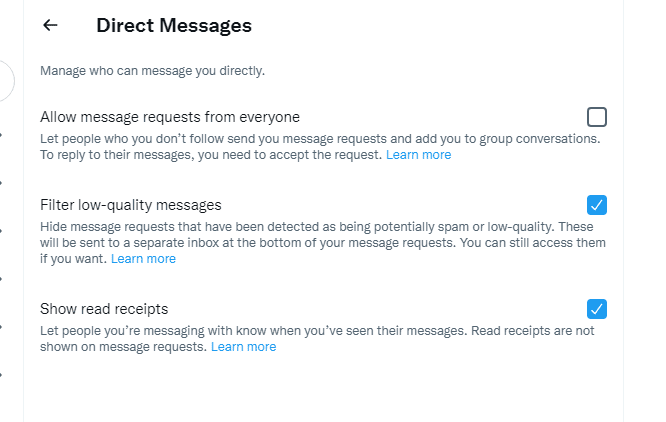 On the direct messages tab, there are three checkboxes you can either on or off. Of course, if you want to increase security and privacy on your Twitter account, it's best to set them accordingly. These are: Allow message requests from everyone, Filter low-quality messages, and Show read receipts.
To increase security and privacy, uncheck Allow message requests from everyone. By doing so, the only people who can send you a direct message would be those whom you follow. In this case, when someone sends you a DM, you would have to accept their direct message request to send a reply.
Two-Factor Authorization
Two-factor authorization keeps your Twitter account from being hacked by a third party. Turning this setting on is always recommended to provide higher security for your account. You can turn this on by going to "Settings and privacy," clicking "Security and account access," and then "Security."
Click on two-factor authentication.
You can choose your mode of two-factor authentication from Text message, Authentication app, and Security key. You can also choose to check them all.