Perhaps you're providing unique material to a select set of individuals, or maybe you'd want to live stream a special event, such as a wedding, to which only family and close friends should have access.
This blog will discuss how to live stream discreetly on your YouTube app.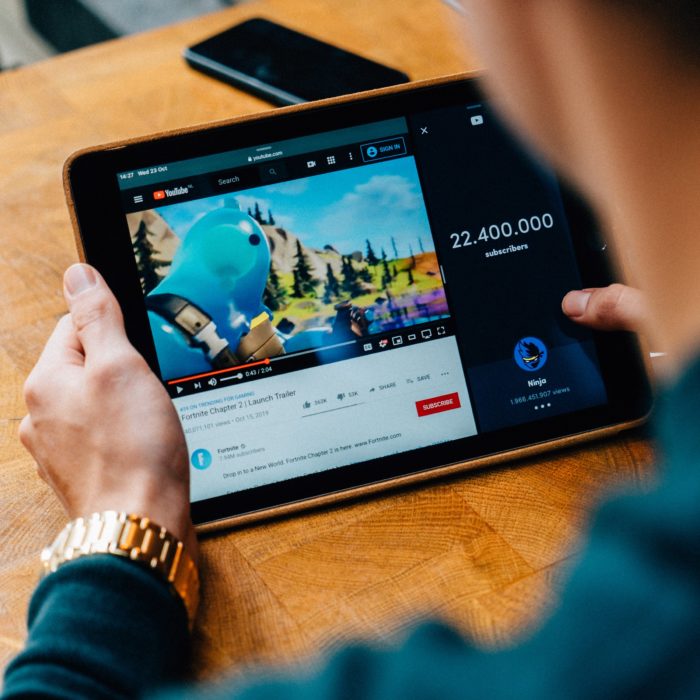 How to Private Live Stream on YouTube
Here's a step-by-step tutorial to hosting a private live stream on YouTube:
step 1- Open YouTube and Select "Go Live"

To begin, launch YouTube on a desktop computer. Then, on the top right corner, click on your profile image. This will launch a menu with two options: "Upload video" and "Go live.

You may post a video to your YouTube channel using the "Upload Video" option. The "Go live" option, on the other hand, enables you to go live on YouTube. To access the YouTube Live Control Room, click "Go Live."

Keep in mind that you can only live stream on YouTube from a desktop computer. If you want to live stream on YouTube from a mobile device, you must have at least 1,000 subscribers.

However, you are not required to live stream on YouTube's desktop version.

Step 2: Click "Right Now," Then "Built-in Webcam"

After clicking "Go Live," you'll be sent to the YouTube Live Control Room. You'll be offered two alternatives in the YouTube Live Control Room: "Right now" and "Later date."

The "Right now" option enables you to live stream right away, but you may double-check your settings before going live. You may plan your stream at a later time by selecting the "Later date" option.

For now, choose "Right now" and click "Start."

After selecting "Right now," you'll be prompted to pick one of the two-stream options:

Built-in webcam: Select this option to stream using your webcam and microphone.

Streaming software: Choose this option if you wish to live broadcast using a streaming program such as OBS.

Select the "Built-in" webcam option to make things easier.

Step 3: Click on the "Edit" Button, Then on "Visibility"

You'll be sent to your live streaming dashboard after you've decided when you want to go live and what sort of stream you want to use.

Your video's details will be shown on your live streaming dashboard (title, category, privacy, etc.). Your stream settings, analytics, and stream health will also be shown.

On the top right of your video's metadata, you'll notice an "Edit" button. To modify the information in your video, click the "Edit" button. You must change your channel's information since it includes the privacy settings for your video.

After clicking the "Edit" button, you'll be sent to the "Details" box, where you may edit the details for your video. The "Details" tab displays your video's title, description, visibility, and other information.

Scroll down to the "Visibility" option. You may adjust who can see your live streaming by using the "Visibility" option. The setting is set to "Public" by default, which means that anybody may view your live stream on YouTube.

Step 4: Choose "Private" and Invite Others Through Email

You have three visibility options to select from: "Private," "Unlisted," and "Public."

Private – This option lets you invite a certain number of individuals to join your live stream through email.
Unlisted – Only individuals who have the stream URL to your live streaming will be able to watch.
Public – Anyone on YouTube may view your live broadcast.

To make your live stream private, choose "Private." Then you must invite people to your live broadcast.

Click "Share privately" to invite people to your live broadcast.

You must invite people to see your private streams after choosing "Share privately." Enter their email addresses in the "Invitees" section to do so.

If you successfully input an email address, an "x" symbol will appear next to it. If you miswrote an email, click the "x" symbol next to it to delete it. Select the " Notify through email " box when you've completed entering all email addresses, select the "Notify through email" box.

When you go live, YouTube will send an email to your invitees. Finally, click "Done" to save your changes.

You've successfully learned how to start a private live stream on YouTube.
Requirements to Live Stream Privately on Your YouTube Channel
It is not as simple as accessing the YouTube page and turning on your webcam to begin a live stream. Before you can start, you'll need to create accounts and get everything validated. Here's a step-by-step guide to getting started.
Signing up on YouTube
To begin live streaming on YouTube, you must first create a personal YouTube account. Many visitors to the website watch videos without ever registering. Starting an account is a simple procedure that can be completed by following the steps below:
step 1

If you don't have a Google Account, create one. This is essential to create a personal YouTube account. You can set up an account by visiting the Google Account creation page and entering your information.

step 2

Launch YouTube.

step 3

Click Sign In in the upper right corner of the screen.

step 4

Select the Google account you want to use.

step 5

Enter your password

Step 6

If this is your first time signing in, you will be asked to enter an address and a recovery email and mobile device. It's optional to provide personal information.

step 7

Continue to the next step while your YouTube app is open.
Verify Your YouTube Account
YouTube does not enable live streaming until your account has been properly verified. This is a simple process that can be done by following the directions below:
step 1

Navigate to your YouTube app.

step 2

In the upper right-hand corner of the screen, click on your profile icon.

step 3

Select YouTube Studio from the dropdown menu.

step 4

Click Settings on the left side of the screen.

step 5

Select Channel from the list on the left.

step 6

Click the Feature Eligibility tab on the right side.

step 7

Look for features that necessitate the use of a phone number. To the right of it, it should say Eligible. If it doesn't, it implies your channel is now under a Community Guidelines Strike.

step 8

Before you can begin live streaming, you must first resolve this issue.

step 9

To the right of the Features that require phone verification, click the dropdown arrow.

step 10

Select Verify Phone Number.

step 11

A page will open in which you will be asked for your nationality and phone number. Fill in the blanks as needed.

step 12

Click the 'Get Code' button.

step 13

Wait for the phone call or text message, then input the verification code that was supplied to you.

step 14

Click the Submit button. Your phone should be verified now.

step 15

YouTube will enable live streaming on your account within 24 hours. You'll be able to broadcast right away after your verification is complete.
It should be noted that the method for enabling live streaming on YouTube mobile is very similar, but there are some additional criteria. They are as follows:
You must have at least 50 subscribers.
Check to see if your channel has had any live streaming limitations imposed on it in the last 90 days.
Check to see whether your channel has been verified.
Your phone's operating system must be at least Android 5.0.
If your subscriber base is fewer than 1,000, your live stream viewer count will be limited, and all live streams in your archive will be set to private by default. To eliminate these limits, you must have at least 1,000 subscribers. Limits on live streams are usually eliminated at least a week after you achieve 1,000 subscribers.
If you go below 1,000 subscribers, the live streaming limits will be reintroduced and will be lifted once you reach 1,000 subscribers again.
Reason for Creating a Private Livestream
Most live streamers want to attract as many people as possible to their streams; however, this isn't always possible depending on the topic they're streaming. When doing private events live stream, the objective is to keep undesired viewers out rather than increase the number of people watching.
We've identified a few distinct instances in which private live streaming makes sense to put this in context.
Paid Virtual Events
You'll want to ensure that all of your live stream viewers have paid the required amount to access your live content, just as with ticketed in-person events. Examples are concerts, shows, lectures, conferences, and other paid virtual events.
Exclusive Content for Fans and Followers Only
Exclusive content should be kept for a small group of individuals, such as your brand's or business's fans or followers. If you have any unique material, be sure that only your targeted audience has access to it. Exclusive content may include anything from a live streaming yoga session for new members to a marketing webinar designed just for blog subscribers.
Events for Family, Friends, or Special Groups in a Private Setting
Your live stream may sometimes be intended solely for certain family members, friends, or other individuals. Because the stuff you'll be live streaming may be private or sensitive, it's only natural to limit watching access to keep the general public out. Examples are weddings, funerals, graduations, holiday celebrations, and other private events.