Do you want to know how to create awesome transition effects for your TikTok videos? With a bit of knowledge and imagination, you will be able to do those fantastic transition effects you've seen on other users' videos in no time, even as an absolute beginner.
In this article, I will explain how you can add your own transitions to your TikTok videos, and more, so keep reading!
How to Set up TikTok Transitions
Music and video filters aren't the only ways you can make fantastic videos on TikTok. Video transitions can also play a great part in making a TikTok viral. Believe it or not, learning how to create transitions can help improve your TikTok videos by leaps and bounds.
But what exactly are video transitions?
Video transitions are effects in motion graphics that connect one video clip to the next one. This is used to signal to the audience that the video is moving from one shot to another, without disrupting the flow of viewing. Essentially, the end of the first clip should synchronize well with the second one, the second one to the third, and so on, for the whole video to flow smoothly.
Before TikTok became super popular, transitions can only be achieved using video editors, and for beginners, this could take a lot of time. But then, thanks to the app's in-built video editor, this can be done by virtually anyone and in just a matter of minutes.
How do you do transitions on TikTok?
There are three ways you can add transitions while editing TikTok videos:
With the use of TikTok's own transition effects
By using your phone camera's timer and employing shooting techniques
Via third-party apps and tools
You might find one of these easier than the others, but you can also combine these techniques to make your videos even more awesome.
But before that, let's discuss each of the three ways you can add TikTok transitions to your video clips.
Using TikTok Transition Effects
To add transitions to your own videos, do the following:
step 1

Launch TikTok on your mobile device.

step 2

Tap the plus icon (+) at the bottom center to create or upload a new video.

step 3

Here, you can either record a new video by tapping the red button in the middle or upload a new one by browsing your gallery.

If you created a new video, tap the checkmark icon after you finished recording.

If you uploaded a video from your gallery, tap next.

step 4

On the video editing page, you can see all the available options you can use to enhance your videos. Look for the "Effect" option, which can be found on the right menu of the editing page.

step 5

Now, you will be taken to the "Effects" page. Swipe the bottom tabs until you find the "Transition" tab.

step 6

Choose from the 10+ effects in this category. Tap on the desired transition effect to add.

Note: You can add multiple transitions to a single video. Just tap the transition effect on the specific timeframe you want it to occur. Repeat the action to add more.

You can adjust the vertical white bar anywhere on the video's timeline to place the transition. You can also use it to play the video at a specific time, in case you want to review the effect.

Just tap the back arrow button to undo a transition.

step 7

After you're done adding transitions, hit "Save" at the top right corner.

step 8

Add effects, filters, sounds, and others to your video.

step 9

Once you're satisfied with the results, tap "Next".

step 10

Write your post's description, add other necessary info such as locations and tags, and then tap "Post" to publish it.

Alternatively, you can also press "Drafts" if you're not ready to show your video to the world. You can always edit videos on your drafts folder later, and of course, add or remove transitions if you wish.

That's how to add a transition effect on TikTok. Easy-peasy, right?
Using the Timer Function and Shooting Techniques
Another way to add transitions on TikTok is by the use of physical transitions. What does this mean? Instead of fully relying on software-based transitions, you use shooting techniques to do them.
Ever since the dawn of TikTok, many popular content creators have employed these techniques for this video. Remember what we talked about earlier about how transitions are used to make shifting between takes look smooth and professionally done?
Well, here's a good rule of thumb to remember when doing transitions, especially if you're using shooting techniques: the end of the first video should synchronize with the start of the second one.
So, if you ended the first video looking sideways, you should begin the next video in the same position. And if you're jumping at the end of the first take, you should perform this very same action when you start recording again.
To be able to achieve this, follow the steps below:
step 1

Open the TikTok app.

step 2

Tap the plus icon (+) on the bottom center.

step 3

Here, you can choose to record or upload a video. But for this tutorial, we will be recording a new video instead.

step 4

Before you start recording, plan what type of shooting technique you are going to employ in your video. There are several ways you can do this, which I will talk about more in the section "Best Tips for Using Transitions" below.

One of the most used transition techniques on TikTok is the Hand Cover/Swipe. For example, at the end of your first clip, you put your hand over the camera. Then you either stop recording or pause the video while you change your clothes or makeup. After that, you resume filming by putting your hand again on the camera and then revealing your new look.

step 5

Start recording.

During recording, you can pause the clip by tapping the red button in the middle. This allows you to change anything between takes, such as background, scenes, and clothes. You can pause as many times as you want as long as it is within the specified duration of the video.

A good way to make transitions during recording is to use the timer function.

This allows you to prepare for the next scene while the timer is on. You can choose between a 3-second or 10-second timer for your video.

step 6

Once you're done recording, you will be redirected to the next page where the editing tools are present. Here, you can add sound, filters, and effects.

Tip: You can also take advantage of TikTok's transition effects as we did in the previous guide. To access it again, just tap on the "Effects" option. You can refer to our guide above for a more in-depth tutorial.

step 7

Tap "Next".

step 8

Write your post's description, add hashtags, and mention your friends. Then, hit "Post" to upload. Or just tap "Drafts" if you want to save it for now and make more edits later.
Applying transition effects using 3rd-party apps
Of course, if you want to use more advanced transition effects for your videos, you can go beyond TikTok. There are plenty of third-party tools and apps you can use to edit your videos.
Here are some of the best ones:
iOS
LumaFusion
Quik for Mobile
iMovie
Android
KineMaster
FilmoraGo
ViaMaker
PC
Windows Movie Maker
Adobe Premiere Pro
Wondershare Filmora
Where to Find Transtions for TikTok
It's easy to find the transition effects on the TikTok app's editing tools. On TikTok's editing screen, just find the "Effects" option, and then swipe to the "Transitions" tab. Here, you can find many effects that you can use for your videos.
However, if you want to find transition ideas on TikTok that content creators use, here are the best places to find them:
Type "transitions" in the TikTok search bar. Once you do, all the top videos using cool transitions will show up.
Tap the "hashtags" of the transitions being used on a video post. Sometimes, the content creator of a video includes hashtags like #transitions, #transitionideas, #transitionschallenge, #transitionstutorial, and others on their video. There's actually a tab for it in the search results, too, so just swipe there to view the trending transition hashtags.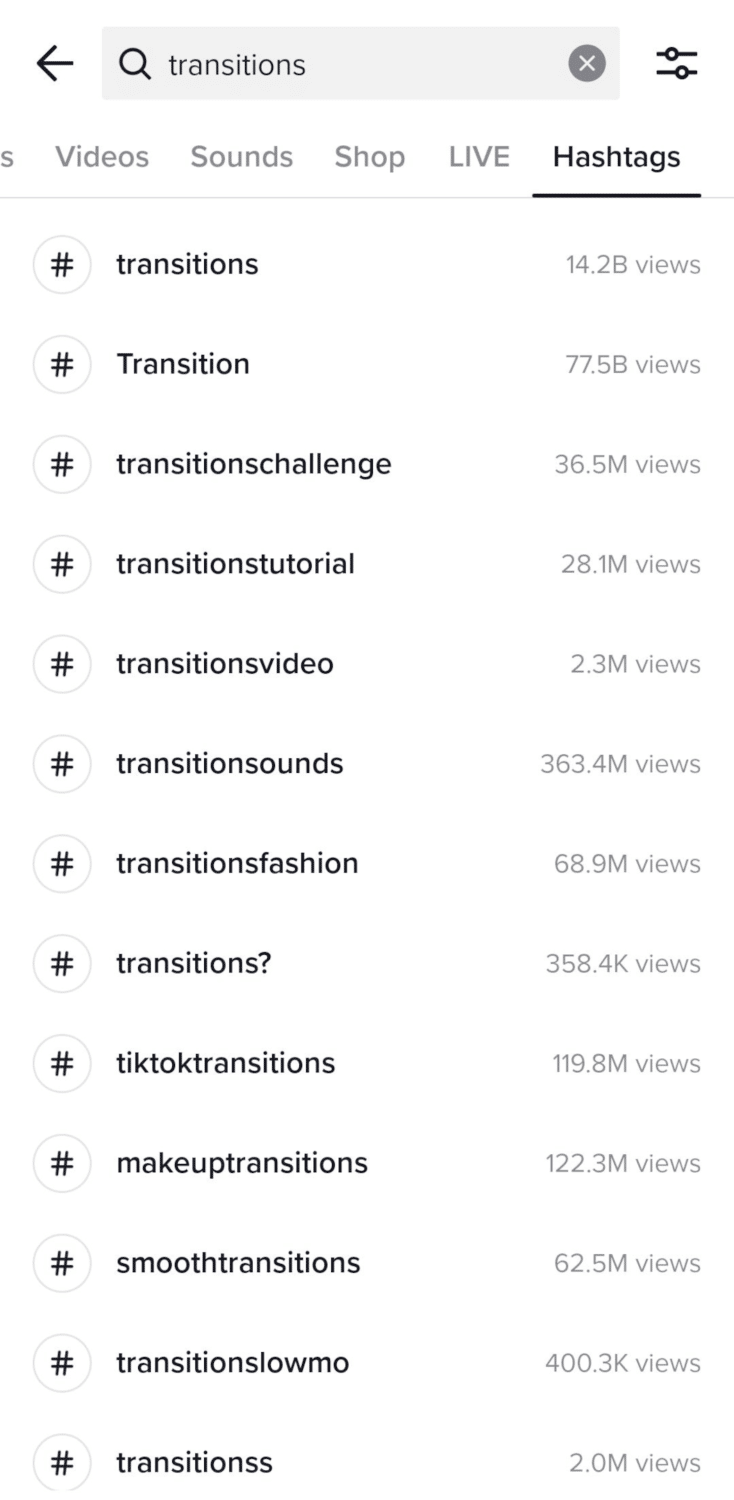 There you go! A lot of content creators take inspiration from other TikTok users' videos to do their transitions or even create new trends. Watch and observe how they did the transitions, which are usually created through a combination of shooting techniques and special effects.
Best Tips for Using Transitions
Using TikTok's transition effect is easy, but mastering them could take some time.
Here are some tips for using TikTok transitions:
Learn About Different Shooting and Physical Transition Techniques

Over the years, creators have used a wide variety of shooting techniques to serve as a transition effect for their videos. Here are some of the best ones:

The Hand Cover/Hand Swipe. This one's certainly a classic, and it's easy to achieve, too. Just use your hand to cover the camera when the first clip ends, and then start the second clip with your hand covering the camera. Then, remove your hand this time to reveal the change in makeup or clothes.
The Jump. Jumping is also one of the most popular transition techniques. It can be used to reveal a new look or change the scenery. For example, you're uploading a video of you going on a trip. The end of the first clip could be you jumping in your room, and then the start of the next clip would be you jumping on the beach.
The Spin. This transition can also be used for any TikTok theme, including travel videos. You can spin around while in the background the scenery of the place changes.
Zoom In/Zoom Out. Basically, this means zooming in on yourself (or an object) as the first clip ends and then zooming out when the second one begins.
The Finger Snap/Hand Clap. Snap your fingers or clap your hands every time you transition into a new clip. This can be great for TikTok reels that tell a story or showcase something, like an outfit change.
The Head Turn. This one is probably one of the most popular transitions that people use on the platform because of how cool it looks. Tilting your head from one side, and then to another can be used as a transition. This is a fantastic technique to use, especially when revealing a different look of yourself.
With the use of props. Using clothes or other objects as a transition method is still quite popular on TikTok. One example of this is removing an item of clothing (such as a hat) and swiping it in front of the camera as you change the scenery or look for the second part of the clip.

Use Multiple Transitions In A Row

You can use up to three transitions in succession to make your video more dynamic and engaging. For example, you can do one longer transition, followed by two shorter ones.

Take Inspiration From Other Creators

Observe how other creators use transitions for their own videos. There are plenty of transition tutorials on TikTok that will teach you how to make these trendy transitions yourself.

Combine Shooting Techniques and Special Effects to Create Cool Transitions

One way to create amazing transitions is to combine shooting techniques with special effects. Play around with TikTok's special effects features and combine them with the transition techniques you've learned above to produce great content.

Trial and Error

As I've said, knowing how to use transition effects and mastering them can be two different things.

However, don't let that stop you from using transitions. Mastering it is a matter of trial and error. Even experienced TikTok influencers learn new transition techniques and may have spent a lot of time perfecting their video. Keep on experimenting using different transition techniques and effects, and soon enough you'll become a pro!