This error message can be quite a head-scratcher for many, but fortunately, there are easy ways you can resolve this issue. In this article, we'll be discussing what this error means and how you can fix this. Let's begin.
What Does "Not Eligible" on TikTok Mean?
"Sorry, looks like you're not eligible for TikTok… But thanks for checking us out!"
You might have encountered this error while attempting to create a TikTok account. But why does this happen?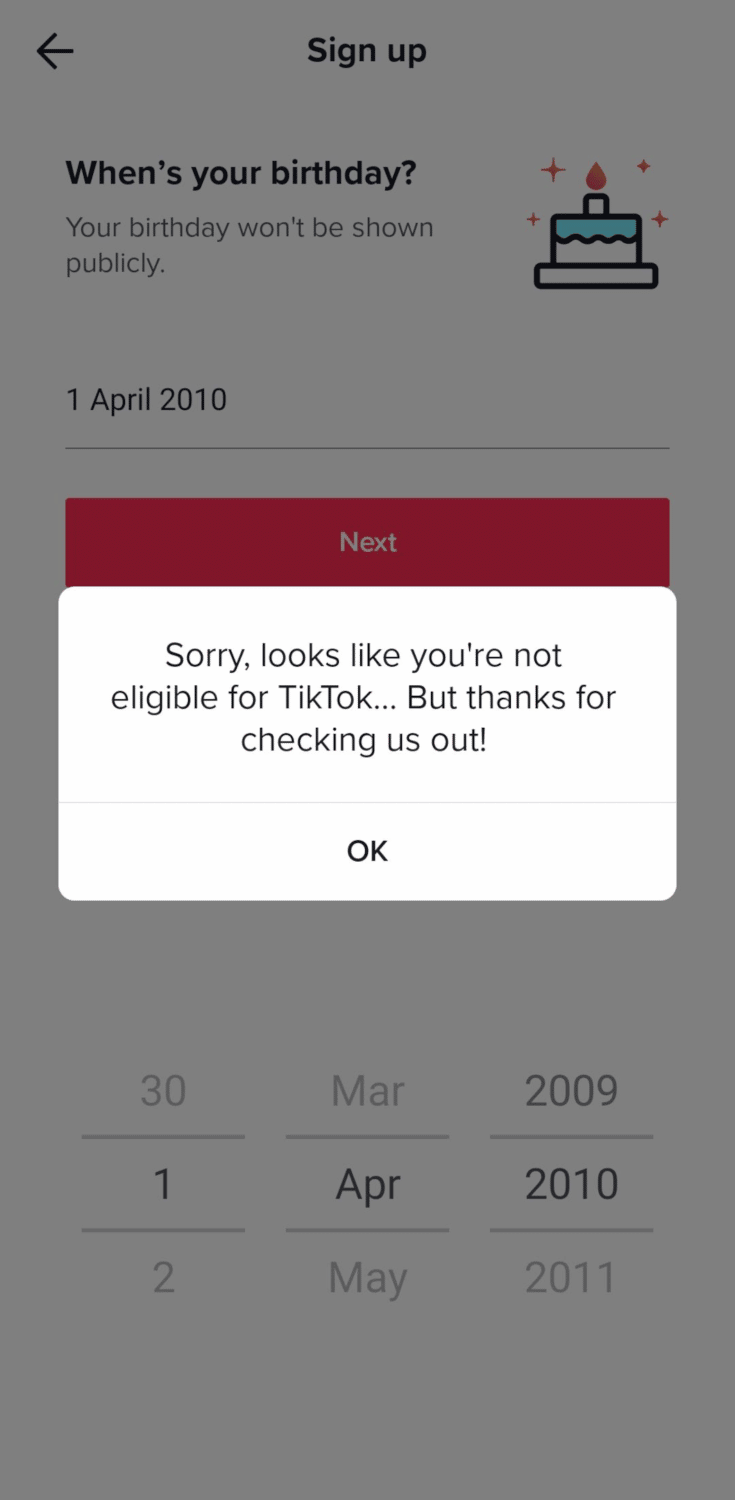 TikTok is a social media app for users 13 years old and older. Therefore, if you are not of eligible age, you will likely get this error.
Why do you have to be 13 to have TikTok?
On their Community Guidelines page, TikTok has stated that the minimum age requirement for TikTok users must be at least 13 years old. In other words, anyone who's 12 years old and under can't set up an account on the TikTok app and join the community.
This is true in many parts of the world. However, there are a few exceptions. In South Korea and Indonesia, for example, you need to be at least 14 years old to be able to create an account (instead of 13). Meanwhile, you can create an account in the United States, but it will immediately be set to private. You can view videos and like them, but other features won't be accessible to you.
These guidelines are implemented to protect very young users from inappropriate content they might see on the app. Other than that, TikTok is also quite known for privacy and harassment issues, mostly coming from other users on the platform. This is why TikTok has set the required age limit for users to 13 years old, while several features such as DMs aren't even accessible to users below 16, and gift-receiving isn't also available for those who are under 18.
If you are below 13, perhaps the best thing to do is to wait a few years until you are eligible to join the app because it's for your safety anyway.
TikTok Says I'm Not Eligible When I'm Over 13
Are you still getting this error even though you're more than 13 years old? There may be other reasons why you're still receiving the eligible error on TikTok despite meeting the required age upon signing up. Here are some of them:
You have double accounts.

You might encounter problems upon signing up on TikTok if your email or phone number has already been used in another TikTok account. Do note that only one account can be set up per phone number or email. Try signing up using another phone number or email instead.

There are issues upon signing up.

Various problems, such as verification issues, can occur when you create an account. TikTok might have difficulty verifying your age or credentials, which is why this error message appears. Sign up again or clear your app's cache to address this issue. Refer to the section below on how to clear your app's cache for more info.

Your TikTok app is out of date.

There's a reason why TikTok recommends you to update your app regularly: it's because they've been trying to fix bugs and glitches in the previous versions, which may affect your experience using the app. Make sure to update your app on the Google Play Store or iOS App Store when necessary. If this still doesn't work, try uninstalling and then reinstalling the app.
However, the primary reason you are getting this error message is that you've entered a birthday that hasn't met TikTok's age limit requirements. Check again to see if you entered the correct date of birth, especially the year, because that's how TikTok will know if you're within the age limit.
If that still doesn't work, and you're certain you've met TikTok's age requirements, not to worry. There are several things you can do to fix them.
How to Fix TikTok "Not Eligible"
If you are having issues signing up on the TikTok app, then maybe try creating an account on the TikTok website instead. Through the desktop version, you might be able to sign up way easier than using your iPhone or Android phone.
Here's how:
Step 2

Click the log-in button on the top right part of the screen.

Step 3

Instead of logging in, find the sign-up button below in pink.

Step 4

Select "Sign up using phone or email".

Step 5

Enter your birth date as well as other personal info like email and password.

Step 6

Scroll down to find the option to "Send code".

Step 7

Open your email on a new tab, then find the one from TikTok that contains your verification code.

Step 8

Go back to the TikTok page, enter the code, and then click "Next".

Step 9

Enter your new username and then click "Sign up".
You now have successfully created a new TikTok account.
Just remember, though, that you still need to meet TikTok's age requirement and your birthday should fall on an eligible date to be able to sign up.
Another solution you can try is to clear your TikTok app cache. A cluttered cache might be one of the reasons this error keeps popping up even if you entered an eligible birth date. To resolve this, you must clear the app's cache, whether you're using an Android, iPhone, or iPad device. Follow these steps:
step 1

Launch TikTok by tapping the TikTok app icon on your phone's home screen.

Step 2

Tap the person or "Me" icon.

Step 3

Select the hamburger icon on the top right corner.

Step 4

Choose "Settings and privacy".

Step 5

Scroll down to find "Free up space", under "Cache and cellular data".

Step 6

Press the clear button beside the cache.

Step 7

Confirm by tapping "Clear" on the pop-up menu.
And that's it! You can both do this on your Android phone and iOS device.
If you have an Android device, you can also clear the cache by going to your phone's settings and finding the app info of TikTok. There, you will find the option to clear the cache.
Hopefully, through this, you won't encounter the eligible error on TikTok anymore. But if it still shows up, try uninstalling and reinstalling the app. Also, make sure to update the latest version of the app to avoid experiencing the eligible error on TikTok, as more recent updates may have already fixed these bugs.
Requirements to Be Eligible for TikTok
Before you can join TikTok, there are a few requirements you need to meet. Here are some of them:
Age.

As I've already said, TikTok requires its users to be aged 13 and above. The main reason people get the eligible error on TikTok is that they entered a birth date that doesn't yet meet the minimum. TikTok encourages its users to enter their correct date of birth. Unfortunately, even if you try to enter a different birth date, TikTok actively bans accounts that they believe to be owned by a user who's below the age limit.

Location.

TikTok is banned in some countries in the world, such as China and India. You can use VPN tools and apps to bypass these restrictions and connect to another country's server.
If you have met these requirements and yet you still get this error, send an error report to TikTok using the app. To do this, go to Profile > Settings and privacy > Report a problem > Tap the pen and pad icon on the upper right corner. Follow the on-screen instructions and then wait for TikTok's support team to get back to you.