Suppose you need to manage a lot of social media content. In that case, you may have realized that premium apps can help you save time and effort by allowing you to create a post ahead of time, respond to all incoming messages in one place, and keep track of your schedule and analytics. The more social accounts you use, the more difficult it can be without extra features.
While a free plan won't work for larger companies who need multiple team assignments, you may find that the extra assistance you get from a free plan may give you just enough flexibility to manage your posts and build your social network.
This post will cover whether or not Hootsuite has a free plan, how you can use it, and what it offers.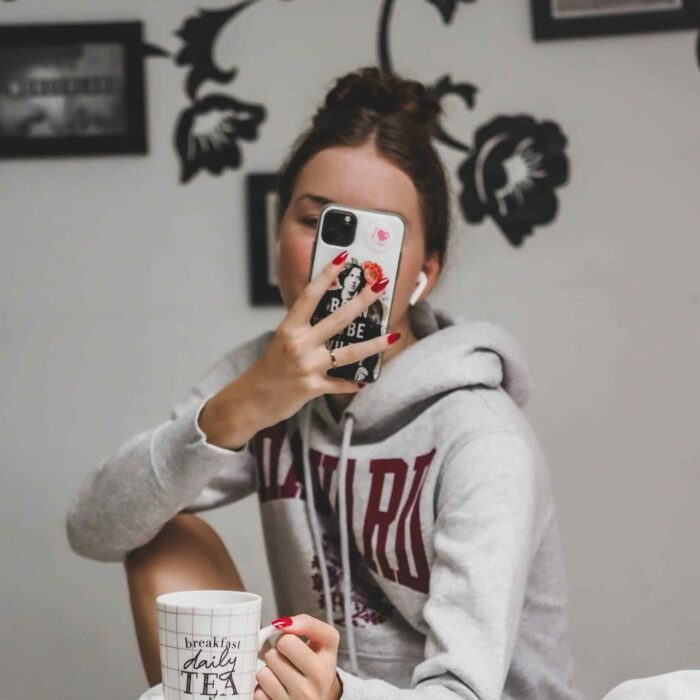 Does Hootsuite Have a Free Plan?
While Hootsuite pricing is clear if you want a paid plan, you won't be able to find information about their free plan on their pricing page. Unfortunately, you do have to do a little digging to discover their hidden plan, which is only available after you go through a free trial of Hootsuite Pro.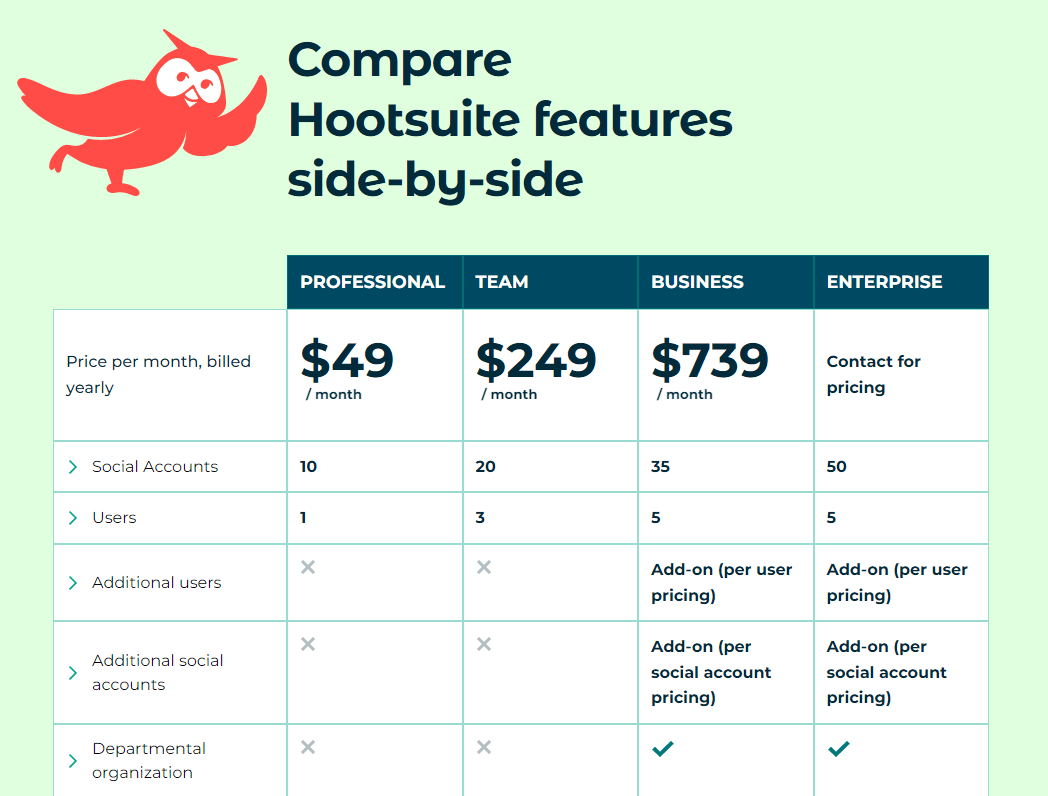 There are 4 plans listed on Hootsuite's pricing page, all of which are paid. Currently, the professional plan starts at $49 per month, the team plan starts at $249, and the business plan starts at $739. You will need to contact the company to learn the pricing for enterprise plans. No free version or annual billing option is posted.
That being said, influencers will be happy to know that a free plan will help you manage your social media presence. You will notice several limitations the first time you log in to your free Hootsuite dashboard after downgrading from your free trial.
Hootsuite Free Plan Features
That being said, if you do want to take advantage of their free plan, you will find that Hootsuite offers the following features:
One User

If you want to add multiple users for team collaboration, you will have to look elsewhere (or sign up for the team plan on Hootsuite, starting at $249 per month). The cheapest plan (Hootsuite Professional) is limited to 1 user, whereas team plans allow 3 team members to manage your social media accounts.

Two Social Media Accounts

Currently, the free plan lets you connect to two of your social media accounts. They used to allow three social accounts, but they currently limit your access to two. This means you will need to remove an account if you want to start posting on a different one.

5 Scheduled Posts

While you can schedule unlimited posts with any of their paid plans, you will be limited to 5 scheduled posts on the free version. This means you will need to sign in to the account more often or look for Hootsuite alternatives with a more lucrative free plan.

Analytics

While you can see some analytics, it is limited to the free plan. That being said, there are many other online tools that allow you to see information about your accounts and social network.
You will not be able to access the content library, approve messages, or choose a custom-branded URL with a free plan.
How to Get the Free Plan on Hootsuite
To Use Hootsuite for free, you will first need to sign up for a 30-day free trial of one of the paid plans (either the professional plan or the team plan). Unfortunately, you must add your credit/debit card information to the platform to sign up.
You will then be able to add your social media profiles to the account (remember that you will need to remove some once you move to the free option).
At the end of 30 days of bliss, you will need to downgrade to the free plan from your member settings. Set a notification on your phone or write it on your calendar, so you don't forget.
You will then need to strategize how to use the service to plan your social media or use your social inbox. While it isn't fun to use multiple platforms, if you are short on cash, this method should work.
This plan will not work for large businesses that need to manage many social profiles. They will need to look at the business or enterprise plan for the best value for their needs.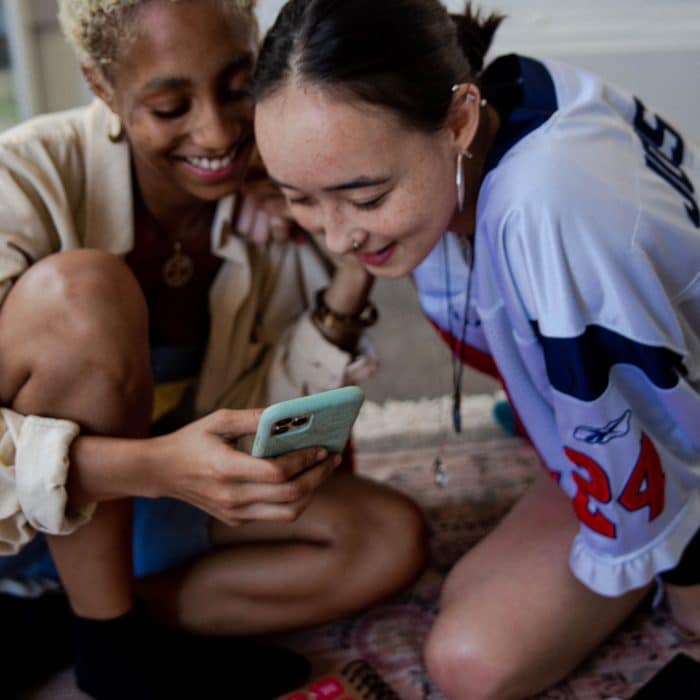 Frequently Asked Questions
Is the Hootsuite Free Plan Worth It?
The Hootsuite free plan is very limited, and you may find a better free one or one you can afford elsewhere. The platform is well known and uses much of its focus on increasing the value of its paid plans.
Due to allocating those resources elsewhere, you won't be able to have access to their live chat support or other features paid users will have.
However, if you know you want to use Hootsuite in the future or you don't schedule many posts in advance, taking advantage of their free account may be the best option for you.
How Many Social Media Accounts Can You Use on Hootsuite Free Plan?
You can add two social media accounts to Hootsuite's free plan. If you want to add a different management platform, you will need to remove one of your other accounts from Hootsuite.
How Many Scheduled Posts Can You Set Up on Hootsuite Free Plan?
Hootsuite's free plan limits you to 5 scheduled posts across all social accounts. While you can budget these social media posts in any way, you wish, forgoing the Hootsuite cost may mean that you need to log in to schedule posts more often.
Hootsuite connects with over 20 social media platforms, including Twitter, TikTok, Instagram, LinkedIn, YouTube, and Facebook. If you try to manage a post on two social accounts a day through a free plan, you will need to re-schedule posts every other day.
Can You See Hootsuite Analytics on Their Free Plan?
You will have access to some of your analytics through the free plan. While it may be limited, you can see how some of your posts are faring, whether you use it for LinkedIn, Twitter, or Facebook.
How Much Does Hootsuite Cost?
The Professional Plan is the cheapest plan on Hootsuite at the time of this writing. It starts out at $49 USD per month. They periodically will host sales or promotions that will give you a percentage off.