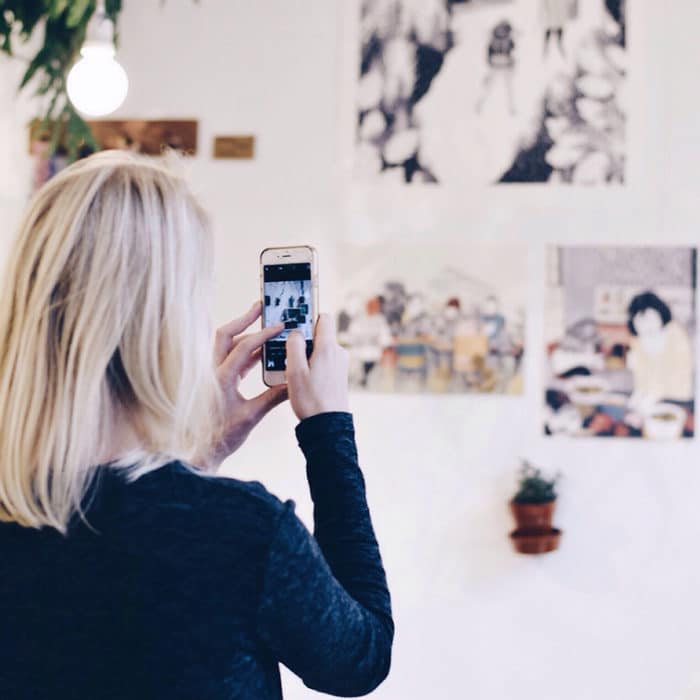 How to Grow Your Art Instagram Account
Once you have created your art Instagram account, it's time to set it up for success. Here's how:
START STRONG
Pick the perfect username

First, choose a username that's fairly easy to read (avoid too many numbers and special characters) and relates somehow to your work or art style. You can use your actual name (like @coreyegbert), include "artsy" words (i.e. @fire_rat_art), or state what you usually create (@thedancingcatart). There is not a rule for this and you can go in whatever direction you feel!

Complete your profile

Your Instagram account should have a finished, well-rounded look to attract new followers. Pick a nice, clear image for your profile picture that represents your brand or style, write a clean and informative bio including keywords that relate to your work. Lastly, add a link for your shop, portfolio, linktree, or another relevant website.
Related articles: Best Bio for Instagram – How to Write One | How to Add a Link to an Instagram Account
Find similar accounts

The key to growing your Instagram account from the get-go is to enter your art community on Instagram. Not only you'll be sharing inspiration, tips, and experiences, you'll also be sharing a target audience. For that reason, you must follow and engage with similar accounts, making yourself visible to the Instagram algorithm as part of the club. Feel free to follow accounts outside of your niche as well to mix up your dashboard a little bit!

Check the suggested accounts

Every once in a while, check what Instagram selected for your "discover people" tab. There will be the accounts the algorithm believes to be similar or relevant to yours. Likewise, your profile most likely shows up to the same people. You'll probably find fellow artists, art fans, and art-related accounts in this list. The more people you follow, the better tailored this target audience will be to your profile.
Tip: To see your suggested accounts, go to your own page and click the three dots on the upper-right side. Next, tap "discover people" to display the list.
A little help from your friends

When you have just started posting, friends and family are your first #1 fans. People who truly know and admire you are usually keen to engage with your posts and to spread your content. Let your friends know you have a new art Instagram account, connect your friend list to your new profile and maybe even advertise it on your personal account and other social media platforms. While real-life friends are a smaller community that can hardly make your profile famous by itself, they provide organic follower growth and – most importantly – support!
KEEP IT GOING
Your account is up, it is looking great and your first followers are starting to arrive. Now you need to keep up the momentum and build a steadily growing follower base. Here are some great tips:
Posting schedule

The word here is consistency. While there is not a set number of times you should post to gain more Instagram followers, you should aim for a steady flow of posts, ranging from once every other day to 3 times a day – try aiming for 2 good quality daily posts. You have to post regularly to get engagement, and the more consistently you show your presence on the platform – especially early on – the best are your chances to snatch the right followers. To save time, you can edit in bulk and schedule your posts for later.

Take good pictures

If you make physical art – such as drawing or sculpting, the quality of the pictures you post will directly affect how your followers perceive your creations. Even amazing art that takes you hours to make can be shadowed by low-quality pictures or poor lighting! Prioritize photographing your pieces during the day, with clear backgrounds and diffuse light for the best results. When unsure on how to take better photos, try scouting other artists' posts for inspiration!

Edit before posting

Whether you make traditional or digital art, every picture can benefit from a little beauty treatment before posting. Instagram allows you to do some basic edits, such as cutting and changing the light, saturation, or contrast – which alone can make the end result so much more appealing. Before making a new post, experiment with different settings on every picture to check what could make it perfect. If you're feeling fancier, there are plenty of photo editing tools for PCs and mobile devices, paid and free downloads alike. Here's a blog post on the best apps for editing Instagram pictures.

Engage with your followers

Do your best to talk with your followers – since Instagram only displays posts on your feed from people you usually engage with, it is in your best interest to keep your followers around! Always reply to comments and direct messages, especially in the first hour after posting something. Not only you'll raise your chances of featuring on the explore page, but you'll also create bonds with people that admire your art. When possible, also visit their profiles and show some love to their creations as well!

Don't be a perfectionist

It's not news that we're always our harshest critics. However, not every work will be a masterpiece, and sometimes done is better than perfect! Even if you're not completely happy with your results, share them anyway. Most followers will be happy to look at the stuff you make and watch your growth and progress over time.

The power of #hashtags

The right hashtags can make it or break it for your Instagram profile. While the Instagram algorithm uses them to know who to show your post to, a lot of people also follow hashtags to discover more art. That being, you should always use hashtags on your regular posts, either writing them on the caption or in a separate comment. Aim for at least 11 hashtags, ranging from less to more specific ones. You can use your notes app to best organize and keep track of what's working for you! Here's how to use the

Related Articles: Most Popular Instagram Hashtags | Best Instagram Hashtag Generators

Go behind the scenes

People have a natural fascination for how things are made! You can take a break from posting full pieces by exploring the other aspects of creating art: show pictures of your art corner, post short videos with details of your pieces, make work-in-progress posts, compilations, time-lapses or talk about yourself.
MAKE A PROFIT
If you own an art business or you're selling your pieces, you should definitely use Instagram as a way to improve your sales.
Sell through Instagram

With the new Instagram shopping tools, you can put link your products for purchasing directly from inside the app.

Link your products

When editing your profile, use the "website" space to display links for your Etsy shop, Patreon, other sales platforms, or your own website.

Keep it simple

Make purchases easier by giving people simple instructions and intuitive links on how to buy your things.

Swipe up

After hitting 10k followers, you can start using the swipe-up feature on your stories to direct people to your products! Here's how.

Analyze

When you activate the business account mode for your Instagram account, you can access Instagram analytics for individual posts and Instagram stories. Use that feature to learn what is working best for your content and business profit.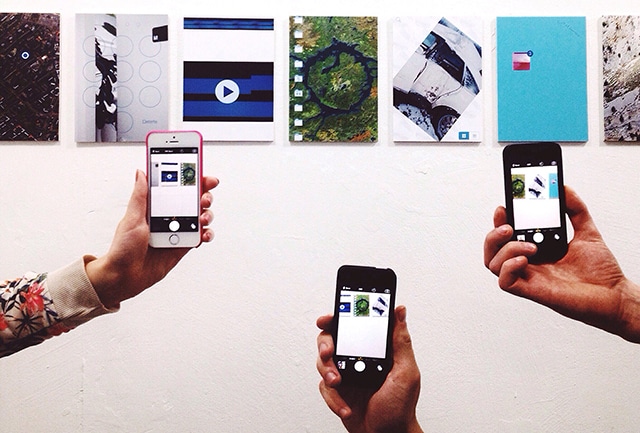 How to Attract Instagram Followers for Your Art Instagram
As an artist on Instagram, there are multiple strategies you can experiment with to lure more followers to your account. Try out some of them and find out what works best for your type of content:
Challenges: Bigger art Instagram accounts sometimes release challenges or collaborations in a way to promote their profile, as well as smaller creators at the same time. Examples are DTIYS or redraw challenges, where different artists remake the same concept in their own style, promoting each other accounts and directing followers in both directions. Browse your fellow artists' pages and try out a new challenge!
Fandoms: If you're a big fan of a particular TV show, movie, game or book, you can fish followers with similar interests by creating fandom art. When doing so, make sure to use plenty of hashtags that relate to the work you're referencing.
Engage in #artistsupport posts: Daily, many artists with medium-big audiences host Artist Support "hubs". The premise is to create a post where followers can introduce themselves or other creators in the comments, getting to know new artists they wouldn't otherwise see. To find an Artist Support Instagram post, be on the lookout on your Instagram feed, or search for the hashtags #artistsupport, #artistsupportpost and #artistsupportingartist on Instagram.
Social media: If you have accounts on social media platforms other than Instagram, you should use them as a marketing opportunity for your Instagram posts. Pinterest, Reddit and Twitter, for example, are known for hosting a large art community. If you have a good amount of followers on your personal accounts, consider mentioning your Instagram art business there as well!
Do a giveaway: Giveaways are an easy way to quickly get people who are interested in your art products to start following you. To enter, participants are usually required to follow your account and tag a friend in your giveaway post. The winner is randomly selected from the participants to win a specified product or service. Tip: be mindful of shipping expenses for items you're giving away, especially if you're doing worldwide giveaways!
Quality over quantity: Stay away from gimmicky follow-back hashtags such as #follow4follow and other gain-follower-quick schemes. The first reason is that using spammy hashtags can get your account shadowbanned or even suspended. The second, and maybe most important one, is that these hashtags bring just followers. While your profile numbers might grow, these people won't be interacting with your content and will instead drive your engagement rates down.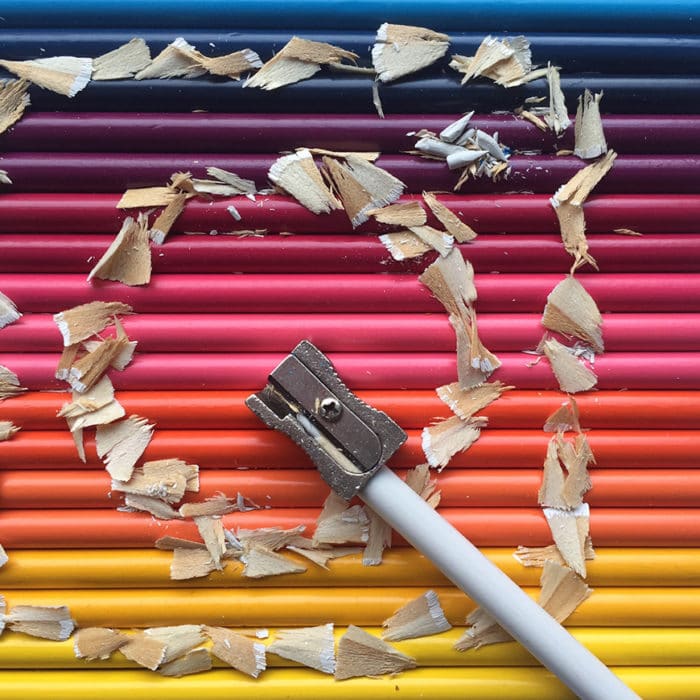 How to Connect with Other Instagram Artists
To have a successful art account on Instagram, you must be a part of the community, as your colleagues are also your audience and your inspiration! Here are a few tips on how to start a connection with fellow artists.
Engage, engage, engage!

Support your favorite accounts, like their posts, and comment on other people's posts. Even share their content if you like it! As you grow, be friendly and give a hand to smaller accounts that might need a bit more exposure.

Be active

Try to respond to DMS and comments in a timely manner, don't leave your peers hanging!

Start conversations

You can use your Instagram stories to create polls, answer questions, share other artists' content, and generally boost engagement in your own account.

Make questions

You can end your post subtitles with questions for your artist followers, sparking topics about making art.

Be in the loop

Instagram allows you to follow hashtags, which will make posts related to them show up on your feed. Use them wisely to discover new artists and keep up with the industry news.

Don't be shy

When presented the opportunity, pair up with another emerging artist and create something in collaboration! Besides the fun of creating collectively, you and your fellow artist will also get more growth as a result.
#artstagram #render #originalcharacter #artistlife #artwork #nftdrop #arte #contemporarypainting #editing #pencilart #drawingsketch #watercolors #paint #conceptart #nft #pencilsketch #illustrationartists #artistofinstagram #canva #illustratorsoninstagram #artlover #art #artstudio #blackart #moodboard #drawing #illustrator #artforsale #artist #photooftheday #canvas #artgram #digitalart #paintingoftheday #procreateart #lineart #artistsupport #brandidentity #popart #digitalartist #illustration #artchallenge