While both Hootsuite and Sprout Social offer fantastic features, a wide set of integrations, and their respective unique selling points, everything ultimately comes down to choosing the one social media management tool you will primarily use based on one benefits you more.
We've tested and compared their features to help you select the best tool to manage multiple social media accounts.
Ready to dive into the Hootsuite VS Sprout Social comparison battle? Let's get started.
Any list of the best social media management platforms wouldn't be complete without Hootsuite, and it's not surprising why people always recommend it. Built way back in 2008, it's considered one of the pioneering products of its kind.
It was first introduced as BrightKit, the founder Ryan Holmes used to manage his digital services agency. Realizing that a lot of people were interested in it, they later launched it to the public and, a year later, renamed it Hootsuite.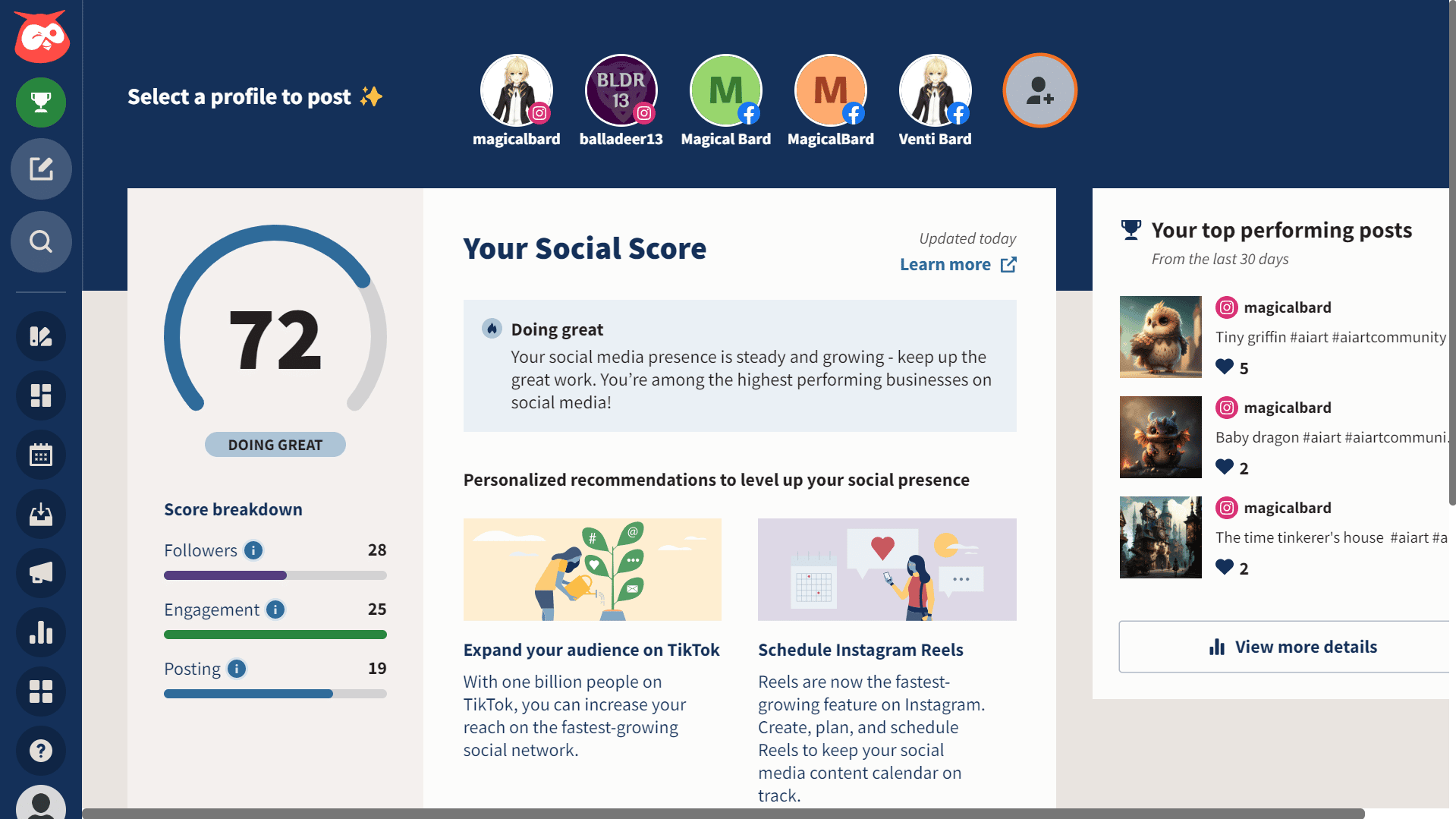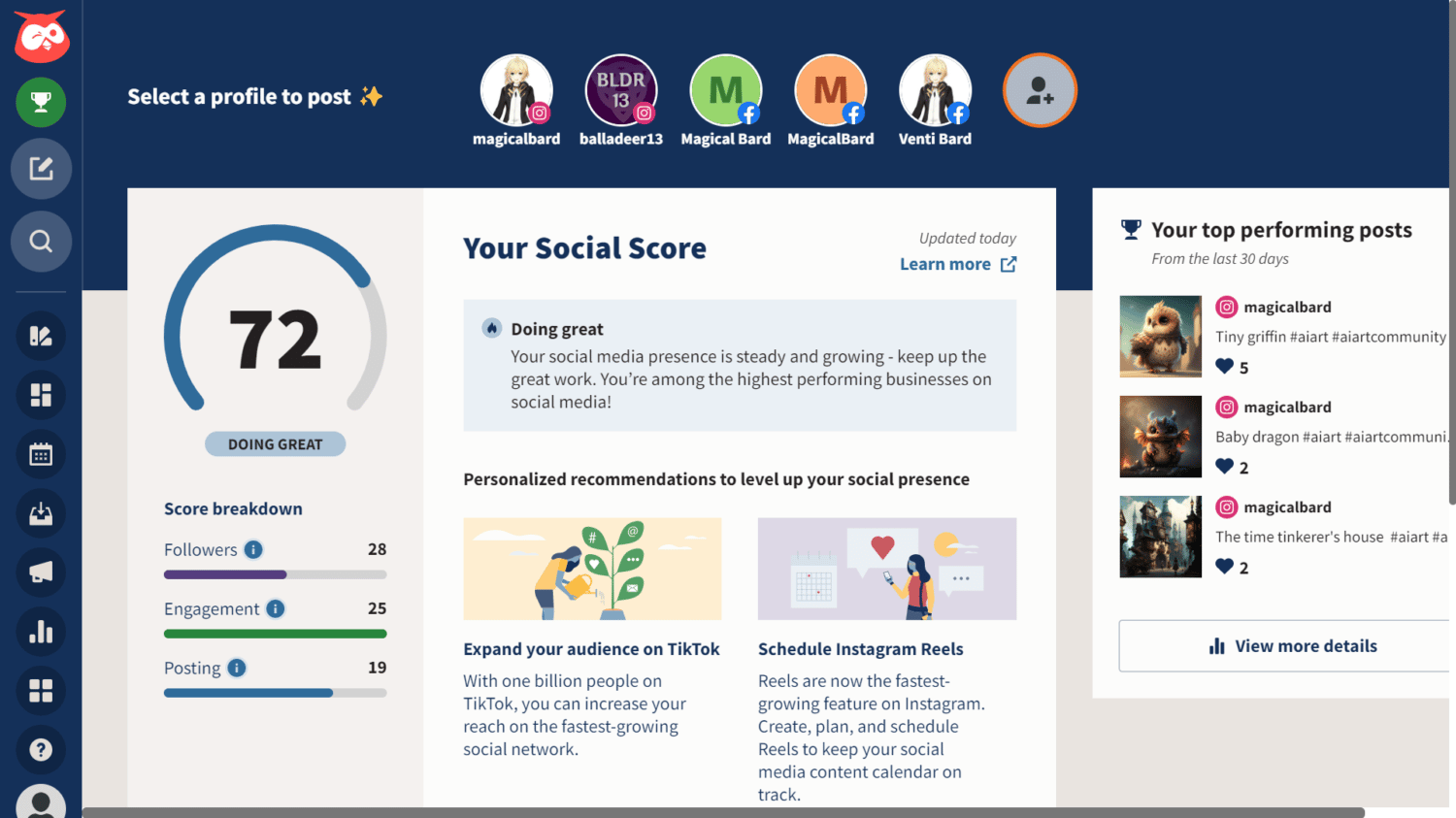 Since then, Hootsuite has been and still is highly trusted by social media managers. Not only because of the convenience and additional features it offers but because Hootsuite continuously improves its toolset as years pass by.
Now hosting seven major social networks and integrating with over a hundred apps, Hootsuite is still one of the top social media software in the world.
One thing we really like about Hootsuite is that they proactively add new features and update their system. An example of this is when they added TikTok to their social integrations. Just a couple of years ago, social media managers who used Hootsuite to schedule their posts would need to use another tool to handle content for TikTok.
It just shows that Hootsuite is serious about becoming the "all-in-one" social media management tool, which is something it has succeeded on doing so far.
Of course, there are a few caveats to using Hootsuite, including bugs and errors it experiences now and then. We'll discuss that and more in the cons section, so stay tuned.
Let's take a look at what makes Hootsuite the best tool for your social media efforts. Note that this pros and cons list is made with Sprout Social as its competitor.
Pros of Hootsuite
Integrates with major social media sites

Hootsuite is only one of the few social media management platforms that integrate some of the biggest social sites. While others only work with social networks like Instagram, Facebook, or Pinterest, Hootsuite also connects with LinkedIn, Twitter, YouTube, and TikTok.

Suppose you have several social accounts on various platforms mentioned here. In that case, you will surely find Hootsuite to be an extremely useful tool for running all of your social media in one place.

more than 150 app integrations

Hootsuite prides itself on arguably having the largest app and tool library among all social media management platforms. With 150+ apps, virtually everything is here to help you manage and grow your socials.

From media library to CRM software, you can install them easily from the app directory, right within Hootsuite itself. The app integrations make everything easy, as you wouldn't have to open additional tools and tabs to accomplish tasks.

Here are some of the apps available on Hootsuite:

Hubspot
Canva
Notion
SugarCRM for Hootsuite

JIRA Service Desk
ClickDesk
Freshdesk
TINT

Packed with Features

With over ten years of experience in the social media management market, Hootsuite continues to refine the software. Now, it offers a wealth of Hootsuite features users can enjoy at a reasonable price. Here are some of its most notable features:

Streams dashboard to view your current and upcoming posts and audience engagement.
Social media planner and calendar for easy post-scheduling across various social media platforms.
Inbox tab to view your incoming comments.
Ad tools to boost your social media campaigns and help you with social media marketing.
Analytic tool.

Easy team access

What we also like about Hootsuite is that it allows you to add more users to your account. This is extremely useful, especially if you're running many social media accounts where one person isn't enough to handle it.

Although this is only available for Team plans and above, which costs $249, it's a cheaper option than Sprout Social, wherein you'll have to spend at least $199/month for each additional user.

If you have a team and looking to save money as much as possible, Hootsuite might be a better deal.

Unlimited Scheduling

A big advantage of Hootsuite is that it allows paid plan users to schedule unlimited posts. Schedule posts all you want even if that's several years from now! Of course, this will only work if you don't delete your account.

Moreover, you can also schedule posts in bulk. Just export a CSV file to Hootsuite, and it will greatly save you time from scheduling everything one by one.

Cheaper price for starting plans

While we're on the subject of money, Hootsuite is also more affordable than Sprout Social. Surprisingly, Hootsuite is usually considered to be a little more pricey than most. However, compared to Sprout Social, Hootsuite's pricing is more reasonable.

Hootsuite plans start at $49 per month, a far cry from Sprout Social's Standard Plan at $249/per month. Moreover, Hootsuite's starter paid plan allows you to add 10 social accounts, in contrast to Sprout Social's 5. Because Hootsuite supports unlimited scheduling, you can upload and schedule as many posts as you can on each social media channel.

On the downside, though, Hootsuite's paid plans tend to scale steeply the higher you go. Cheaper plans don't have as much useful features, which is why some people would prefer to go for the more expensive paid plans when possible.

However, Hootsuite plans become more expensive the more features you get, with their highest plan, Enterprise, which can cost up to several thousand dollars depending on what upgrades you want.
Cons of Hootsuite
Bugs and Errors

One thing many users notice about Hootsuite is that it sometimes experiences bugs and errors. This error usually happens with Instagram accounts, but then again, nowadays, it's not as common as it used to be.

Although it's not common, it can be annoying to reconnect your account every time it disconnects.

There are also reports that sometimes content fails to upload or that apps don't integrate as seamlessly as they thought they would.

Customer Service Could Be Better

Customer support on Hootsuite isn't as convenient as Sprout Social. While they have a chat bot, it usually sends automated responses and gives you links to help articles.

Some customer reviews on aggregators like GetApp and TrustRadius also claim that customer support didn't help them with their issues.

UI Can Be a Little Cluttered

Navigating around Hootsuite isn't very seamless.

For instance, the calendar is a bit too clunky to use, and dragging posts around to adjust their schedule can be time-consuming. If you want to reschedule posts or switch things around in the calendar, you may have to edit them one by one.

Hootsuite's message editor can also be somewhat inconvenient to use. You'll need to scroll down to select time as it's impossible to manually type the hour and minute you want the post to go out. They have a recommended posting time, but if you want to schedule it for another hour, you'll have to set it using their drop-down menu.

While this isn't a big problem, it might frustrate some users. Moreover, the message editor window can be a bit laggy sometimes.

Free and Low-Tier Plans Are Very Limited

Hootsuite takes the edge over Sprout Social regarding starter plan prices because theirs is relatively more affordable and has a free version. However, their free and cheaper plans are very limited.

With Hootsuite's free plan, you can only schedule 5 posts per social media account. Plus, you can only add 2 social media profiles.

Meanwhile, with the Professional Plan (the cheapest paid tier), you can connect up to 10 social media profiles. You also won't be able to add more users.
Hootsuite Features
Schedule Multiple Social Media Accounts Easily

Hootsuite lets its users schedule posts on multiple accounts. Even if you're using their free version, you can connect up to two accounts, though admittedly, that isn't much.

For their paid plan, however, you can schedule unlimited content on major social media platforms.

You can also do so in bulk by uploading a CSV file, or manually putting up posts on a single dashboard. No need to switch to different software because you can do them all on Hootsuite.

Social Accounts Stream Function

If you want to check audience engagement across your socials, you can do that by visiting the "Streams" function.

Here, you can view streams of your previous and scheduled posts. You can even reply and like comments from this tab without opening your social media account.

Socials Inbox

Conversations can also be managed directly on the "Inbox" tab. This tool lets you view, respond, and delete comments from your social media accounts.

You can filter results by your social profiles and sort comments from new to old or vice versa, depending on your preference.

Inspiration Board

Stuck and in need of content ideas? Hootsuite has an inspiration board you can check out.

You can get amazing templates from this tab. Divided into four categories: Convert, Educate, Inspire, and Entertain, you can find ideas for any purpose.

Social Media Calendar

Like all major social media schedulers, Hootsuite has a social media calendar tool called "Planner." You can view your scheduled posts by week, month, or as a list.

You can also use the social calendar to rearrange outgoing posts or adjust the schedule.

Analytics

Hootsuite has an excellent analytics tool, which gives it an edge over most social media management platforms. Detailed reports highlight information such as post engagement, audience demographics, profile/post impressions, and more.

They are also introducing a new feature (still in beta) wherein you can compare your account performance to your competitors.

Core analytics is available in the Professional plan. You will need to upgrade to an Enterprise account to access more advanced ones like social ads analytics.

Social Listening Tools

Social listening (or social monitoring) is useful for monitoring brand mentions and trends. It helps you gauge what your audience thinks of your brand so you can make improvements and adjustments to your content or product where necessary.
Sprout Social is a Chicago-based software company. Founded in 2010, it's now one of the most popular social media management platforms trusted by a number of major brands and organizations, such as Subaru, Shopify, and GlassDoor.
While Sprout Social plans are honestly more expensive than most, the features speak for themselves. Sprout Social's tools and apps are organized so that it is easy to do the tasks you need.
For example, the social calendar is grouped together with the media library and the drafts folder to make post-scheduling more convenient.
Additionally, with its native social listening and analytics tools, you can strategize content more efficiently to reach more audiences and boost your engagement.
Sprout Social is one of the best social media tools, considering that everything you may need to run, boost, and grow your profiles can be found in one dashboard.
However, there are still drawbacks to choosing Sprout Social. One of the most obvious reasons is the hefty pricing. With plans starting at a couple of hundred bucks, solo content creators and influencers looking to use the platform to manage their social profiles might find the fees too excessive.
Thankfully, Sprout Social has a 30-day free trial. Even better, you don't need a credit card to set up an account with almost full access to all its features. I created a Sprout Social account for this post, and it only took me a couple of minutes to set up everything. Literally.
Below, we'll outline the pros and cons of Sprout Social as a social media tool. Do note that we had Hootsuite in mind when we made this list.
Pros of Sprout Social
Organized, Clean UI

One thing most people can agree on Sprout Social is how easy it is to navigate. Admittedly, at first, I was doubtful of that as I find the great number of features and tabs to be a little overwhelming personally.

However, with a bit of exploration of the platform, I discovered that everything was organized in their specific places to make finding a particular tool easier.

For instance, the Publishing tab hosts the content calendar, drafts folder, and asset library. Furthermore, I find content ideas search tools, campaigns, and even the RSS publisher in the same group.

This eliminates the need to keep switching between tabs and software because everything you need is literally in the same place, without the clutter.

Onboarding Tutorial

Users will be welcomed by a step-by-step guide and onboarding process upon signing up. You won't need to worry about being lost because Sprout Social will walk you through the basics. The tutorial is very easy to follow while letting you try the tools to see how they work.

Connects with Major Social Networks

Sprout Social Integrates with most major social media platforms. While Hootsuite can do the same thing, Sprout Social has more platform integrations, including Google My Business and Tripadvisor.

Therefore, if your brand have profiles on these networks and review aggregators, Sprout Social might be the tool you need.

Drafts Folder

Having a drafts folder saves time and energy because you or your team members could easily draft a post for now and then schedule it later.

If you're in the middle of composing a message and want to leave it for now, you can save it as a draft to avoid redoing the whole thing later.

Better Team Management and Workflow

Sprout Social lets you create a workflow to streamline content creation and planning between team members. With an efficient system in place, there will be no need to worry about two people doing the same job simultaneously or other similar errors.

Packed With Features

Sprout Social has many features, from post-scheduling to social monitoring and analytics. Moreover, many of their tools are robust and easy to use.

Customer Support

Sprout Social has an active customer support service who are easy to reach out to. You can either contact them through the live chat option, send a ticket to their support team, or call them directly on their number, which is available on their website.
Cons of Sprout Social
Pricey

Looking at Sprout Social's pricing plans, you'd immediately notice that they're quite expensive. Sprout Social plans range from $249 to $499 a month, not including the fees for each additional user you invite to the account.

Depending on the number of team members and the features you need, costs could go as high as several thousand dollars. However, even for individuals running their social media accounts themselves or with a few helpers, Sprout Social might still be too heavy on the budget.

Another thing is that Sprout Social doesn't have a free version, unlike Hootsuite. They have a free trial, though, which you can use for up to 30 days and cancel before it ends.

Fewer App Integrations and Plugins

While Sprout Social could easily integrate with a number of websites that aren't major social media networks (like review aggregators), besides those, it doesn't have many plugins compared to Hootsuite.

Limited Scheduling

Hootsuite offers unlimited scheduling, while Sprout Social only allows 1,000 images with a free trial and 10,000 with a regular plan. You can also schedule up to 180 days in advance.

This may not be a major drawback for influencers who work solo or with a small team and manage only a few socials. However, for brands and prolific content creators, this might pose a problem.

Some Users Reported Problems With Posting Content

Some users have reported problems with scheduled posts not going out correctly. Fortunately, this isn't a frequent problem, but something you should probably be aware of.

Extra Features You Might Not Need

For solo creators or small companies, Sprout Social might be too expensive. One possible reason it's so pricey than other social media managers is that it has many features.

Although they are undoubtedly useful, smaller creators may not be able to justify paying a couple hundred bucks or more for this tool when other software with almost the same features can do the job at a fraction of the price.
Sprout Social Features
Sprout Social Dashboard

The Sprout Social dashboard allows you to see everything at a glance in one place. You can view your recent and most popular posts, to-do list, website menu, Sprout Social's contact info, help center, and more on your dashboard.

Compose Button

If you're prone to be struck by inspiration at random times while managing your profiles on Sprout Social, do not worry: the "Compose" button (the pen and paper button) can be accessed wherever you are.

Even if you're currently reading reports, you can easily schedule new content by clicking this button at the top right corner. It's grouped with other handy buttons, such as notifications and team conversations. This makes everything way more convenient.

Supports 12 Networks

Sprout Social integrates with 7 major social media platforms:

Facebook
Instagram
Twitter
LinkedIn
TikTok
YouTube
Pinterest

It also connects with other networks, such as:

Google My Business
Google Analytics
Tripadvisor
Glassdoor
Yelp

Smart Inbox To View Comments and Messages

Sprout Social's Smart Inbox is very intuitive. Not only can you view comments from your socials, but you can also approve/reject replies your team members have drafted and set a rule on what to do with incoming messages.

Tasks List

The "Tasks" tab allows you to manage comments and messages easily. You can assign messages and comments to specific team members you feel may be suited to handle it more appropriately.

You can even categorize tasks into general, sales lead, or customer support issues for better organization.

Social Feeds

The social feeds allow you to follow topics and trends on various networks, such as the Instagram hashtags used by your competitors.

All-in-One Publishing Tool

Sprout Social's very convenient publishing tool has everything you need, including the assets library, drafts folder, and calendars. You can also view content that needs approval and those that have been rejected. Plus, it can also be used to search for content ideas.

The publishing tab is also where you can view ad campaigns. You can see content that has failed to post here, too.

Social Listening Tab

Social Listening is important to know how people perceive your brand. Tools like Sprout Social allow you to monitor conversations. With its help, you can analyze your social media presence and create a strategy to improve.

Reports and Analytics

Sprout Social has an excellent analytics tool. It gives detailed performance reports of your profile and content across different social media platforms. Moreover, you can also create customizable reports.

People View

The "People" tab allows you to organize and manage profiles interacting with your brand. Moreover, it's also useful in identifying relevant influencers in your niche as well as managing a VIP list.

Bots

Sprout Social allows you to create bots specially made for your social media accounts, ranging from customer support to shop bots. You can also build a bot from scratch.

Reviews Tab

You can monitor client reviews from the Sprout Social platform on their "Reviews" tab. This tool integrates with Facebook Page, Google My Business, Tripadvisor, Glassdoor, and Yelp. If you have profiles on those networks, you can easily manage them on Sprout Social.
We have also compared Hootsuite and Sprout Social based on three main criteria: ease of use, features, and pricing.
Ease of Use

Overall, Sprout Social is easier to use than Hootsuite. Although I was a bit overwhelmed by the many features Sprout Social had when I first loaded the dashboard, it was easy to grasp the toolsets available after that.

Because, one, there's an onboarding process you have to go through; and two, the features are organized so that it's quicker to find what you need.

While Hootsuite isn't as overwhelming as Sprout Social upon logging in, the problem is you have to set up things before you can work efficiently. For example, you will have to visit their app library to download the necessary tools.

Another issue I had with Hootsuite is that the composer message is a little clunky and laggy. Meanwhile, Sprout Social is a bit more intuitive.

Features

Hootsuite and Sprout Social have more or less the same core features: content scheduler, social listening, and analytics.

Perhaps the major difference is that Hootsuite uses more plugins and third-party tools, many of which are free, while Sprout Social has these features natively, but you may need to subscribe to their more expensive plan to access them.

Pricing

As for pricing, we give the win to Hootsuite. Although, as I've mentioned, their pricing scales steeply the higher it goes, their starter plan is way more affordable than Sprout Social. Moreover, they have a free version available.

To compare, here's Hootsuite's pricing list:

On the other hand, there's the price list for Sprout Social: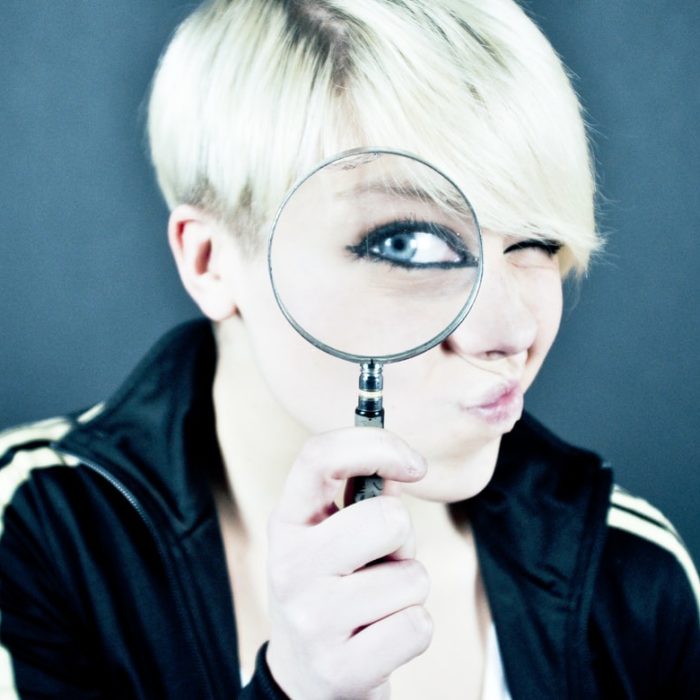 Hootsuite Vs. Sprout Social Comparison Table
Having a hard time deciding between the two? Here's a quick comparison table for you: