Most Instagram users are fine with just a personal account, as their Instagram activity is purely for social interaction.
However, if you are interested in growing your business, an Instagram business account may be a great option.
Instagram business accounts gain access to amazing features that can help you succeed professionally in ways you didn't think possible.
This article will cover how to create an Instagram business account and some specifics to make the most of what the Instagram app offers.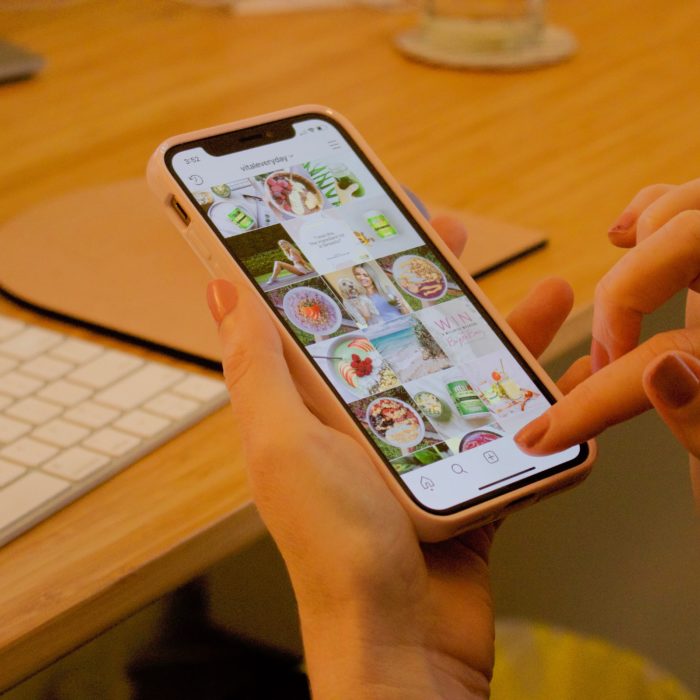 How to Set Up Your Instagram Business Account
To create an Instagram business account, you will first need to create a new one to promote your business.
When you have done this, you can convert this personal Instagram account to a business account with a few simple steps.
Step 1

Open your Instagram profile and tap the three-line icon in the top right.

Step 2

Tap Settings, then Account.

Step 3

Select Switch to Professional Account and tap Continue.

Step 4

Find the correct Category your business fits into and tap Done.

Step 5

Tap OK, then Business, then Next.

Step 6

Fill out the Contact details (or select Don't use my contact info) and tap Next.

(Here, you can connect your business Facebook page if you have a business account on Facebook. This can be useful for utilizing Meta's features across all its apps. You can connect only one Facebook page to your Instagram business account.)

Step 7

Tap the X in the top right to return to your new business profile.
You now have a brand new Instagram business account that you can begin to customize and post from and access important information about how your business account is performing with Instagram users.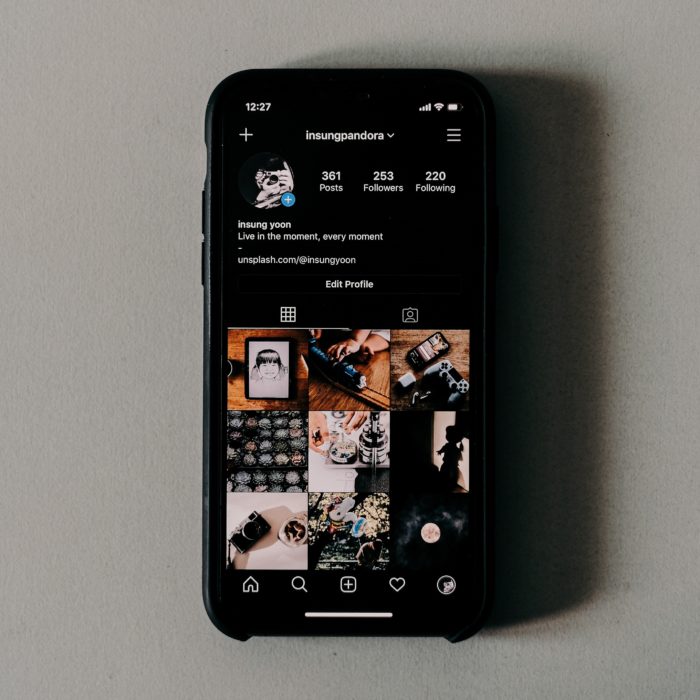 How to Fill Out Your Instagram Business Profile
Optimizing potential customers' information is crucial to success when building a business.
In many cases, your Instagram business account will be the first interaction most people have with your business, and their impression will be based on what they see.
Instagram is largely a visual platform, and your business's Instagram content will need to make the best use of that to grow and succeed.
Determine Your Target Audience

Tailoring your business account posts and content to specific types of people is one of the best ways to ensure success.

If your business has already established itself with a particular demographic, you can simply design your Instagram posts to cater to them.

However, as a new business, you must create an Instagram strategy built around a specific audience.

There are a few ways to do this:

Learn from competitors – There is almost no better way to determine the main demographic of what your business offers than by looking at who your competition is marketing to. Check their followers and posts to help design your own marketing strategy.
Use Instagram Insights – This in app analytics tool will show information about your Instagram posts from your business account that can help you learn more about who your posts are resonating with. Access it in your Profile by tapping the Insights button. View information about a specific post or general overview of your business account.
Audience interaction – What could be better to determine what your users like than simply asking them? Polls and questionnaires will give you direct insight into your followers' and customers' wants and needs. This kind of information is invaluable when building a brand.

Using the information you gather about your customers is crucial to the growth of your business. Find the best way to cater to your customer base and design your Instagram profile around that. Your business persona and posting methods will improve as you get more information.

Establish A Unique Selling Proposition (USP)

Almost certainly, your business is not the first, and only one of its kind. This means that you will need to differentiate yourself from other similar businesses within your market.

On the surface, a USP is essentially just a slogan or persona your business account will use to draw customers in. However, creating the perfect, unique presentation will generate business and establish brand loyalty among your followers.

A good USP can be difficult to come up with. If you can answer these questions, you will be well on your way to designing a USP that works for you.

What makes your product different than your competition? – Find a way to stand out in your market. What specific things does your business do well that you can accentuate and capitalize on to make your product the best choice for potential buyers?
What do your customers care about? – Is it locally sourced materials? Is it recyclable packaging? Finding the core values of your audience will go a long way in generating and maintaining support for your brand.

Include A Call-To-Action

Generating audience engagement is one of the best ways to generate growth. A Call to Action (or CtA) is just a way to generate that engagement.

Putting a CTA in your business profile can be simple, like "Check out our Facebook page for more information," or something more direct that centers around your particular product or brand.

Here are 7 examples of commonly used CTA's:

Lead generation
Subscribe/Follow/Like button
Read/Learn more
Form fill / Registration
Newsletter sign-up
Trial / Demo
Promotion

There are countless ways to get the clicks and likes you need beyond these examples. Try a few and find out what works best for your audience.

Customize Bio's According to Hashtags

A well-worded paragraph explaining what your Instagram business is all about can be quite helpful in creating interest; however, in the fast-paced world of social media, it may not be the best way to get attention.

Hashtags (#) can be the key to really connecting potential customers to your product. Many people will scan a post or Instagram account for relevant hashtags when they first see it to find out if they are interested in following it.

Whatever your Instagram business account is selling, there are definitely hashtags to help connect you to a wider audience.

For example, if you sell knitted sweaters, including #knitting at the bottom of your Insta bio will allow your business account to come up when users search that hashtag in the Instagram app.

Try out different #hashtags in your Instagram posts and see what works.

Include Your Website URL in Your Bio

Getting people connected to your business through your Instagram business account is really only the first step in really growing your business online.

If your business has a separate website, it can be really beneficial to help direct people there with a link to the site in your Instagram bio.

Along with a website, consider putting your business email address to allow for customers to contact you directly.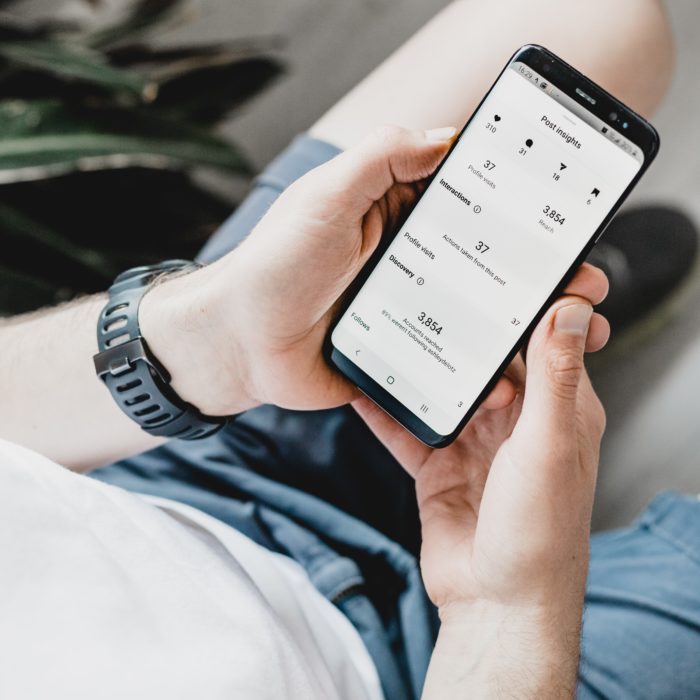 How to Grow Your Instagram Account
Now that we've put together a solid Instagram business account bio, it's time to start growing.
Much like a personal account, a business account with many followers means more views. This translates directly to more reach and even more potential for growth.
Below are some of the best ways to grow your business account.
Optimize Your Account

Optimizing your account performance can take a lot of time and research to do properly, but the results will be worth it.

The first and probably most important step is to ensure your business URL is for a mobile site. Most people on Instagram will be using their mobile devices, and ensuring they can properly access your business website is the best way to keep them engaged.

To add to this, you should also use a profile tracking link as your URL. This will allow you to see how users engage with your business account properly.

Linking a business Facebook page with your Instagram account is another great way to increase traffic. Linking these accounts will allow you to access the full range of benefits the Meta family of apps offers, including Facebook Marketplace and increased analytics.

Post Regularly

The internet is a fast-paced and fickle environment, so frequent posting is important to keep the attention of potential followers.

Be careful, however, as posting too often can have a similar effect. If your posts overwhelm users' feeds, they will begin to ignore or even unfollow them.

Finding a good middle ground will come with time. Stay up to date on your account analytics to see what kinds of posts are getting the most engagement and what time of day users are most likely to engage.

A great tool for busy business owners is the option to schedule posts. Right in the Instagram app, you can set specific times and dates for posts to go out.

This option is great for ensuring a steady stream of content and setting up a marketing campaign to launch on a certain date.

To do this, you must first link your business account to Instagram's Creator Studio.

To schedule a post for a future date on Creator Studio:

Open Creator Studio and click Create Post.
Click the Instagram Feed you want to post to.
Include captions, #hashtags, and @mentions.
Select Add Content and choose the video or pictures to be featured.
Select any account you want to tag in your post and click Save.
Click the arrow next to Publish and click Schedule.
Input the time and date you want the post to go live and hit Schedule again.

Use Visuals

As mentioned above, Instagram is all about the images and videos you choose to share. Each post should showcase something interesting about your business or products or be connected to your brand in some way.

Not every post needs to be business related, however. For example, if you sell camping equipment, beautiful shots from a mountain vista can be a great way to increase user engagement and keep your posts interesting.

Get Active in Popular Tags

To many Insta users, tags are everything. Many people will search for tags to find new content or even check tags on a post to see if the content is something they are interested in.

Staying up to date on the popular tags surrounding your brand is incredibly important to remain relevant as a business.

One of the best ways to find which tags will benefit growth is to check your competitor's posts for which tags they are including.

Get Featured

Getting featured by a large feature account or influencer can be amazing for a small business.

Get involved in the comments on accounts you would like to be featured by and include @mentions on your own posts to increase your potential for being noticed.

It is important to note that while you can purchase a feature spot in some cases, the best way for real growth is to be featured because your product or brand aligns with the feature account's or influencer's values.

This means separating your business account from your personal account is even more necessary. Any posts that are not connected to your brand identity may mean you are overlooked for a feature spot.

Once you've been featured a few times and grown sufficiently, you can then begin to reach out to influencers directly, as your brand will also benefit from their outreach.

Advertise

Advertising is one of the most basic parts of building a business. Instagram accounts that utilize advertising and measurement services can have a huge advantage over those that don't.

There are several different ad preferences to choose from, including the option to promote posts or purchase ads directly.
Should You Use Instagram Ads to Expand Your Brand?
Instagram-sponsored ads work the same way ads on tv or in magazines work. You create an ad, and they pop up in users' feeds.
There are six main types of ads you can purchase with your Instagram business account.
Images

The basic ad type. A single picture post.

Videos

A video showcasing your product.

Carousel

Like an Image ad but with multiple rotating pictures.

Stories

Images or videos that show up in between other users' stories.

Reels

Ads that show in between other posts on Instagram Reels.

Shop

Ads that connect directly to the Instagram shop.
You must decide which of these formats works best for your business or brand. You can try one or all of them and see which ones have the most potential for you.
Pros of  Using Instagram Ads
Ads can greatly increase the visibility and sales of products or services for Instagram business accounts.
If your goal is simply to increase sales volume, using sponsored ads on Instagram can be a great way to do this.
Cons of Using Instagram Ads
There are two main negatives to using ads on Instagram
Cost

Ads cost money to post. For a small business, you will have to weigh the cost vs. profit potential.

Data

Currently, no information shows that ads generate higher engagement with your brand. Users will click the ad and purchase a product without following or liking posts.