However, there are Instagram users who want to disable their accounts for some reason. Perhaps, their accounts have been hacked, or they just want to stop using the Instagram app temporarily. Whatever the reason may be, you can disable your Instagram account with just a few steps.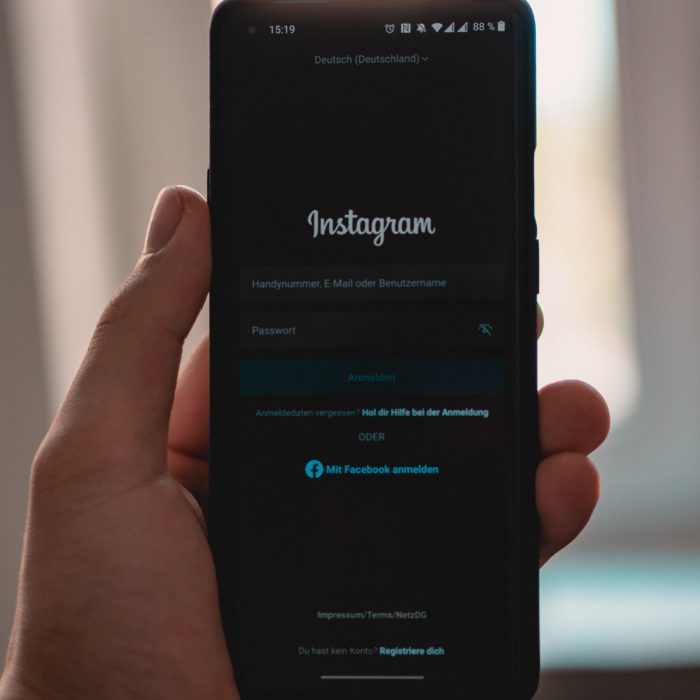 How to Temporarily Disable Your Instagram Account
Instagram offers different ways for its user to deactivate or temporarily disable their accounts. However, remember that it will not immediately delete your Instagram account after you deactivate it. It simply means that other people can no longer view your profile, posts, photos, or videos.
Thus, if you also want to hide your Instagram profile from everyone but still keep your account safe, just in case you might change your mind later on by reactivating it again.
Then here are the step by step instructions to take:
STEP 1

Open your web browser and go to the official Instagram website, or within the Instagram app.

STEP 2

Then simply log in using your username and password.

STEP 3

Click on your profile page icon from the top right corner of the screen.

STEP 4

After that, select the 'Edit Profile' option.

STEP 5

A drop-down menu will then appear on your screen with a list of options.

STEP 6

Click temporarily disable the account option.

STEP 7

A pop-up box would appear with a message saying, 'Are you sure you want to disable your Instagram account temporarily?'

STEP 8

If you are certain in temporarily disabling your account, then click Temporarily Disable Your Account.

STEP 9

After clicking the button, you will be redirected to your profile page. This page will show a message that you have temporarily disabled your account.

STEP 10

On the other hand, if you like to keep your Instagram account safe while inactive, make sure to click on the 'Cancel' button
Following these steps will deactivate your Instagram account, which means that other people can no longer view it and your account will be hidden.
However, know that this is just temporary and will not permanently remove your account.
What Happens When You Disable Your Instagram Account?
In temporarily deactivating your Instagram account, here are the possible results:
Your Profile Will Be Hidden From Everyone

When you disable your account, it means that your Instagram account will not be visible to everyone. Thus, no one can view or find your profile as if you don't exist in the app.

Your Account Will Not Be Branded as Inactive

Remember that when you deactivate or disable your Instagram account, it does not mean that it's been permanently deleted. It only makes the account inactive or deactivated, which means that it can be reactivated anytime you want.

Thus, no activity will be recorded and noted by the Instagram app. For instance, you will not show up in the 'Who to Follow' list, and your direct messages will no longer be available.

However, Instagram has the right to delete the account after a few weeks of inactivity.

No More Unread Notifications

When your Instagram account is disabled, your profile will no longer appear on top of other people's feeds or search results. Thus, there will be no more unread notifications.

Photos, Videos, and Post Will No Longer Be Available

When you disable your Instagram account, it means that all of your photos including profile pictures, videos, comments, and posts will no longer be available. You can no longer view or access these photos within the Instagram app.

However, the good thing about this, is that Instagram does not delete them immediately since they are still in their database. If you want to delete them sooner, simply remove the content from your profile manually.

Account Settings Are Limited

When you disable your account, it means that you cannot customize some of its settings anymore. You can no longer edit or change them unless you reactivate your account. It also means that all changes are locked and cannot be changed if you decide on deleting your account.

It Will Not Be Publicly Featured on Top of Other Profiles' Feeds

When you disable your Instagram profile, it means that it will no longer appear as a suggested account below other profiles in the Explore section. Thus, people cannot discover and follow you anymore since there is no way to find you.

Your account will be hidden from public viewing with just one click, but it won't be deleted. Moreover, when you deactivate your Instagram account, all the data stored in your account, such as photos, posts, videos, followers, likes, and comments from other people, will remain safe and sound. You can still get them back anytime if you reactivate your account again.
Disabling vs Deleting an Account
Disabling your account is different from deleting it. Here is the difference between the two:
Profile Visibility

When you temporarily deactivate your Instagram account, other people cannot find it and view it. However, when you deleting your account, all of its content will be permanently removed from the app. Thus, this means that nobody can ever access or view them again.

Storing Your Data

When you disable your Instagram account, all data, including photos and videos, are still hosted by IG servers for backup purposes.

However, if you delete your Instagram account, then the data will not be saved anywhere else. They simply get removed without a trace.

Activity Log

The activity log associated with your account will be part of the data that remain safely stored in Instagram's servers. Thus, it doesn't get automatically deleted when you disable your profile since they are still needed to check on any activity and note changes. However, this log will be cleared when you delete your account.

To sum it up, when you deactivate your Instagram account, all the data will remain on IG servers. Also, it does not get deleted when you disable your profile since they are still needed to track any changes on the account.

However, this is different from deleting an account because all of its information gets removed or deleted right away.