As a Youtuber, you might be interested in niches like beauty, fitness, gaming, and others, but what if you want to post content that is quite different from your first channel? Do you have to set up another Google account just to do that? While you can, a more efficient and less time-consuming way would be to set up multiple channels under one account. If you want to know how to make a second YouTube channel, this guide will teach you how.
Can You Have Multiple YouTube Channels?
The answer may be obvious already, but yes, you can have multiple YouTube channels.
As mentioned above, you can set up a different Google account to create a new YouTube channel. Of course, you will need to have a brand new Gmail and such, which will require more time and effort on your part. Aside from that, managing channels across different Google accounts can be confusing and difficult.
The great news is, you can add a second (or third, fourth, fifth, and so on) YouTube channel without going through the hassle of signing up from scratch. Now, YouTube lets anyone create multiple channels using only one account.
Creating a second YouTube channel also lets you create a Brand Account which has a lot of advantages. With your second YouTube channel, you can upload videos, comment on other people's content, and do more under a different name. Your Brand Account is still linked to your personal account. However, personal details such as your name and email will not appear on your other channels.
Having a brand account will let you create multiple YouTube channels in different niches. You can assign other people to help you manage your channel and vice versa.
How to Add a Second Channel to Your YouTube Account
If you want to create multiple YouTube channels, follow the steps below.
Step 1

Go to YouTube. Make sure you've already signed in to your account. If you aren't logged in yet, sign in to your YouTube account first.

Step 2

Once you've signed in, click your profile picture. A drop-down menu will appear.

Step 3

Click Settings.

Step 4

On the Settings page, select Create a new channel/Add or manage your channel(s).

Step 5

You will be redirected to another page where you can create a new channel. Type in your desired channel name and hit Create.
You now have a new YouTube channel! Customize it, add a different logo or profile picture and a banner, and start uploading your videos.
You can easily switch between channels by clicking your profile picture and hitting Switch account in the drop-down menu.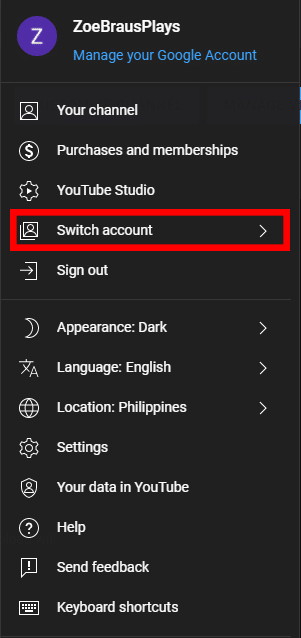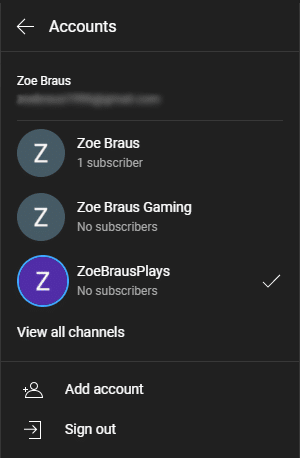 And that's how to make a second YouTube channel. Easy, right? Just repeat the same process above if you want to add another one.
Should You Add a Second Channel to Your Account?
Is it really worth the time and effort to add another channel to your YouTube account?
Setting up multiple YouTube channels has its pros and cons. Here are some things to consider that can help you decide:
Time and Commitment

First, you need time and commitment to make your second channel successful.

Creating a second YouTube channel is easy, but managing it can be difficult. Running multiple YouTube channels means more work and effort are required on your end. You will have to spend many hours building up your YouTube channel and finding the time in your day to manage it.

In addition to your first YouTube channel, you have to work on producing fresh content for your viewers and keeping up with your posting schedule for your second channel. One of the key elements of having a successful YouTube channel is posting videos on a constant basis.

Viewers will likely come back for more if they see you're active and posting a lot of content that is similar to the ones they like. People won't usually subscribe to a channel that has one or two videos and it had been years since the owner uploaded the last video. If they think the channel is dormant, they wouldn't probably subscribe, and if they did, they might consider unsubscribing.

Before adding a second YouTube channel, think about all the work that it will require from you in the future. You're going to manage multiple YouTube channels, so you will need dedication and perseverance. Otherwise, if you don't have enough time and motivation to manage your channels, you might end up abandoning them in the long run. It can be a painful thing to do, after all the hard work you've put into it.

Of course, you can consider outsourcing. After all, there will be lots of work for you to do, from video editing, research, to reviewing analytics and such. If you can't do all of these on your own, you can hire help from freelancers. You can also enlist the help of a trusted and willing friend as well as business partners who are interested in growing the YouTube channel with you.

If you believe you can easily and efficiently run multiple channels at once, then go for it.

Niche and Purpose

If you're looking to upload videos that are quite different from the kind of content you usually post, then setting up a new channel for it might be the best thing to do.

For example, if you're in the beauty and make-up industry but want to explore other niches like cooking and home improvement, you can create a different channel for these ones. Sure, you can still upload your new videos on the same YouTube channel and just put them in a different playlist. However, this will make the content you produce inconsistent and disjointed.

Having a consistent topic on your channel can help increase your visibility and engagement. People will most likely subscribe to your channel if you consistently post videos about similar topics.

Your other videos will also have more chance of being recommended by YouTube if they are related to one another.

Let's say, for example, you have posted an unboxing video of a smartphone. YouTube's algorithm helps its viewers find the content they like based on the videos they are watching. If you've uploaded videos of you unboxing other brands of phones or similar to it, it will likely show up in their recommended list.

Subscribers might also leave your channel if they are starting to see irrelevant content. People usually subscribe to a channel because they are interested in its topic. If they notice that your latest content is departing from the usual, they might unsubscribe. Avoid posting videos of recipes if you're talking about unsolved crimes and serial killers. If you are interested in this niche, simply create a different channel for it.

The bottom line is, set up a new channel if you see the need to do so. Stick to your channel's topic as much as possible, because it's what helps it stand out from competitor channels and those with more generalized content.

Make a different YouTube channel if it serves a different purpose or has a different niche from your existing one. If your current channel is about beauty tips, you might want to create a separate one for reviewing movies and so on.
How YouTubers Use Their Second Accounts
Here are why some YouTubers set up a second channel:
As a creative outlet

Focusing all their energy on one niche can be draining, so they might want to turn their attention to other hobbies and interests by uploading videos about it on a separate channel.

To expand into a different niche

Some influencers start out in one area, and then choose to explore another topic they're interested in. Therefore, they create a separate YouTube channel so as not to alienate the audience they already have who might not be interested in the niche they're trying to get into.

Monetization

More monetized YouTube channels mean more income streams.