Downloading Instagram photos is not the most intuitive feature on the platform, but there are some ways to do so. Keep reading to learn how to save Instagram photos!
Are You Allowed to Save Instagram Photos?
Yes and no. Due to Instagram's copyright rules, you can't directly download other users' Instagram photos to your phone's camera roll or computer. However, you can still download your own photos, as well as save photos on Instagram collections.
Alternatively, you can still download other users' posts using the Copy URL or page source method, which you'll learn down below.
How to Save an Instagram Image to Your Phone
Save your own Instagram photos
Instagram provides a simple way to download all of your Instagram original posts at once.
Step 1

Click the three horizontal lines on your Instagram profile page in the top-right corner.

Step 2

Under the "Settings" tab, choose "Security" > "Download Data".

Step 3

Fill in your e-mail address and request to download the data. You'll receive an email with instructions to download all of your pictures!

To save you trouble in the future, enable the "Save Original Photos" option on your Instagram app.

To do so, open your profile menu, tap "Settings" > "Original Photos" and click the toggle button to enable the feature. With this one setting active, Instagram will automatically save every post you make (with any filters you may have added) to your phone's photo library.
Saving other people's IG photos
The easiest method to download other users' photos is to screenshot them. Doing that will save photos directly to your phone or computer. However, the screenshot resolution limits the image quality saved to your camera roll.
To download Instagram photos with the original resolution, follow one of the methods below.
How to Save an Insta Picture Through Copy URL
Each Instagram post has a URL (link), that you can obtain by clicking the three horizontal dots on the top corner next to it, both on the Instagram app or website.
However, that is not the link to the photo itself. Clicking it will direct you to the Instagram app and open the post. That means the link will no longer work if the post is modified or deleted.
To obtain an Instagram photo URL, you have to open the Developer Tools on your navigator.
The next section provides the complete step by step on how to view the page sources and download Instagram photos by copying their URL.
How to Download Insta Photos Through Page Source
Step 1

On your computer, go to the photo page on Instagram.

Step 2

Press F12 on your keyboard to open Developer Tools. The website source code will be displayed. Don't panic! It is fairly simple to get where you need to go.

Step 3

Next, on the menu at the top, select "Network". It might be collapsed under the double arrow icon.

Step 4

In the search box, type ".jpg" and press F5 on your keyboard, this will display all the image files on the webpage.

Step 5

Clicking on each file on the list will show a preview of the Instagram photos. Find the photo you want to save and click it with the right mouse button. Under "Copy" click "Copy link address."

Step 6

Paste the link wherever you want! To download the picture, open a new tab and paste the URL. Right-click the picture and choose "Save image as…" to save it to your computer.
Third-Party Apps that Allow You to Download Instagram Photos
If just the sight of a little coding is more than enough for you, this next method to save Instagram photos might be up your alley!
Some apps claim to be able to download content from Instagram for you. However, never use an Instagram photo downloader that requires you to enter your login information, as that will most likely get your account stolen.
It is currently not possible to download an Instagram photo directly to your phone (other than Screenshots), even if said apps promise to do so! You will need to have Instagram tools to save images to your device.
Below is a list of safe Instagram photo downloader apps for you to choose from. To use them, you need to extract a link to the Instagram post you want to download. To do that, simply click the three horizontal dots icon "…" above an Instagram photo and tap the link to copy it.
SaveFrom is an application that works both on PC and Android. It can download Instagram pictures and videos from Instagram, as well as Facebook, YouTube, and Vimeo. Enter a link for the post you want to save and click the download button.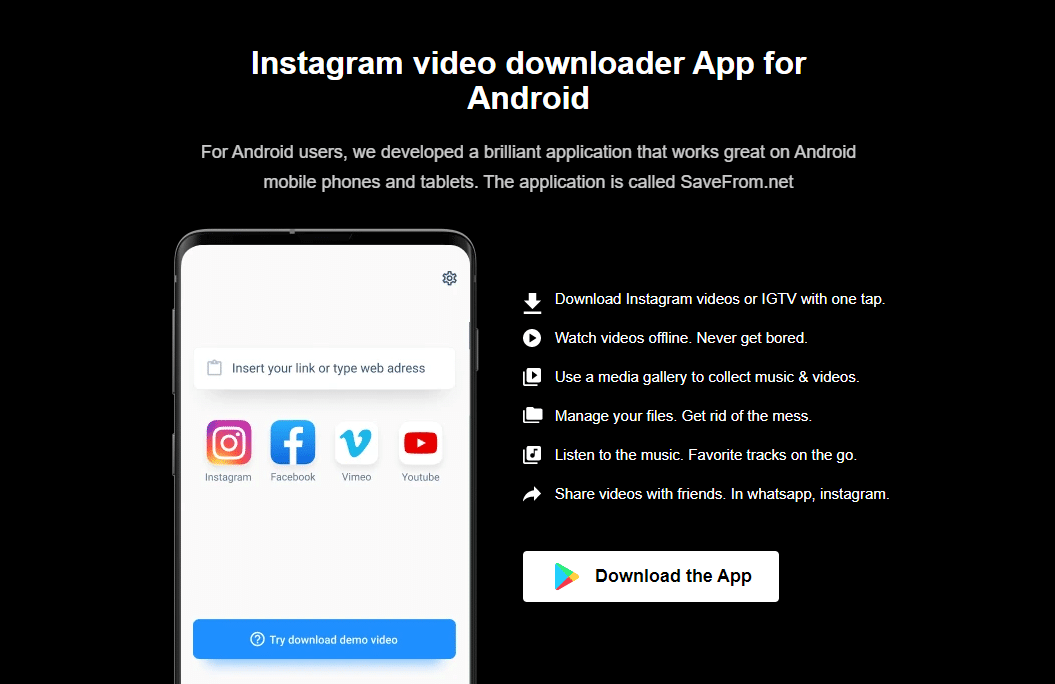 SnapInsta is an Instagram downloader that can save photos, videos, Reels, and IGTV posts from Instagram. The website has its own extension, so you can have it ready to go as you browse Instagram. The website also provides more details on how to use it on your phone.
IGram works on your computer and phone, directly from the browser. This Instagram picture downloader is the best bet for downloading Instagram photo carousels (posts with up to 10 photos or videos).
How to Save an Instagram Photo to a Collection
When you find a picture or video you want to save on an Instagram collection, follow these simple steps:
Step 1

Tap the bookmark icon below the image to add it to your saved posts.

Step 2

Click and hold the bookmark icon to save photos from Instagram to a collection.

Step 3

Choose a collection to add your saved post to, or create a new one by tapping the plus icon.
Reasons to Save Instagram Photos to Collections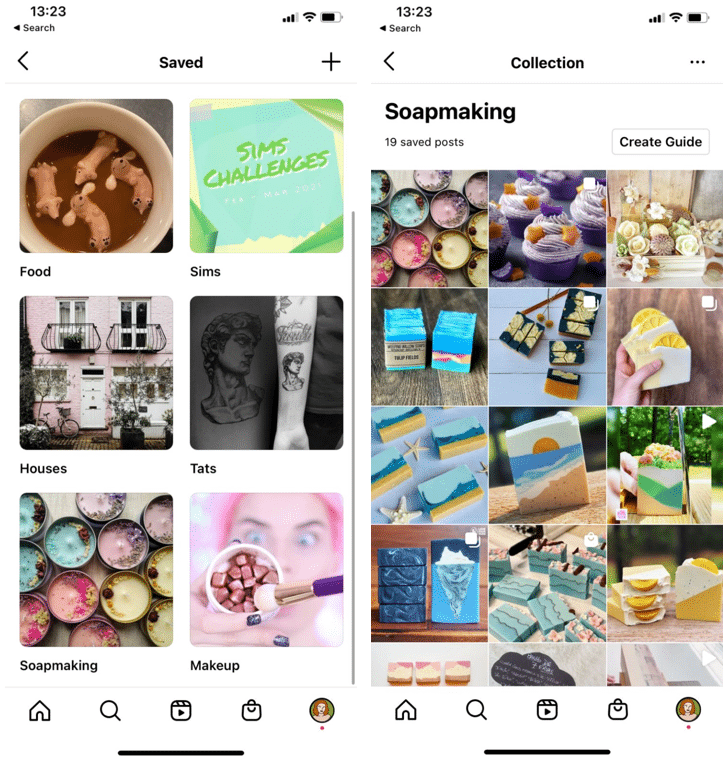 The option to organize your Instagram feed into collections allows you to give function to the content you consume on the platform. Here are some reasons to use Instagram Collections:
If you're a regular user:
Inspiration

You can create a mood board for your Instagram profile using collections. You can also save your favorite posts and have them in mind when taking pictures or creating content.

Learning

Whether it's a recipe, a tutorial, or some tips, informational posts are high on Instagram, and you can use collections to save content to easily access it when needed.

Remember your favorite posts

Maybe you found an Instagram photo that makes you laugh every time you look at it, or there is a great photo memory you'd like to keep a tap away.

Create a bucket list

By default, Instagram is full of great tips for traveling, eating, and photographing. You can create collections and use them as your wish list for your next adventure!
If you own a brand:
Keep track of your competitors

Creating a collection of your competitors' posts allow you to quickly access their profile without the need to manually search for or follow them.

Estimate engagement

Saving posts that contain mentions of your products or brand keep your most dedicated followers close, so you can find them and interact when you have time to do so.

Manage UGC (user-generated content)

You can use UGC to boost your brand and engage with your followers. Whether it's a product hashtag, creative picture contests, or just your followers' opinions on your products, you can save all that into collections and have it on the go to engage with your followers and promote your brand!
Tip: remember to always ask your followers for permission before reposting their Instagram photos on your profile!