Perhaps another reason why people get addicted to the TikTok app is that it's not just a social media friends can share videos with but also produces many fantastic content creators–many of which you can't help but follow.
But then, how would you know immediately if your favorite creators or friends have posted new content?
Fortunately, TikTok has the answer for that: the post notifications feature allows you to know if a creator has posted another video. This works for all TikTok users you're following, whether posting a regular video or even a LIVE one.
Want to know how to turn on post notifications on TikTok? Keep on reading!
How to Activate Post Notifications on TikTok
First off, we'll talk about how to enable post notifications.
It's very easy to do, too.
Take note that for this to work, you should have already allowed the TikTok app to post notifications on your phone. That means TikTok notification settings should have already been set up on your mobile device. Generally, upon the app installation, your phone will ask you to give necessary permissions to TikTok to do such things as posting notifications, so you won't need to worry about this.
If you want to check if post notification is enabled on your phone, you can check on your device's local settings app. For more info about how to set this up, please refer to the next section below on how to turn on push notifications for TikTok. I will explain how to enable this setting step-by-step, from your phone's settings to the TikTok app.
But if you only need to enable TikTok post notifications, here's how you can do it:
Step 1

Launch the TikTok app on your mobile device.

Step 2

Tap the person or "Me" icon on the bottom right corner.

Step 3

Press the hamburger button (three horizontal lines) symbol on the upper right.

Step 4

On the menu, choose "Settings and privacy."

Step 5

Under "Content and activity," select "Push notifications."

Step 6

You can see all the notification settings available for the TikTok app. Find one that says "Videos from accounts you follow" and enable it by toggling it on.
That's it! By now, you should get post alerts from people you follow whenever they upload a new video.
Note: You can also set LIVE post notifications from creators. With this, you will be alerted every time they start a live stream.
Scroll further down and you will see the "LIVE notification settings" option. Tap it.
Then, you can configure LIVE post notifications for each account you follow.
By default, you will only receive personalized LIVE notifications. Meaning, depending on how frequent you watch this creator's LIVEs, you will get video updates everytime they go live streaming. You can also choose whether to be alerted everytime they go LIVE or none at all.
Alternatively, you can also go to the profile pages of other TikTok users and tap the bell icon to set LIVE notifications.
How to Tap on Push Notifications on TikTok
We discussed in the previous section just how to turn on the post notification option on your phone. Basically, we just worked on enabling post alerts. However, TikTok has many other types of notifications that you should be aware of. This includes likes, comments, new followers, profile views, direct messages, and more.
To ensure that these alerts will push through your mobile device, you must enable notifications in the phone settings. Depending on your phone, the process might be different from one to another. What you need to remember, however, is that this can usually be found in the Notification tab of the settings app. To find this, follow these general steps:
STEP 1

Open your phone settings by tapping the gear or cogwheel icon.

STEP 2

On the main settings menu, find "Notifications."

STEP 3

Search for TikTok on the list of apps.

STEP 4

Make sure to turn on the app "Notification" by toggling it on.
Below, you can also see other relevant options, such as what types of TikTok notifications you want to allow. Pay attention to the "Videos from accounts you follow" option. Make sure you turn on post notifications here to ensure you receive alerts.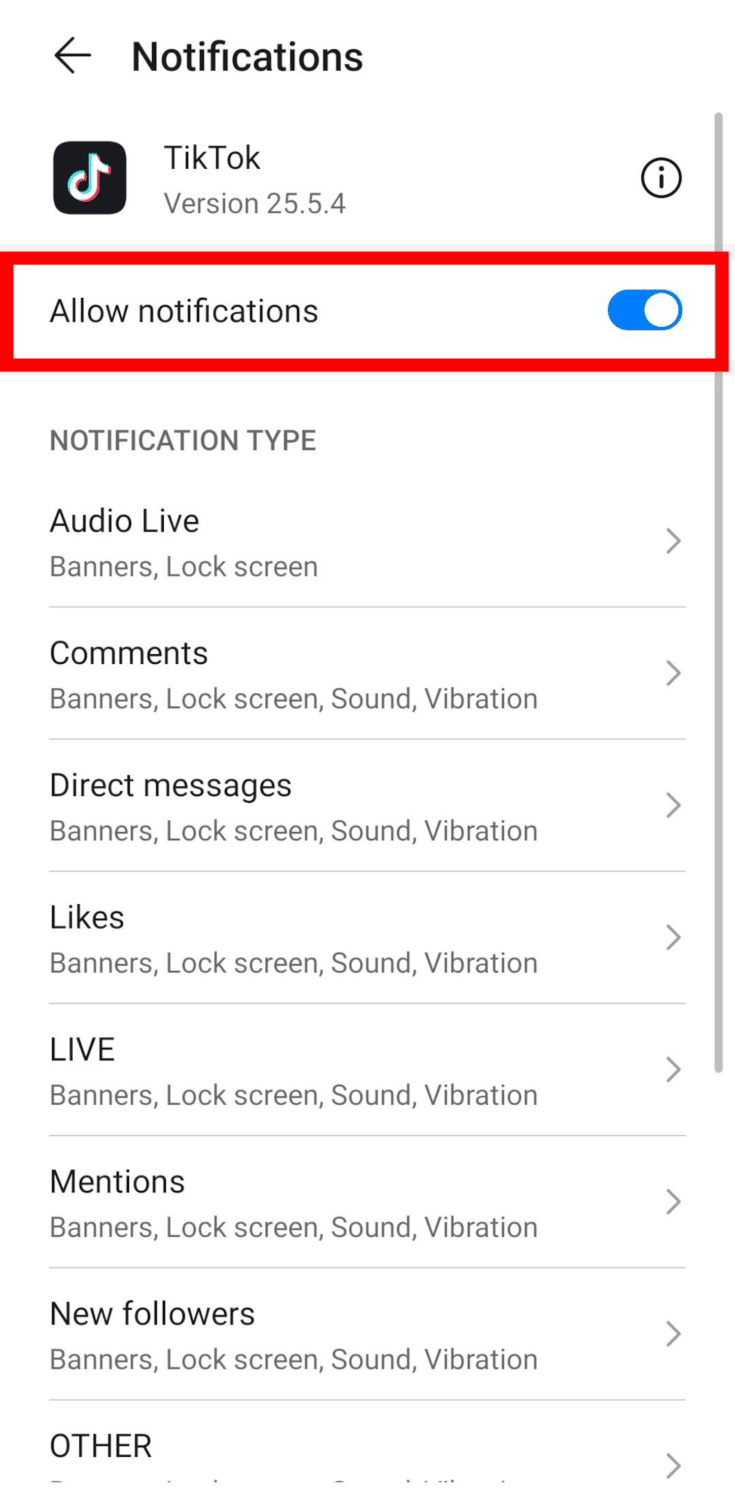 Besides that, you can also configure other settings, including how you would like the notifications to appear on your phone and whether you want them shown on your lock-screen, banners, or just in the notifications area.
Now that you've enabled notifications on TikTok in your phone's settings, let's head over to the app to set this one up, too.
Do the following steps:
STEP 1

Open the TikTok app.

STEP 2

Go to your profile page by tapping the person or "Me" icon.

STEP 3

Tap the hamburger (three horizontal lines) icon.

Step 4

Select "Settings and privacy."

Step 5

Choose "Push notifications" under "Content and activity."

You will now be redirected to the notifications page.

To have TikTok notifications enabled, you need to set each of the types of alerts you want to receive. Simply toggle on by tapping on the option to activate it.
Now, both notifications on TikTok are both set on the settings of your phone and the app itself, so everything's good to go.
How Will You Be Notified of TikTok Notifications?
When a TikTok user you're following uploads a new video, and turns on post notifications, you will also get an update on your phone. Depending on your phone's settings, you may see this on the notification area of your mobile device, flashed on your lock screen, or as a banner on top. You may also be notified in your TikTok inbox.
However, we experimented on this a little bit, and sometimes the notification we're waiting for just won't appear. We can't say for sure if this is due to a bug or another change in the app's systems, but if you experience not getting notifications even if you have enabled it, you can try the following:
Exit TikTok and then launch it again to refresh the notifications.
Update your app. One of the main reasons why you may experience errors is due to the app being out of date. Ensure to update the app regularly.
Uninstall the app, and then reinstall it again.
If you still haven't got any notifications of other TikTok users uploading new content, the only thing you could do is check their profile now and then to see if there's a recent upload. Unfortunately, the notifications sometimes don't work smoothly, so you may still experience problems regarding post alerts.
You can also send a report to TikTok's support page by going to Settings and privacy > Report a problem > Tap the pen and pad icon twice > Write a message to TikTok's customer support and wait for their response.
On the other hand, this can also sometimes happen due to your device.
One example is if you have too many app notifications on your phone. Try to limit how the other apps send notifications so that TikTok alerts won't get buried under all the other messages.
Can Creators Know If Their Followers Have Notifications On?
The short answer is no. Creators won't know if any of their followers have enabled post notifications. You can try guessing they may have if they constantly like and comment on your videos whenever you upload new content. Still, even that doesn't actually confirm that they have activated notifications for your posts.
On the other hand, you won't also have to worry if you activate your post notifications for other TikTok users. They will have no knowledge you did.