A traditional green screen allows filmmakers to replace backgrounds in editing or live on TV. Most of the time, you need a green screen behind you to accomplish the effect. TikTok allows you to level up your videos with limited equipment.
This post will cover the green screen effect on TikTok and how you can use it. Let's dive in.
What is the Green Screen Effect on TikTok?
What exactly are "green screen" effects?
Ever since the early days of filmmaking, people have sought ways to improve or change their backdrop to transform their setting/location without physically altering the place.
Green screens, a variant of a technique called chroma keying, are one of the most used methods to achieve this. Meteorologists, newscasters, filmmakers, and even public figures utilize this to change their plain background, usually shot in a studio, to something that suits their purposes more. For example, in the case of weather forecasters, you might see a live, interactive map in their background.
In reality, however, that video or image has been superimposed, and the person is just standing in front of a green-colored canvass.
Green screens are used to put one image or video on another, such as "placing" a person in another place instead of a plain studio. And for a long time, this technique was usually only accessible to people with skills or experience in video editing. Suffice to say, it wasn't so easy to do then.
Then, enter TikTok.
TikTok has made many things that were previously limited to professionals easily obtainable and doable by us ordinary folks. Even beginners who are new to video editing can take advantage of the many editing features offered by TikTok, including filters, instant image enhancements, and of course, the green screen.
What is green screen effect on TikTok?
With TikTok's green screen feature, you won't even need to put a bright green cloth behind you. You can instantly transform your background into beautiful and fantastic sceneries with a few clicks.
It can also help you achieve many other fun things that otherwise would take time to do, such as superimposing your face on a cartoon character or putting a video on your forehead as if you imagined this scene.
Sounds fun, right? Not to worry; it's very easy to do, too. You won't even need an actual green screen background to achieve this. Just the TikTok app on your phone, and you are good to go.
In the next section, I'll explain how to do TikTok's green screen effect in a step-by-step guide.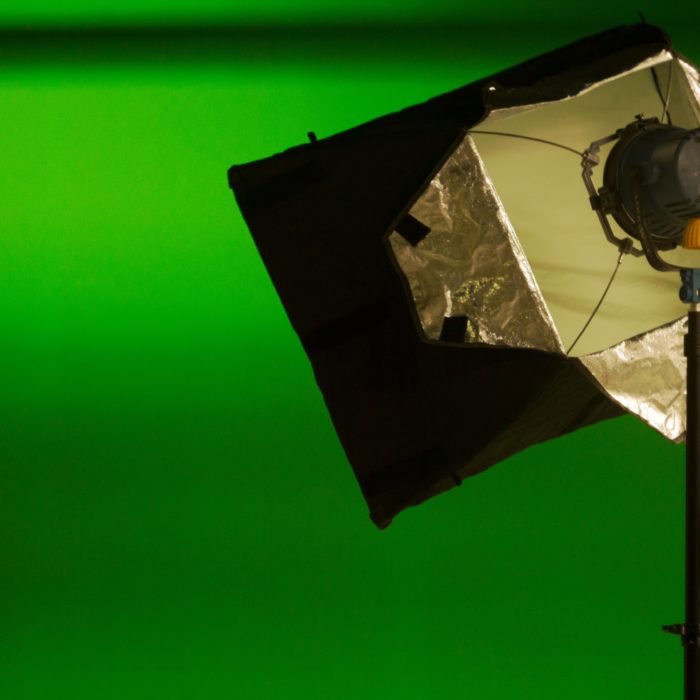 How to Set Up The TikTok Green Screen Effect
Now, I will explain how to set up the green screen effect on TikTok. But before that, did you know that you can use dozens of different green screen styles on the app?
The Many Green Screen Effects on the TikTok App
Each green screen option has a distinct layout style. These three are the most popular:
Green Screen
Green Screen Video
Duet with Green Screen Effect Layout
The first one is the normal green screen effect that people use. Using this specific type of green screen effect, you can superimpose yourself on a static image. You can use stock images from TikTok itself, but you can also upload your own picture.
Meanwhile, the green screen video is the same as the first one, except that you must use a video here. Like the previous one, you can use a stock video from TikTok or even upload your own.
Lastly is the green screen layout in the Duet function. Unlike the first two styles I already mentioned, this green screen filter can only be used on duets. More on this later.
How to Use the Green Screen Effects for your TikTok Video
To use the green screen effect on the TikTok app, follow these steps:
Step 1

Launch the TikTok app. If you don't have it installed on your phone yet, you can download it in the Play Store (for Android) and the App Store (for iOS).

Step 2

Click the plus icon (+) in the bottom center of the app.

Step 3

First, choose how long you want to take your video by dragging the black highlight to your desired time. You can choose between 15 seconds, 30 seconds, and 3 minutes.

Step 4

Tap the effects button on the left, beside the big red record button. Note that the display icon may change from time to time, but don't worry, as this is where the effects button has always been.

Step 5

A context menu will open where you can select various effects, divided into categories. You will have to find the Green Screen category, which you can access by swiping the tabs until you find the green screen tab.

Alternatively, you can also tap the magnifying glass icon and search "green screen" if that's more to your liking.

Step 6

Now, here's the fun part: there are many green screen features to choose from. Choose any style of green screen effect on TikTok you like. As of this writing, over 50 green screen effects are available on the platform!

Pro Tip: Bookmark the green screen feature you used so that you can easily find it next time!

Step 7

You can upload a video from your gallery to serve as your background or use stock media from TikTok.

Step 8

If you choose to upload a video from your gallery, TikTok will ask you to trim it according to the time you specified in Step 3. After trimming the video, tap next.

Step 9

Record your video by pressing the big red button in the middle. After you're done, tap the checkmark button. If you want to finish the 15 seconds, it will eventually stop.

Pro Tip: Choose a neutral background with plain colors. This will help enhance the quality of your video.

Also, do note that your face is the part most easily recognized by the technology. If the camera sees your face, other parts of your body may appear more easily. If you only want to show your hands or other body parts, the camera may have a harder time differentiating you from the background it's supposed to change. You may become invisible altogether.

Another great tip to remember is to avoid wearing green. Or you might see something silly on the video like a floating head because the filter mistook your clothes as part of the background.

Step 10

Add sound, filters, or any other element you want to include in your video.

Step 11

Click "Next."

Step 12

Write your caption, tag people and location (if necessary), and adjust the privacy settings of this video. Here is where you can also add tags or configure your comment preferences.

Step 13

Tap "Post" to show your video to the world. If you're not ready to post it to your profile, you can always save it to "Drafts" and return to it later.

And that's it! That's how you can use the green screen effect on TikTok without actually using the traditional green screen.
How to Use the Green Screen Effect on TikTok Duets
You can now also use the green screen effect while doing duets with other content creators. Here's how you can do it:
Step 1

Launch the TikTok app.

Step 2

Find the video of the user you want to duet with. You can either look for it using the search bar or head over to that person's profile and find the video among their uploads.

Step 3

Tap "Share."

Step 4

Choose "Duet" on the menu that will appear.

Step 5

On the menu on the right side, choose "Layout."

Step 6

Select "Green screen" from the menu.

Step 7

Start recording by tapping the big red button. When you're done, tap the checkmark button.

Step 8

Add filters and other effects by selecting it on the menu to your right. You can also choose to add a voiceover. There are also options for adjusting the privacy settings and your video's volume.

Step 9

Tap "Next."

Step 10

Add hashtags, locations, and other details for your video. You can even choose to allow people to duet on this video, too!

Step 11

Click "Post" to upload your new video. You can also save it to drafts if you want to tweak it more before you publish it.

That's pretty much about how to use the green screen while creating a duet video with another TikTok user. Check out our guide here if you want to learn more about duets.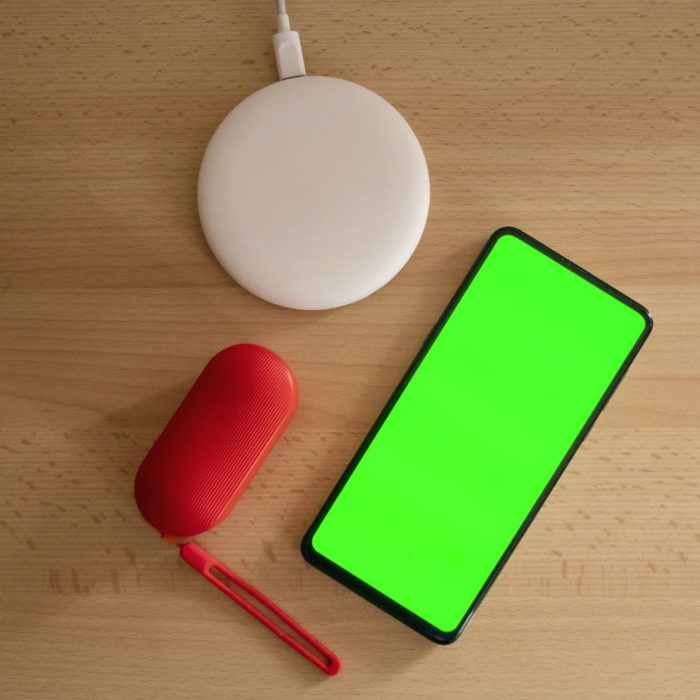 Green Screen Effect Ideas for TikTok
There are a lot of fun things you can do on TikTok using the green screen effect. Here are some of the best ways content creators take advantage of this filter:
Skits
Many content creators utilize the green screen effect when making a short comedy sketch. If you love to make people laugh, use a green screen to enhance your video background and make it more suitable for the subject of your video.
Critiques
You can also use a green screen when you're making a response or critique to another user's video. Put the video of the said media in the background while you react or critique. You can even use a duet with a green screen feature for this.
Reaction Videos
You may even use it for making reaction videos to films, TV shows, and video games. For responding to another user's video (e.g., those with hilarious or educational content), you can also use the duet with a green screen feature. However, before you do that, make sure that you know TikTok's rules for that to avoid getting a copyright strike.
Rating
Use this effect if you want to rate anything. For example, create a reel of your past photos, outfits, or content, and then make it your background while you rate them.
Tutorial or how-to videos
You can also use this to make any how-to videos. Put the video in your background while you explain stuff.
Discussion or Video Essays
This is also great for creating video essays, such as detailed analyses of movies, TV shows, or games. This effect is actually really useful for those who upload their game stream clips to TikTok! Just like reaction videos, though, know the rules first to avoid copyright strikes.
Lessons
If you're offering free lessons on your TikTok account (you're awesome, BTW), green screen effects can also put your videos to the next level.
Bucketlist
Fancy sharing your bucket list with your followers? Whether it's your dream vacation spots, things you want to buy in the future, or any goal, make a reel out of it and put it as your background.
Funny anecdotes
Want to retell a funny story that happened during your trip, prom, or party? Tell it using a green screen effect.
Tips and tricks
For those out there who love to share little nuggets of wisdom about the nuts and bolts of any kind, the green screen effect on TikTok will surely up your game.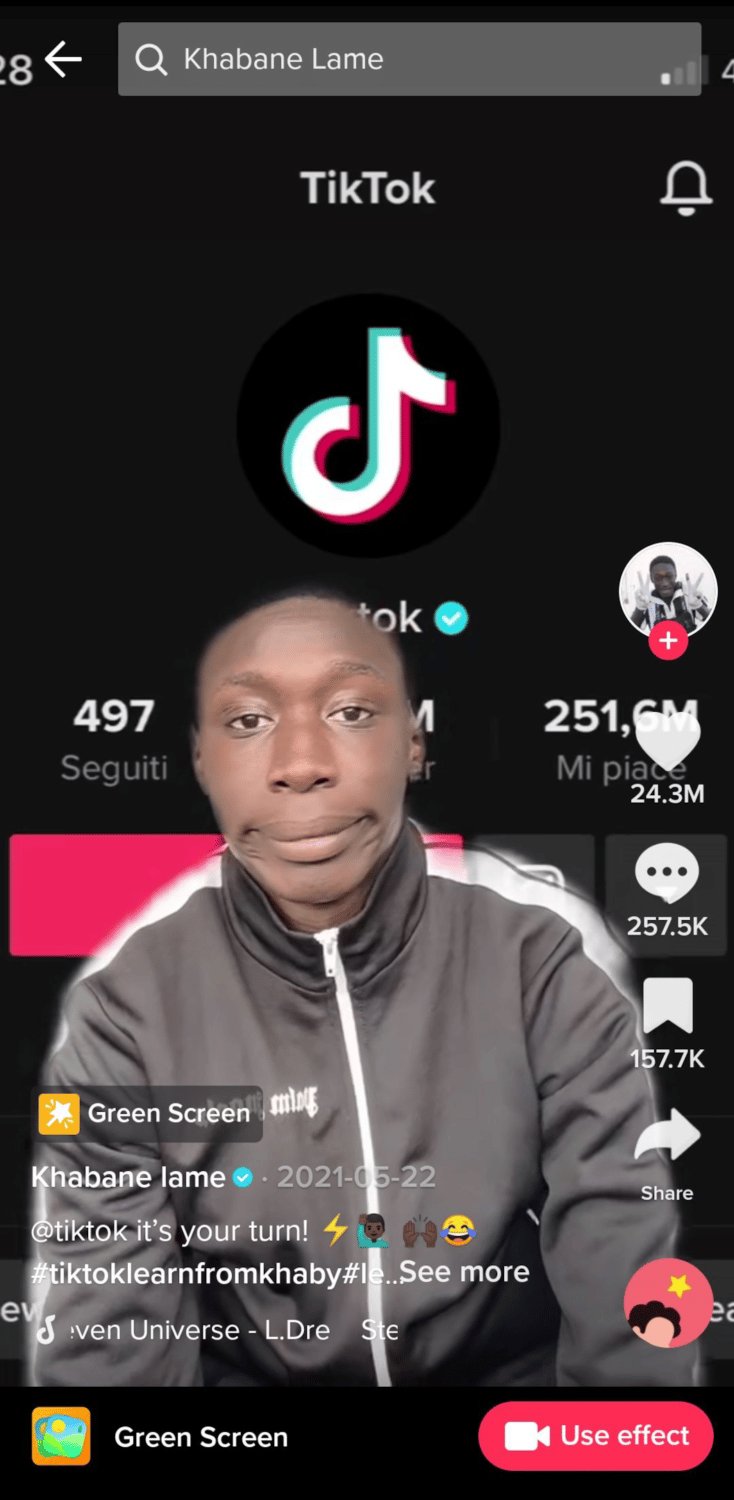 Truth be told, the possibilities are endless. Your creativity is the limit!