Experts have revealed the many dangers of Instagram. However, the danger it poses depends on how you engage with the app. Zara Abrams from the American Psychological Association said:
"Psychologists' research has shown that Instagram use is associated both with beneficial and detrimental effects—depending on how it's used."
This article will show you how Instagram can negatively affect young people, and what are the best ways to create a safe space that's beneficial for all kinds of Instagrammers.
Does Instagram Affect Your Mental Health?
An app that's saturated with all kinds of photo and video content sounds entertaining. However, so much visual content can bring about a variety of personal and psychological issues for its audience. Researchers have confirmed that Instagram can affect your mental health. And this is true for both adolescent and adult users.
Given that Instagram is a photo-centric platform, studies have shown that body image and self-esteem issues are linked with its continual use. Apart from this, Instagram is also associated with depression, anxiety, bullying, and harassment. In some cases, sleep quality and eating habits can be negatively affected too.
Negative body image, self doubt, and low self-esteem are closely tied to negative social comparison. With Instagram, it's easy to compare one's self with others on the platform. Teenage girls are dominantly affected by this. Seeing public figures with "ideal" bodies doesn't help build a positive perception of themselves.
It's also seen how Instagram can lower self-esteem. Instagram users today tend to use the number of likes and followers as a metric to define their self-worth. Young users join in status-seeking activities only to end up with lower self-esteem and a sense of social pressure.
Additionally, a paper says that people who edit their photos to conform to the trending body figures are likely to develop eating disorders. Plus, not conforming to these "Instagram standards" can send teens spiraling which can lead to depression and social anxiety.
In the face of all these mental health effects from the use of Instagram, you must keep in mind that it's not the same case for everyone. Psychologists have pointed out that the dangers of Instagram depend on how you engage with the application.
It's crucial to note that the time spent on the app is not the issue. Depending on how you use Instagram, will yield either positive or negative emotions and interactions.
Are Instagram Users Known to Be Toxic?
An article from the Wall Street Journal explains how Instagram is toxic for teenage girls (but also for everyone else). It shows data points that confirm how the social environment created by Instagram is toxic for its users. And other articles say the same thing. However, you can say that the social media platform is toxic, but not all its users are.
To defend the app's users, they are free to share snippets of their lives. Others choose to post major life events worth celebrating. And others simply share day-to-day happenings just to "document" their lives.
Nonetheless, toxicity arises from objectification, negative social comparison, harassment, and bullying. Comparing yourself with others you see on Instagram can bring about negative feelings such as self-doubt and body image concerns.
Remember when I said that not all Insta users are toxic? 'Not all' means some are. These are the people who choose to harass and bully other users on that social media app. Many teens, and other age groups, take part in cyberbullying which greatly affects the people on the receiving end.
Is Instagram Safe for Kids and Teens?
As a parent, you always want what's best for your kids. You want to see them grow in a safe and positive environment. Taking on the digital age has made this goal a bit more difficult… but not impossible.
You should be wary of the following dangers of Instagram that you and your kids may encounter. With the right precautions, you can help your children safely navigate through Instagram (and other social media apps, for that matter).
The following are some of the possible dangers you may encounter with Instagram:
Fake News and False Information
Have you ever been casually scrolling through your feed and found "breaking news!" posts reporting up-to-date emergent news? I bet you have; and so have I.
News outlets are delivering local and international news through social media posts. Today, reading about current events is easy as ABC. And it's also that easy to get duped and misinformed.
There's an army of fake accounts and pages that post fake news or spread false information. It's important to do a little fact-checking before believing a post that claims you can live up to 1,000 years old by eating a special golden apple.
So, what's the easiest way to fact-check news or information?
Well, you can start by determining whether the account (that posted the content) is legitimate or fake. There's a guide about this later on in the article. Aside from that, you can use Google to find another credible source that talks about and confirms the same content.
Phishing
There are different types of scams: not only on Instagram but all over the cyberspace as well. And one of which, is phishing. But, what exactly is it?
Phishing is when a fake account that's copying or pretending to be a real and reputable company (or person) sends you a message. These accounts are trying to trick you into giving up some of your personal and sensitive information.
Here are signs that the message might be a phishing scam:
There are spelling errors in the message.
There is a sketchy-looking link in the message (which is something you should avoid clicking).
There is a request for private information (such as passwords, credit card details, social security numbers, and personal addresses).
Inappropriate and Sensitive Content
The amount of content on Instagram is unending. You can get lost scrolling for hours on end with its addictive nature. And in that sea of photos and videos, there's a huge possibility of seeing inappropriate and sensitive content.
Some posts on the platform do not violate community standards but might be too graphic or inappropriate for certain audiences. If you are setting up an account for your kids, you may want to adjust their 'sensitive content' settings. You can learn about how to do this later in the article.
Cyberbullying
Cyberbullying has been a prevailing problem in the digital world. The power of being anonymous by using a fake account has encouraged cyberbullies to continue what they do.
In recent years, there have been organizations fighting against cyberbullying.
Governments have laws in place for online offenders. Real-life consequences are now a threat to cyberbullies. But despite all that, your kids could still be bullied on Instagram.
Online Predators
Online predators are one of the most concerning dangers of Instagram for parents. If you aren't familiar with online predators, they are people who look for and talk to children and teens online to exploit and abuse them sexually. They may ask for intimate photos and videos or start explicit conversations with minors.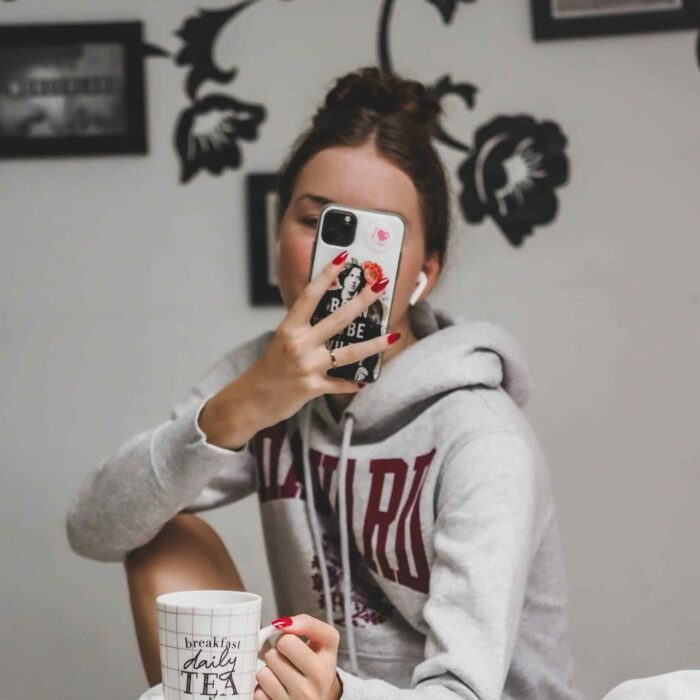 How To Stay Safe on Instagram
Being aware of the dangers of Instagram is one thing. Still, you aren't completely safe from these dangers by simply knowing about them. You need actionable steps to help you and your kids stay safe on Instagram. Below are some helpful ways for you and your kids in order to safely use Instagram.
Set your account to private
Having a public account exposes you to many possible scams and harassment. The goal is to minimize this risk, and one of the best ways to do so is by having a private account.
Here are the benefits of setting your account to private:
You protect your content from being stolen.
There is a lower chance for your account to be banned.
Only your followers can see and interact with your posts and stories.
You can filter who follows you. You get "follow requests," which you can accept or not.
Furthermore, a great feature on Instagram is the "message requests." Messages from people you don't follow are automatically filtered there.
You can set your Instagram account to private by following these steps:
Step 1

Go to your Instagram settings.

Step 2

Go to the "Privacy" tab.

Step 3

Screenshot of the Privacy settings on Instagram with the Private Account setting enabled.

Turn the toggle on for "Private account."
What's more, there is an option to create a custom 'close friends' list for your Insta Stories. This way you can share your daily stories only with a selected number of people. Below is a quick guide to set it up.
Step 1

Go to your profile page.

Step 2

Click the menu button (upper right corner).

Step 3

Choose "Close Friends" from the menu.

Step 4

Screenshot of Suggested user for Close Friends list.

From the list of suggested users, choose the people you want to include in your "Close Friends" list. You can add and remove people anytime.

Step 5

Click "Done."
Lessen the sensitive content you see
In 2021, Instagram introduced its Sensitive Content Control. This is a big step towards lessening inappropriate content seen by some Insta users, such as kids and teens.
You can follow these easy steps to control the sensitive content seen on your kid's account.
Step 1

Screenshot of the settings menu on Instagram.

Go to your Instagram settings.

Step 2

Screenshot of the Account settings on Instagram.

Go to the "Account" tab.

Step 3

Select "Sensitive content control."

Step 4

Screenshot of Instagram's sensitive content control settings.

Choose how much sensitive content you prefer to see.

Step 5

Choose "Less", and save your changes.
Block, restrict, and report toxic accounts
Through your journey with Instagram, you may encounter bullies, and people who share inappropriate content. Or, you may just not like what they say and post online. Now, you don't have to tolerate those types of content. You can choose to block, restrict, or report those accounts.
So, what's the difference between the three? I'll tell you.
Block – they can no longer interact with your account.
Restrict – interactions between your accounts are limited.
Report – if their content is explicit or is a form of harassment, you can report their account. By doing so, their account may be banned.
Steps to block an account:
Step 1

Go to the account's profile.

Step 2

Click the three dots in the top-right corner.

Step 3

Select "Block."
Steps to restrict an account:
Step 1

Go to the account's profile.

Step 2

Click the three dots in the top-right corner.

Step 3

Select "Restrict."
Steps to report an account:
Step 1

Go to the account's profile.

Step 2

Click the three dots in the top-right corner.

Step 3

Select "Report…"

Step 4

Select the reason you are reporting the account.
Turn off location sharing
To stay on the safe side, it's always advisable to turn off location sharing for all of your apps. Having an online presence doesn't mean you have to sacrifice safety.
Here's how you turn off Instagram's location sharing on an iOS device:
Step 1

Go to your Android phone's settings.

Step 2

Go to Apps and look for Instagram.

Step 3

Screenshot of the Instagram app settings on an Andriod phone.

Click "Permissions."

Step 4

Screenshot of Instagram App Permissions on an Android phone with the Location Sharing turned off.

Turn off the toggle for Location sharing.
Learn how to determine fake and legitimate accounts
Instagram is scattered with fake accounts, and it's best to know how to identify them. This way, you can avoid them and avoid being deceived.
How to determine a sketchy or fake account
It's easy to be swayed by well-written captions or direct messages from unknown accounts. Because of this, you and your kids should know how to spot fake accounts used for scams.
Here are telltale signs of fake accounts:
They don't have a profile picture.
They have little to no posts at all.
Their account name is misspelled or has extra characters.
They significantly follow more accounts compared to the number of their followers.
Their account was recently created. You'll know this if all their posts are recent and are posted in a short period of time.
How to know if an account is verified
Instagram makes it easy to identify the true accounts of well-known people such as celebrities, influencers, brands, and even politicians.
Look for the verified badge (the blue check icon) beside the account's name.