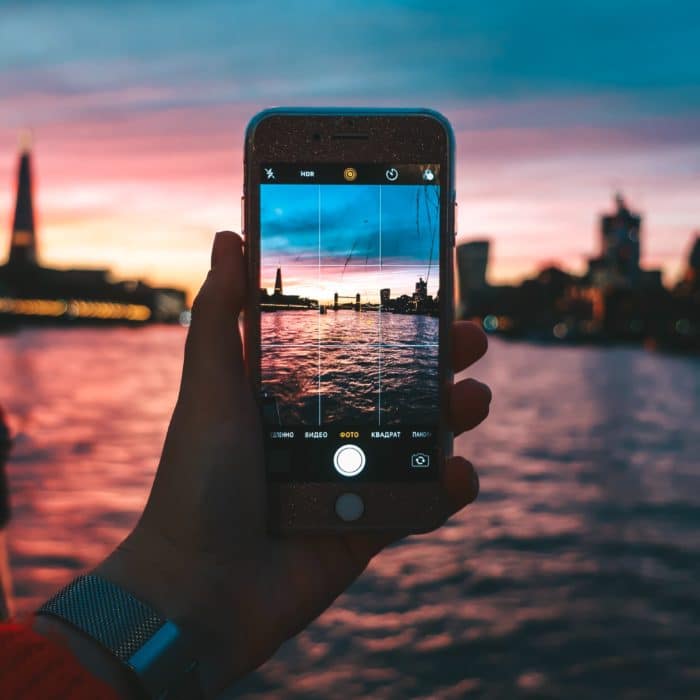 What are Instagram Reels?
Instagram Reels are brief, vertical videos that can be watched on the Instagram app or website, lasting up to 60 seconds. They can be shared on a user's Feed, Stories and the Explore page. Reels are the latest addition to the post formats on Instagram and bring a few advantages other than the usual Insta #picture. The main feature that sets Reels apart is that instead of being shown to only your followers, your videos can be watched by any account on Instagram, just by accessing the Reels tab. This means your account can easily reach new followers worldwide through Reels.
Any Instagram user can create their Reel post by editing video and photo clips together inside the Instagram app. Additionally, Instagram offers a variety of music tunes, from the app's library and streaming services such as Spotify and Soundcloud. Therefore, both popular and less-known tunes can be found on the platform and are free to use! As an alternative, it is possible to use other users' original audio from their Reels on your videos.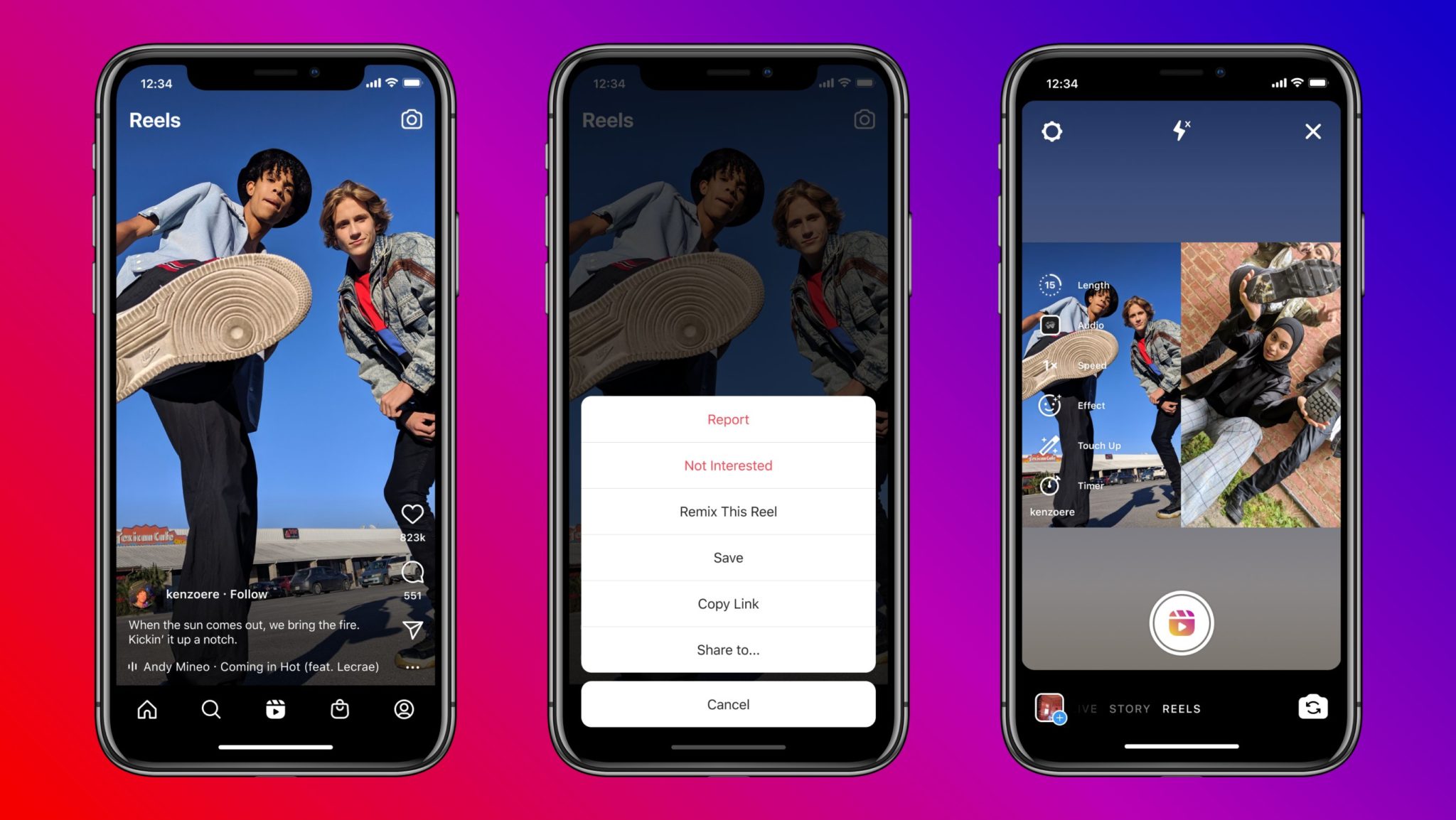 Other than that, users can "Remix" Reels created by other Instagram users, creating a new video featuring the one being remixed.
How to Create Instagram Reels
If you want to start recording your own Reels but you're unsure where to start, here's a step-by-step guide on the basics steps of filming, editing, and posting a Reel.
HOW TO MAKE A REEL ON INSTAGRAM
Step 1

Logged into your Instagram app, tap the Create (+) button on the top of the screen.

Step 2

Choose Reel from the displayed list.

Step 3

Alternatively, you can swipe right on the main screen to open Instagram camera. Scroll the bottom row to find the Reels option.

Step 4

To start recording, press the Record button at the bottom.

Step 5

If you have previously recorded your video, you can add it by using the Gallery button in the bottom-left.

Step 6

Scroll through your camera roll and click the clip or image you want to add. To add multiple clips, tap the Multiple (❐) icon on the top-right of the gallery.
HOW TO EDIT REELS ON INSTAGRAM
Now that you know the basics, let's walk through some editing tools that will help you give a polished look to your Reels:
How to edit the Layout of your Reels
Different layouts on Instagram reels are a nice way to create dynamic frames or show more information in a shorter form.
Step 1

The Layout button changes the number of pictures displayed on the screen. Tap it and choose a layout that's between two and six clips.

Step 2

Press record or select from Gallery to start adding your clips. Repeat after each one.

Step 3

To delete the previous clip you added, tap the X button on the top left-hand side.

Step 4

When you're happy with the result, tap the Checkmark (✓) button.
How to change Reels Length and Timer
Different lengths on Reels have different effects – storytelling and tutorial content usually require longer videos, while funny and visually packed Reels call for shorter, looping videos.
Step 1

The Duration button allows you to choose for your Reel to last up to 15, 30, or 60 seconds.

Step 2

The Timer button allows you to record hands-free by setting a maximum length for the video to be recorded.

Step 3

To add a countdown before recording, click the Countdown button to set up a timer that can be either 3 or 10 seconds long.
How to add Music to an Instagram Reel
Step 1

The Audio icon opens the Instagram music Library.

Step 2

Scroll through or use the search bar to find your preferred tune. The Saved tab displays Audio tracks you have favorited.

Step 3

To use your own original audio, tap the Import button to select clips from your phone gallery.

Step 4

Use the slider to match the part of the track you want in your video clip.
How to add Audio to Reels on Instagram
Other than music, you can also add audio effects and voiceovers to your Reels. Also, you can combine the three of them as you like!
Step 1

Tap the Audio button (♫) on the top of the screen.

Step 2

Choose between Music, Voiceover, or Sound effects – you'll edit one at a time.

Step 3

Once you added your audio, you can mix the volume for each one, by sliding the soundbars up and down.
How to add Filters to Reels
Were you wondering if you can add filters to your Reels? Yes! You can!
Step 1

To add filters after you recorded your Reel, click the Effects (✧˚.) button.

Step 2

Browse through the displayed filters and try some of them until you find the perfect one.

Step 3

To add filters you have saved from other accounts, click the Bookmark icon above the filters.

step 4

Lastly, if you want a specific type of filter, you can search for it by tapping the Magnifier Glass icon.
How to add Stickers and GIFs to Instagram Reel
Adding stickers and gifs to your Reels is very straightforward, and works almost the same as adding them to Instagram Stories.
Step 1

To add GIFs and stickers to your Reel, click the Sticker icon on the top of the screen.

Step 2

Tap the GIF button and browse for your favorite one. Tip: tap something related to your video in the search bar for more directed options.

Step 3

Alternatively, you can add a Poll, Quiz, and stickers by browsing the Add-on tab.
How to add Text to Reels
Text can be used in Instagram Reels in many ways. For example, you can open your Reel with a written title, or insert captions to what's being shown on the screen.
Step 1

To add text to your Reel, click the Text (Aa) button.

Step 2

After writing your text, you can experiment with colors and fonts using the letters on the top.

Step 3

You can try sizing your words up or down, by pinching and sliding the text with two fingers.

Step 4

When done, you can adjust in which frames you want the text to appear.
How to add Green Screen to Reels
Green Screen is a popular effect on Instagram that allows you to upload an image or video to the background of your Reel while filming a video of yourself in the foreground.
Step 1

On the Reels tab, tap the Gallery button to open videos and pictures from your phone Gallery.

Step 2

Tap the "Green Screen" button right next to the Multiple (❐) icon.

Step 3

Choose your preferred picture to use as background.

Step 4

Flip your camera to selfie mode to start recording with a background.
How to post a Reel on Instagram
Now that you know how to make a reel on Instagram, posting it will be the easiest task. However, you should always add hashtags and a description to your Reel. Note: read this article to learn all about hashtags!
Step 1

After you edited all your clips, click the Next button.

Step 2

Add a description to your Reel. Remember to include 3 to 5 relevant hashtags in your text. You can use them in the middle of a phrase, or post them all below the text. This will help your Reels reach audiences that value your type of content.

Step 3

Click the video miniature and pick the most instigating cover image.

Step 4

If you want your Reel to appear on your Instagram feed, check the Feed box. That means people will be able to see your Reels both in the Reels tab on your profile and will also be shown in your followers' Instagram feeds.

Here's the final result: https://www.instagram.com/reel/CMn5yCkHh6N/
How to access Reels Analytics on Instagram
Analytics is one of the most helpful tools on Instagram when you're trying to gain followers. They will show you how your Reels are performing, therefore hinting at what direction you should follow in upcoming posts.
Step 1

On the Reels tab of your Instagram profile, go the Reels tab.

Step 2

Once your Reel is on the screen, click the Three Dots (…) button.

Step 3

In the menu, click the last option, "View Insights".

Step 4

The icons on the screen will show you how many people have seen, liked, commented, forwarded, and saved your Reel.

Step 5

On the bottom, you can see how many accounts your Reel has reached.
Getting an Instagram Reel to go viral is a finicky business, but you can watch how your Reels are performing by using Instagram Analytics. Use this information as a guide to finding out what type of video content is bringing more followers, and even which hashtags are attracting views.
There is no ready recipe to create a viral Instagram Reel. However, some basic editing tricks and tips will make your Reel stand out and look more finished.
How to create a perfect Reel
Plan a storyboard for your Reel before filming:
Plan how long you want your video to be (less is more!)
Choose an order to display your clips in an appealing way.
Create seamless transitions between different clips:
Get inspired by accounts you like:
Go to a popular account to find out new ways to create content using Reels.
Draw inspiration from different transitions, songs and topics.
Watch accounts that have similar content to yours.
Use captions:
While sound is one of the most captivating aspects of videos, most users watch Reels, posts and Stories with the sound OFF.
Using captions is a way to make your Reels accessible to viewers who can't listen to your Reel, for any reason.
How to get people to notice your Reel
Use audios that are trending at the moment:
Scroll for a while in your Reels feed.
Start saving the sounds you think are being repeated the most.
Use these sounds in your next Reels.
Create short, dynamic Reels:
Invest in quick stories, highlighting appealing images.
Avoid long pauses – use the trim tool to shorten long clips.
Use the fast forward button to speed up – you can use this to show behind the scenes, the progress of something or purely for a more dynamic pace.
Call to action:
At the end of your Reels, suggest/ask for people to subscribe, like or share your video with friends. This will increase engagement in your Reels, telling the Instagram Algorithm that your content is worth sharing.
If you use Instagram to promote or sell products, include in your Reel directions how people can buy your products (direct to your Etsy store, DM's or link in bio).
Direct viewers to your Instagram bio link. You can also add links directly to a Reel or Story by using the swipe up feature or the link sticker.
Address viewers in your Reels: videos that include the "You/your" language tend to perform better on the platform. You can ask questions about the post ("what do YOU think of this?", "would YOU try that?"). Alternatively, you can suggest things that might be useful for your viewers ("10 tips to improve YOUR profile", "how to make YOUR vacation incredible).
How to create aesthetic Reels
Create a brand for your content:
Even if you're not selling products, your Instagram profile still needs a brand.
Here are a couple of articles on Instagram branding.
Use the vertical form:
Horizontal footage will be either cropped or minimized on the typical vertical screen.
If you don't have an option, crop and fit your horizontal clips to fit naturally on the screen.
Use editing apps to perfect your videos:
While Instagram offers some editing tools for Reels, other apps cover more refined editing tools.
Luckily, you don't need a nice computer or design skills to do that. Apps like Veed provide you with all you need to make simple and sleek edits to your Reels before posting.
Find the right Filters:
There are thousands of Filters on Instagram, each one modifying your Reels in unique ways.
Find the ones that match your content and style to use in your videos, either from other people's stories or by browsing the Filters tab.
Frequently Asked Questions
Can You Have Both Images and Videos in Instagram Reels?
Yes. Users now can add both pictures and videos to Reels using their smartphones. To add photos to your Reel, click the Plus (+) icon on your Instagram app and choose "Reel". Then, tap the Gallery icon at the bottom of the screen to display your phone media and pick the picture you want to add. Next, drag the bar shown on the bottom of the screen to adjust how long you want the photo to be shown. To add multiple pictures and videos, tap the Multiple (❐) icon before selecting.
Who Can See Your Instagram Reel?
The audience to your Reels depends on your Instagram privacy settings.
Public accounts: Your Reel will be shared on the Explore page, where it can be seen by the wider Instagram community. Meanwhile, your followers can see your Reels if you choose to post them to your Instagram feed. If you use certain songs, effects, and hashtags, your Instagram Reel will also be shown on the dedicated page when someone clicks on the song, effect, or hashtag name.
Private accounts: Your Reel will only be shared with your followers, not showing on the Explore page. Additionally, people won't be able to share it with people who don't follow you, and nor can they share your Reels with people who don't follow you.
When Were Instagram Reels Introduced?
Reels were launched worldwide by Instagram in 2020, on August 5. However, an early version of the Instagram reels feature was already being tested in Brazil in November 2019.
How Long can Instagram Reels be?
Currently, Instagram reels can be up to 60 seconds long. When it was first launched, Reels could be up to 15 seconds long, being expanded to 30 seconds less than a month later. On July 17, 2021, Instagram announced new video clips could last up to 60 seconds. If Instagram Reels follow TikTok's steps, they can be expected to last up to 3 minutes in the future.