Onlyfans captions are generally a mix of hashtags, and the subject of the content you are posting. On Onlyfans it is important to be very descriptive as the content is locked beheind a paywall so you need to use language that encourages people to purchase.

In my experience, the best captions are questions because they encourage your fans to interact with you. You should try to include things like: what do you think? What would you like to do? Did this turn you on or off? These examples are cheeky, fun, and more importantly, are likely to get comments.
One of the best ways to make money on Onlyfans is through custom content and private messaging. If your captions motivate people to engage with you it helps build a strong base of loyal fans. Many top creators also charge their fans to send messages back and forth so it can also be an effective way to make more monthly revenue.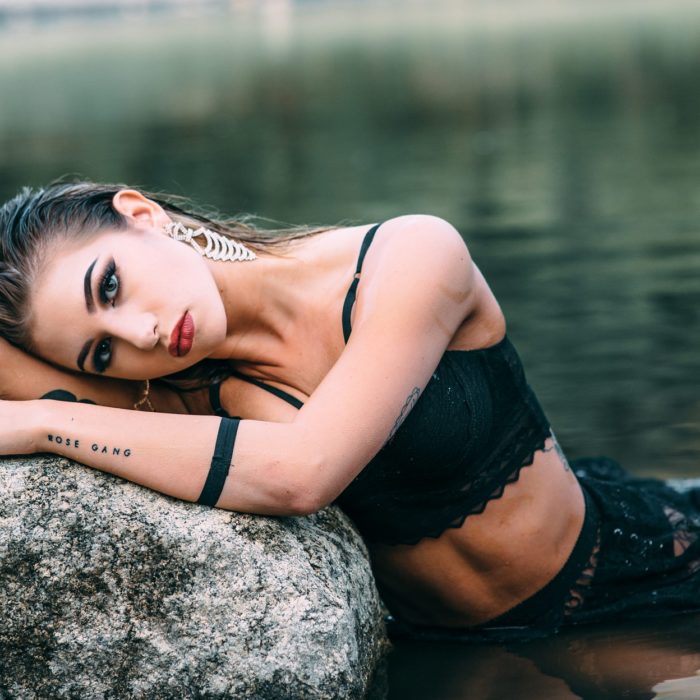 Captions for Adult Onlyfans Content
If you post adult content on Onlyfans below are some good captions that keep things sexy and fun for your pictures and videos:
Having some wine in the hot tub to relax after a long day 😴 how was your day?
What do you think of my favorite dress?😉
Instagram won't let me post this, so this one is just for you Onlyfans!
What do you think?
Living my best life, Do you like outdoor shoots?
Pretty in pink, not as innocent as you think.
Had a busy weekend made this, did you miss me?
Catch flights, not feelings.
Happy Friday! Who's excited for the weekend? 🙋🏻‍♀️
Meet me at sundown
Wearing this for drinks tonight, thoughts?
Cant treat me like I'm regular
Tequila kind of night 😉
I'm not regular.
What are you thinking?
You make me blush Onlyfans 😉
Didn't want to get out of bed this morning. Join me?
Have you seen my vip page yet?
I think it's about time to drop another twerk video 👀 agreed?
Come have a drink with me 🍻
Should I change my hair color?
I made you breakfast, you hungry? 🥰
Can you help me out of this?
Have you checked out the last video I sent in your dms? 😘
No tricks this Halloween…only TREATS 😈
Summer throwback✨
Let me add a little spice to your life
Dripping wet in my white tee shirt… can you dry me off? 💦
I wanted to share my next crazy adventure with you all here on OF
Now who's ready to oil me up?!
Welcome to my neighborhood, can I show you around town? 😉
Would you be my trainer and check my form?
Would you have a picnic with me in the middle of nature?
Just a small lingerie set 💛
Hi kings & queens! Thanks so much for stopping by my page
What should I drink tonight?😉
Good morning ☀️ I hope you have an amazing & productive day 💋
If you liked my insta post you'll really like it when I drop the towel 😉
Lazy Sunday 😊 what are your plans today?
My happy place is in bed with you 😘
I think we need to go on a date
Can the day get any better? Only if I was there with you 😊😉
Let's do brunch and then Netflix and Chill 🍴🥂
It's been so long since I sent one of these. How have you been keeping busy this week?
Good morning Onlyfans, hope you're having a great day!
Last one until next week. Enjoy your weekend Onlyfans 🌴🐚♠️
I'm in bed and bored…any requests? 😉
Gorgeous Sunday Onlyfans 😉 I hope you all have an amazing week!
I'm pretty sure I could make this day better 😉 Onlyfans please…
If you are looking for some hot Onlyfans content check out my Snap 💦
You got me all wet, what now?🌊
Do you think I'm pretty?
Having some wine in the hot tub to relax after a long day 😴 how was your day?
Let me know what's on your mind down below 💬
Have an amazing weekend! We are halfway there 👯‍♀️👩
I'm in bed and bored…any requests?😉
Messages with tips get priority 💙
All messages that come through with TIPS will always be a TOP priority in my inbox 🥰 💌
Just went live with a huge announcement! You're going to want to join VIP soon so you don't miss this 🤤👉👌 Unlock to hear the announcement if you weren't there live!
Idk about you but I think I deserve some tips 😉😈 I'll send something nice the higher the tip!
🚨 ATTENTION 🚨RAFFLE ALERT 🚨 I'm doing a little raffle/giveaway!!! One lucky winner will be chosen at random and will get to have a one on one personal zoom call with me!! 😍 TIP $10 on this post by the end of the month.
Check your DM's… it's been a while 😏
Just another day in the life… hmu to see what else I'm up to 💕
swipe to see the uncensored version hehe 😏🍑
Here is your sign to go to the gym today 💙
Check out my latest workout 🚨 this video shows you exercises that can be performed with or without ankle weights to tone your glutes 🍑
The coolest thing for me about my fitness journey is seeing all the progress I made over the years. Not just in my physical appearance (hello shoulders) but in my confidence
Here are some of my absolute favorite exercises for lower body
Feeling ENERGIZED, MOTIVATED, and READY TO ROCK!
Who wants the workout I did in the gym tonight?
Get your coffee ready to go or have your pre-workout set as your morning treat.
Have your workout plan READY to go so you don't feel like you're just half assing your workout.
The best way for your mind & body to feel good is by getting active 🥳 Swipe up if you agree 👍
Lazy? Not a chance 💋🤸‍♀️ trust me, you don't want to miss this 😉😘