In 2016, the social media giant launched its Live tool, which allowed users to record live broadcasts. Since then, the function has grown in popularity as a way for people to interact with their favorite accounts and ask real-time questions.
This article will show you how to go live on Instagram and what makes for a successful broadcast.
How to Start a Live Broadcast From Instagram
Going live streaming on Instagram is one of the most effective ways to communicate with your followers directly, transparently, and authentically.
Unlike pre-recorded Instagram Stories, Instagram Live is an entirely unedited stream for your followers to tune into and interact with — which can be a great way to showcase the more human side of things for your audience to connect with.
Instagram Live is a straightforward tool! However, before you start broadcasting, you should do a few things before going live on Instagram.
Determine Your Purpose

First, consider why you want to go live on Instagram. Whether you're interviewing someone, showing a behind-the-scenes look at a photoshoot, or answering audience questions, it's critical to plan out the purpose of your live broadcast ahead of time. You could even make an outline to follow during the live video to keep you on track.

Adjust Your Camera Settings

It's a good idea to double-check your camera settings before starting your Instagram Live.

To do so, follow these steps:

Step 1

Switch to Instagram Live mode.

Step 2

Then, in the top right-hand corner, tap the wheel icon to access your controls.

Step 3

From here, you can choose whether or not you want to hide your live stream from specific people and other options like where you want your camera toolbar to appear on the screen.

You can also add a title to your Instagram Live, set the audience (Public or Practice mode), or schedule it for a later time and date using one of the icons on the left-hand sidebar.

Filter Comments That Are Offensive

Suppose you don't want to see inappropriate words in the comments on your Instagram Live. In that case, you can automatically hide offensive comments or manually filter comments containing specific words or phrases.

To accomplish this, you must:

Step 1

Open Instagram settings, then scroll down to "Privacy"

Step 2

Select "Hidden Words,"

Step 3

Toggle on "Hide comments"

Select "Advanced comment filtering" to go even further, or manually add words, statements, and symbols to a list that you don't want to view.

You can designate someone to be a moderator during the Livestream using Instagram's new "Live Moderator" feature. Your moderator will have the ability to report comments, remove viewers from Instagram Live, and turn off comments for a viewer, which will relieve you of one worry.

Review Your Live Stream in Practice Mode

You can check out your Live setup ahead of time using Instagram's "Practice Mode" tool.

Before going live, click the eye icon in the lower-left corner of the screen. Toggle between "Public" and "Practice". That's all!

This feature is ideal for ironing out any flaws before going live to the general public.

Promote Your Live

Because Instagram sends notifications of your live video to some of your followers, if you want to broaden your reach, let your audience know the time and date you intend to go live via an Instagram post or Story. You may also spread the word about your live video on other social media platforms such as Facebook and Twitter.

Go Live

It's pretty simple once you're satisfied with your practice session and ready to go live.

Start your broadcast by tapping the "Live" icon at the bottom of your screen, and prepare for your close-up!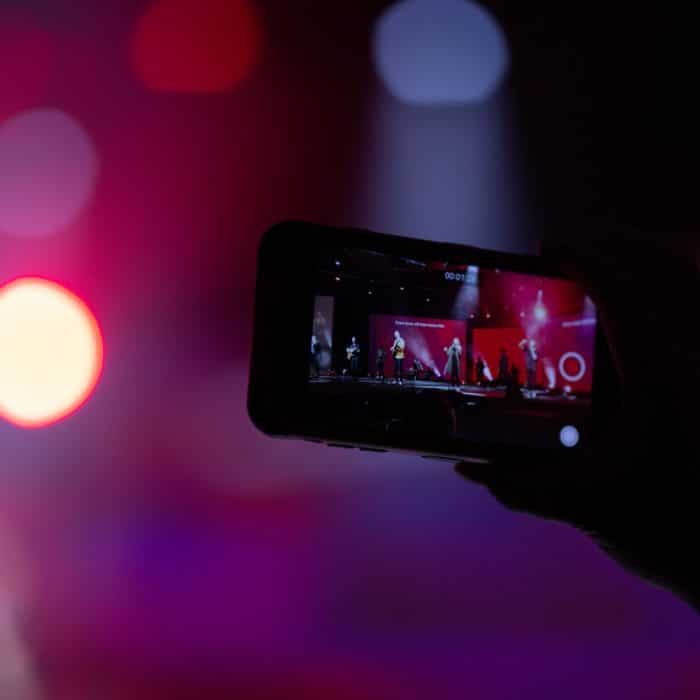 How to Manage an Instagram Live Video
Once your Live streaming is up and running, you can add a variety of features to make your broadcast more engaging: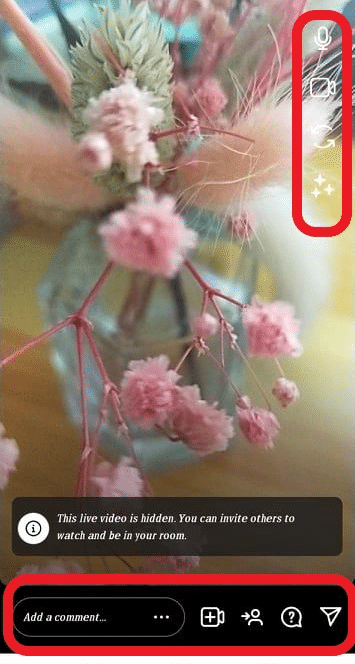 Tap the question mark-speech bubble icon at the bottom of the screen to send questions from your viewers to the screen. You can only share a question that a viewer has submitted during the broadcast.
Tap the paper plane icon at the bottom of the screen to send a Direct Message to someone about your Instagram Live.
Tap the human-like icon at the bottom of the screen to invite someone to co-host your Instagram Live. When you add a guest, you and your guest will be visible on the video as a split-screen.
Tap the filter icon on the right-hand corner of the screen to add an Instagram Stories filter to your broadcast.
Click the "Add a Comment" box to post a comment to the live stream. By tapping and holding a comment, you can pin it to the top of the feed.
To switch off your video feed, click the camera icon on the right side of the screen.
It's an excellent idea to consider which features you might want to use ahead of time, especially during your first few IG Live broadcasts. Ensure that you're familiar with all the ins and outs of how they work for your specific needs, so they're not a distraction to access when you go live on Instagram for your planned event.
How to Answer Questions on Instagram Live

If you want to use Instagram Live to answer questions from your followers, you have a few alternatives. The first — and most obvious — option is to read the comments and respond to questions on your live video. Make a point of saying and repeating the person's name who asked the question.

Instagram recently unveiled Q&A stickers, a new feature that allows viewers to ask questions during a live broadcast. Here's how to put them to use:

Step 1

Launch the Instagram app.

Step 2

Click the Story Camera button in the top-left corner of the screen.

Step 3

In the left-center of the screen, click the Create button.

Step 4

Scroll down to the bottom of the screen until you reach the question sticker.

Step 5

You can change the "Ask me a question" field if you want.

Step 6

At the bottom-right of the screen, click the Your Story button.

Allow some time before going live for people to ask questions. Here's how to respond to Instagram Story questions on Instagram Live:

Step 1

In the top-left corner of the screen, press the Story Camera button.

Step 2

Slide the Story label to the left at the bottom of the screen until you reach Live.

Step 3

In the center of the screen, press the record button.

Step 4

Once you've gone live, click the question mark button next to the comments field at the bottom of the screen.

When you hit this button, all of the questions people have asked about your Instagram Story will appear, allowing you to respond to them live. Nobody else will be able to see the questions except you.

How to End & Save Your Instagram Live Video

That's right. You can save your stream after it's finished. Here's how you do it:

Step 1

In the top-left corner of the screen, press the Story Camera button.

Step 2

Slide the Story label to the left at the bottom of the screen until you reach Live.

Step 3

In the center of the screen, press the record button.

Step 4

When your Live is finished, click the End button in the screen's top-right corner.

Step 5

Tap "End Now" button.

Step 6

Choose Download Video to save it to your Camera Roll, or Share to IGTV to share it on your IGTV channel.
How to Get Viewers for Your Instagram Broadcast Video
Now that you've learned how to go live on Instagram let's look at what makes a great strategy!
Here are some ideas for improving the number of people viewing your Instagram live video.
Promote Your Instagram Live in Advance

Advertising an upcoming Instagram Live might make or break your chances of getting those all-important views! You can now plan an Instagram Live up to 90 days in advance, which is wonderful for creating excitement and making it more of an "event."

Inform your audience about the live broadcast and invite them to ask questions in the comments. This can increase engagement and thus make it more likely to tune in.

Go Live When Your Viewers Are Most Active

One of the simplest methods to boost the success of your Instagram live stream is to go live when your viewers are most engaged.

The best way to do this is to examine historical data trends to determine when your target audience is most active on Instagram.

Examine your Instagram Insights. Under the Audience tab, you'll see a breakdown of when your followers are most active online, divided by day of the week and time of day.

Think About Your Lighting and Location

The setting and lighting for your Instagram Live can impact how professional your Livestream looks.

Consider how the background of your Instagram Live relates to the messaging of your brand. A minimal white setting with plants, for example, will have a completely different aesthetic than a wall with scrapbook-style photos on it.

Have a Well-Defined Content Strategy

As with any video content, having a clear vision of what you're going to cover in your Instagram Live broadcast is critical. A well-thought-out plan can help you avoid awkward pauses and guarantee that you cover all important things on your list.

One of the most effective techniques to arrange your live stream is to envision it as having a beginning, middle, and end — or, more specifically, an introduction, focal point, and conclusion — and make a list of the most important messages to convey during the broadcast.

Keep Your Business Goals in Sight

There are many reasons to go live, so determining the most important can help you keep your broadcast focused, effective, and measurable!

This could include creating buzz around a product launch, disseminating information about a vital company update, gathering real-time customer feedback, driving sales for an existing product line, or positioning your brand as an expert in a specific domain.

With clearly defined goals, you can regularly take a step back to ensure that your Instagram Live content plan fully supports them.
Requirements for Instagram Live Videos
Regrettably, Instagram streaming is only possible via the phone app. On the desktop, you can use the feature via third-party approaches.
Because live broadcasts are broadcasted from mobile devices, they should be shot vertically for a more immersive experience. Instagram live videos have a similar aspect ratio (9:16) as Instagram Stories, but you can't modify the size of your Instagram live stream, so go live and let Instagram handle the rest!
Frequently Asked Questions
How Long Can an Instagram Live Video Be?

Instagram Live video length is limited to 4 hours. If you go live on Instagram, you have a 4-hour time limit per live stream. This is a recent change from the previous video length limit of 60 minutes.

Can You Go Live on Instagram With Multiple Users?

Instagram's new 'Live Rooms' feature allows up to four individuals to go live in the same stream, more than doubling the number of participants previously allowed. Now, one user can ask three others to join them during their live broadcast, which opens up new options for diverse forms of content.

How Can You See Your Chat on Instagram Live?

Once you've begun your live video, you'll be able to see incoming comments. Look for the Comments tab (the speech bubble icon) in the tab bar.