For newbie users, Hootsuite might be a little intimidating at first. However, the truth is, Hootsuite is actually a lot easier than you expect. In this post, we will tour you around the platform.
If you've been on the platform for quite some time, we also have advanced tips for you. Ready? Let's start.
How to Set Up Your Social Media on the Hootsuite Dashboard
For newbies, Hootsuite might be a little intimidating at first. But trust me when I say it's pretty easy compared to other social media management tools out there while still having a lot of features you can use.
If you don't know where to start with Hootsuite, here's how you can set up your dashboard from scratch.
Create a Hootsuite Account
To start using Hootsuite, you must first need a Hootsuite account.
Hootsuite used to offer a free plan that allows its users to schedule 30 posts on 2 social media platforms per month, however, this isn't the case today. Unfortunately, they decreased the free plan threshold to 5 posts a month while having the ability to connect not more than 2 social accounts.
On the bright side, Hootsuite has a free trial, which means you can test out their software for a month before you will be required to subscribe to a plan. You can always cancel your free trial before it ends.
Here's how to create a Hootsuite account:
Step 1

Open Hootsuite.com in your web browser.

Step 2

Click the "Free Trial" button at the upper right part.

Step 3

Choose a plan.

Step 4

Enter your personal details, such as name and country. Follow the on-screen instructions.

Step 5

To avail the free trial, you must present either a credit card or a PayPal account. Then, enter the necessary info.
Connect Your Social Media Accounts
During the onboarding process, you will be asked to connect at least 2 social media accounts. If you want to connect to Instagram, you need to sign in first to your Facebook account before you can proceed.
After this, you will now be redirected to the Hootsuite dashboard.
On your new Hootsuite dashboard, you can view all of your linked accounts so far. If you want to add another social network or profile, just click the "Add Account" button to do so.
Schedule Your First Post
Once you have connected your social media networks, or if you decided to just connect them later, you can now schedule your first post.
Hootsuite has a setup wizard that will walk you through the process of scheduling social media posts. To begin the setup wizard, click the "Schedule your first post" button.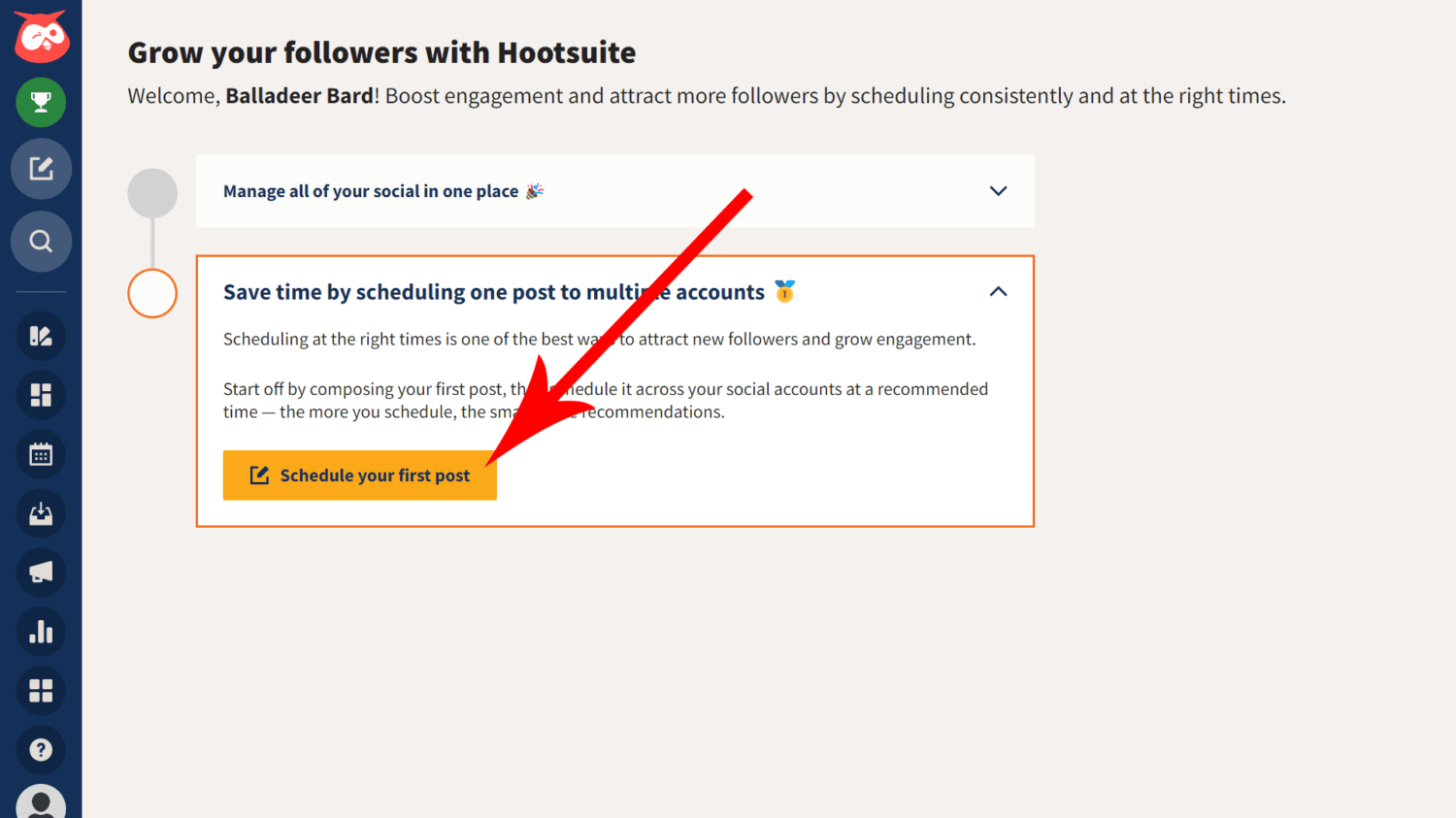 To schedule posts on Hootsuite:
Step 1

Select a social media account you want to publish the post. You can choose more than 1.

Step 2

Compose the content. Type in the caption and add any necessary media.

Step 3

Set the time by clicking "Schedule for later". You can manually choose the time or pick one recommended by Hootsuite.

Alternatively, you can also click "Save draft" to leave the composer for now and continue drafting the message later.

Or, you can also hit "Post now". This effectively sends the message to your social media account, thus publishing it instantly.
View the Hootsuite Planner
Once you're done scheduling a post on Hootsuite's composer, you can see all your outgoing posts on the Planner tab.
The Planner tab is the built-in Editorial Calendar of Hootsuite, accessible through the Calendar icon on the sidebar.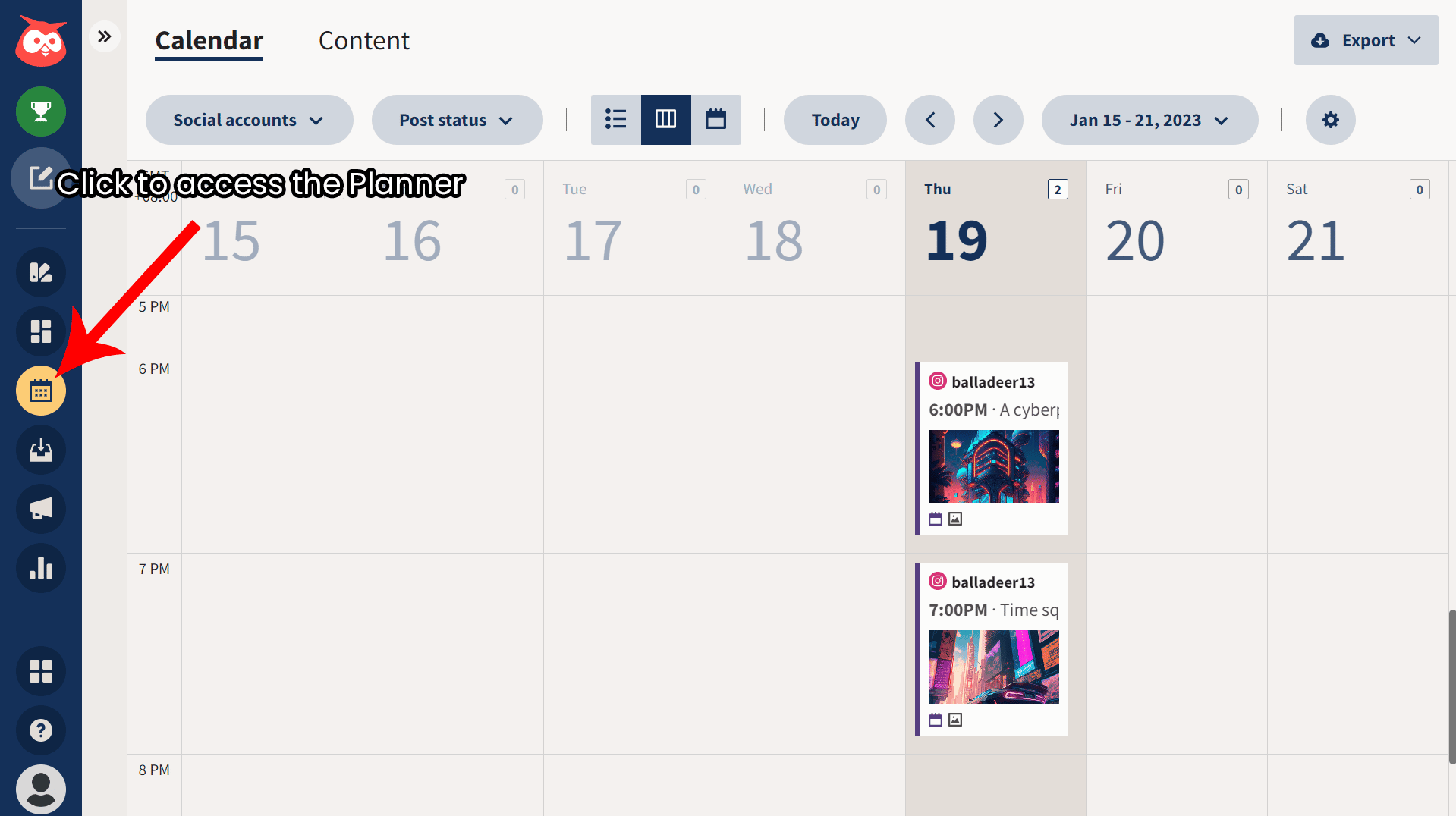 As you can see, your scheduled post will be reflected on the calendar. If you want to edit a scheduled post, simply click on it and select "Edit" when the menu appears.
The Planner can also be used to schedule more posts. Just click on any time slot to open the Composer window and create your message. You won't need to set a schedule for this one since you've already done so by clicking the time slot. You can, however, change the schedule if you want.
Set Up Camp At The Hootsuite Streams Tab
Now, go to the Hootsuite Streams tab. Personally, I use the Streams feature as my main "dashboard" because this is where I can see scheduled and even existing content. Streams also have other functions, which I will all discuss in the features section below.
Hootsuite is a social media management tool that allows you to integrate all of your socials in one dashboard. From the Hootsuite platform, you can handle various tasks like social media planning, posting, comment moderation, and marketing.
Since its launch in 2009, Hootsuite has continued to add more and more features to their toolset. Now, it has tools that allows you to analyze marketing campaigns and create messages for targeted audience groups.
Besides its built-in features, and Hootsuite even allows you to install additional apps from third-party websites, such as Canva, Bynder, and Hubspot. It might take you some time to master all of its tools, but the most basic features it offers are pretty easy to use.
Here are the core features of Hootsuite and an overview of each:
Composer
We've already introduced the composer function, which is basically the first thing you do after you connected a couple of social media profiles to your Hootsuite account. Composer allows you to schedule posts across multiple accounts in seven of the major social media platforms, namely:
Instagram
TikTok
Twitter
Facebook
Pinterest
YouTube
LinkedIn
Free users can connect up to 2 social media accounts, and can schedule up to 5 messages per profile. Meanwhile, members who are subscribed to Professional plan and above can schedule unlimited messages.
To compose a new message on Hootsuite, simply click on the pen-and-paper icon on the sidebar. Alternatively, you can also go to the Planner and select a time slot.
Streams
Hootsuite Streams have various functions. Here are some of the ways you can use it:
Add a couple of social media networks first.

If you're a little overwhelmed with Hootsuite, which I guarantee will diminish over time as you get used to it, connect one or two socials first then test it out for yourself. Adding too many social networks at once might clutter your dashboard. However, if you prefer to connect all your profiles right away as it works for you, then do it by all means. After all, what works for others might not work for you, and you probably want to see everything in your dashboard and work from there.

Learn to utilize Streams for social listening.

Monitoring your brand's reputation is important to know so you will be able to pinpoint at which areas you should improve. With Hootsuite, you can even monitor relevant keywords and competitors. So, if you're stuck and have no inspiration for your next post, scrolling through the specialized stream of posts and accounts relevant to you might help.

Speaking of streams, use Boards to keep things organized.

Adding streams one after another could clutter your dashboard before you know it, and a cluttered space doesn't help much. So, look to the right part of the Streams section and click on "New Board". You can create specialized boards for all types of streams. Maybe one board is filled with streams about relevant competitors and keywords, while another one shows your previous posts to help you keep up with audience engagement.

Utilize third-party tools for improved productivity.

Hootsuite integrates with more than 150 apps and systems ranging from content library websites to analytics plugins. Most of the tools are free to install, even if you have a free Hootsuite plan. Some of the apps you can integrate with are Canto, OpenText, Shopview, Google My Business, and Panoramiq Insights.

Use Hootsuite's recommended times to post content.

Hootsuite gives recommendations on the best times to post, so if you see them, better use them.