Sometime in 2020, Instagram also followed suit with other social media giants like YouTube and included a pinned comment function on their app. Best of all, Instagram allows its users to pin up to three comments, which can be very handy if you're having trouble choosing the best of the best comments, right?
In this article, I'll discuss how you can pin comments on your Instagram posts, LIVEs, and reels. So, keep reading.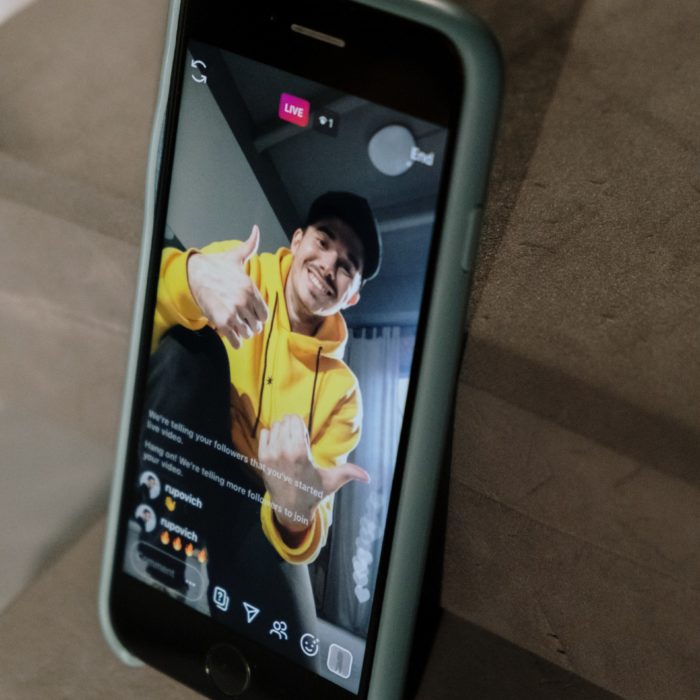 How to Pin Your Own Comment on Instagram
As of the time of this writing, you can't pin your own comments on posts and reels. However, it's a different story on Instagram LIVEs, where you can actually pin comments made by you. Here's how to do it:
STEP 1

On your LIVE video, tap the comments and post your own message.

STEP 2

When you're done, tap the paper plane icon to send.

STEP 3

Long press on your comment until a menu appears.

STEP 4

Select "Pin Comment."
And now you've pinned your own comment on your LIVE video. It will be the first thing your followers see when they check the comments section.
Wondering why you should comment on your own LIVE video and pin it? Check out the next section of this article to find out.
Also, note that, unlike posts, you can only pin ONE comment on your LIVE video. If you wish to pin another comment, just follow the instructions above. But remember that once you pin another comment, the previous one will be automatically unpinned.
Can You Pin Your Own Comment on an Instagram Post?
As I've said previously, you can't pin your own comments on your Instagram post. The same is true for IG reels. You can, however, do that on your LIVE videos.
We're not sure why Instagram didn't include this function in the regular posts, which would've been a pretty neat feature, considering its success on other platforms such as YouTube and TikTok. However, we assume that since the reason this feature was implemented on Instagram in the first place is to combat incidents of bullying and trolling, they might see no need to let the owner of the post pin their comments, too.
There are alternative ways you can follow up on your post caption if that's what you're after. You can edit your post again by updating the caption or adding text to your image. Of course, you can still reply to your own post and other people in the comment section, though you won't be able to pin it.
How to Pin a Follower's Comment on Instagram
On the other hand, you can easily pin other people's comments on your posts, reels, and LIVEs on Instagram. Here's a quick guide on how to do each:
On Instagram Posts
STEP 1

Launch Instagram on your mobile device. Currently, the "pin comment" feature is only available on the app and not on the desktop version.

STEP 2

Make sure to have logged in to your account.

STEP 3

Find the image where the comment has been made. You can do so by browsing your profile page.

Alternatively, you can go to the notifications section (accessible by the heart icon at the bottom tabs) and find the comment you want to pin.

STEP 4

Long-press on the comment until a small menu appears.

You may have to swipe to the left on some devices to make the menu appear.

STEP 5

Depending on your version of the Instagram app, the menu might slightly vary from the one below. However, you will usually notice these three icons: the pushpin (for pinning comments), the bubble speech with an exclamation (for report), and the trash can (for delete).

Of course, you will have to select the pushpin icon to highlight the comment.
That's it! And as you probably already know by now, you can pin a few comments (up to three). Just repeat the steps above to pin another one.
On Instagram LIVE
Pinning someone else's comment is done in the same way as you would pin your own comment, like the example we've made in the previous section. Here's a quick refresher on how to do that:
STEP 1

Go on LIVE.

STEP 2

In the comments thread of your LIVE post, find the comment you want to pin. You can usually see the comments at the bottom of the screen.

STEP 3

Long-press the comment.

STEP 4

Tap "Pin comment" on the menu.
And you're done. Similarly, you won't also be able to pin multiple comments on LIVE. If you want to feature another comment, the previous one will be unpinned immediately.
On Instagram Reels
How pinned comments are accessed on reels is also a bit different from the previous two. To pin a comment made by somebody else on your Instagram post, do these:
STEP 1

Open Instagram and log in to your account if you haven't done so already.

STEP 2

Find the reel where the comment was made by going to the Reels tab on your profile; you can usually see this below the "Edit Profile" button.

Alternatively, you can also look for the comments on your Notifications page.

STEP 3

On the video's page, tap the speech bubble icon.

STEP 4

Select the comment you want to pin and long-press it.

STEP 5

Tap the pushpin icon on the context menu.
That's pretty much how you pin comments on Instagram reels.
How to Unpin a Comment on Instagram
Now that you know how to pin comments on any type of Instagram post, I will show you how to unpin the comments you pinned. There are instances when we probably pinned the comment by mistake or found a new one that deserves to be highlighted.
Removing a pinned comment is also really easy. All you have to do is:
STEP 1

Find the comment you wish to unpin.

STEP 2

Long-press (or for some of you, swipe left) the specific comment until a menu pops up.

STEP 3

Tap the pushpin icon.

A different menu may pop up if you're unpinning a comment on Instagram LIVE. Choose "Unpin comment" instead.

STEP 4

Confirm by selecting "Unpin" on the options.
As you can see, right beside the pushpin icon are two other buttons you can use to better manage Instagram comments.
If you want to delete comments, just tap the trash bin icon. However, if you believe this particular comment is inappropriate or abusive, it's best to report it by tapping the speech bubble icon. You will no longer see their comment, but Instagram won't probably remove it right away.
These three buttons are extremely useful for managing comments. If you've been on social media for some time, you know the comment section can quickly turn into a warzone. Worse, it may even become the breeding ground for trolls and bullies, which is something we purposely avoid if we could help it.
Knowing how to use these tools, especially the pinned comment feature, could help create a more positive scene in the comment section. By pinning a positive comment, the negative comments will be buried under and won't be easily seen anymore. Unless someone has the time to scan all the comments to find a hateful message, those comments you pinned at the top can steer the conversation in a more positive and constructive direction.
How to Use Pinned Instagram Comments in Your Strategy
Did you know that pinning Instagram comments can greatly help your influencer and marketing strategy?
Not only because it's a great moderation tool, but you can also use it to promote your brand. How so? Here are some of the main reasons why you should pin comments:
Pinning relevant comments helps your followers and viewers understand the context better.

If they have questions regarding your post, they may refer to the comment section to find answers. Some of your followers may have already answered the question. Pinning these types of comments helps the rest of your audience, and you recognize and appreciate that message.

Pinning comments show that you are an approachable person.

People appreciate those who take the time to interact and engage with their followers.

Pinning comments drive the conversation.

If there's an interesting or hilarious comment that might help spark up a lively discussion in the comments section, pin it. More comments can help your post compete on Instagram's algorithm, boosting its views and engagement.

Pinning a comment you like reflects who you are as an influencer.

The comments you pin show what you are like as a content creator. People would assume you're humorous and lighthearted if you pinned a funny comment. Meanwhile, if you highlight an insightful comment, others will perceive that you take matters seriously and may be inspired to do the same.