As a social app catering to millions of users worldwide, it should be understood that the app enforces the highest forms of punishment for violators of their guidelines. Hence, it's no wonder that many are served with bans, and you might want to reflect on why you had one.
And if you are one of those who are eager to get their TikTok account back, what is the right way to do so? Fortunately, there are various ways to get your TikTok account unbanned. And you are in the right place to find out how by checking everything below.
Why Was My Tiktok Account Banned?
Why your Tiktok account was banned in the first place should be one of the things you should probe into early on. By doing this, you can diagnose the right course of action and specify the problem when you bring it up to the Tiktok support team.
A permanent account ban can be due to the following:
You violated Tiktok's guidelines

Banned Tiktok account notification.

The easiest way to get into Tiktok jail is by disregarding its community guidelines. There are many reasons established to come up with these rules and it is discouraged to break this in any way.

In brief, your account has been posting content that shows violence, dangerous acts, harassment, hate speech, graphic, nudity, and misinformation. Add to this that you may be showing unusual activity such as spamming. All these hinder the safe space being promoted by Tiktok to its users which is why you are banned.

You are underage

TikTok permanent ban to an account due to age.

For minor safety, individuals under 13 years of age are not allowed by TikTok to use the app. On sign-up, if the user puts a birthdate that falls under that age category, they cannot proceed to use the account they made.

Like any other social media platform, TikTok follows the Children's Online Privacy Protection Act (COPPA) which prohibits websites to track data on children under 13. Parents are advised as well to supervise their children in situations like this.

Tiktok wrongfully imposed a ban

Account banned permanently notice on Tiktok.

A lot of users have brought up this tendency of TikTok to ban accounts without any reason. Discussions brought up on other social sites such as Facebook, Twitter, and Reddit of some users getting banned on the app despite not violating any community guidelines are very common.

Admittedly, the app is not perfect. It often relies on its automatic moderation or enough amount of people who reports a certain account. Bans based on these factors are not always reliable because it can wrongfully detect account activity or it's simply collective sabotage of a person on the app.
For a temporary ban, you need to let it pass until you lapse a certain period of time. Rightfully so, being permanently banned due to multiple violations is serious and you are required to go the extra mile to clear yourself. This assures Tiktok that you recognize your violation or let it know you were banned incorrectly.
Here's How to Unban Your Account on TikTok
One trick that some users say works is signing up again to Tiktok using the exact same information you used on your old account. After getting past the signup process, TikTok would recognize your account is duplicated and is banned.
Once you see the notification blocking your use of the app, tap "Appeal" and proceed to fill out the appeal form.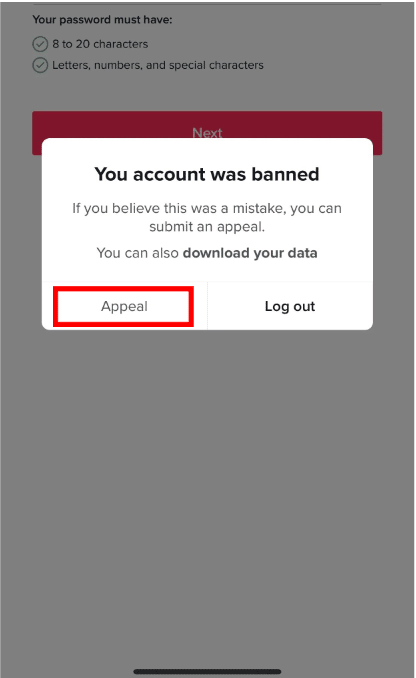 However, if you don't end up seeing the same notice on your screen, below are the other methods for banned TikTok accounts to try.
Contact Customer Support
When you launch Tiktok and try to log in to your account, you would be notified through a banner notification that your account is banned. Because your account can be opened but empty and glitchy state, there's enough window for you to access the contact Tiktok through your account settings.
Step 1

Profile page on TikTok app.

Head to your profile page by clicking the profile icon at the bottom right of the page.

Step 2

Settings and privacy on TikTok.

Tap the three dots or three lines located on the top right corner of your screen. Then select " Settings and privacy"

Step 3

Report a problem on TikTok's account settings.

Under the "Support" category, select "Report a problem".

Step 4

Account and profile option on TikTok's report a problem.

Then proceed to tap, "Account and profile".

Step 5

Report a problem topics.

Tap the "Login" section and select "Suspended account" from the drop-down menu.

Step 6

Reporting a problem about suspended account on TikTok.

Choose "No" if prompted. Then tap "Need more help?"

Step 7

Providing details about banned account on TikTok.

You will be redirected to another window where TikTok will ask you for details about your banned account. Provide your username and choose, "No, I haven't". Then tap, "Submit".

Step 8

On this another window, tap "Reply".

Step 9

Here, you will provide details about your situation in the "Tell us your feedback" field. You can copy-paste the format below.

Reporting a problem on TikTok.

"Dear Tiktok team,

I believe my account was banned by mistake because I never violated any Tiktok community guidelines. Is there anything I can do to get my account back? Can you please review it and unban my account? My username is as follows: __.

I would be very willing to comply with your requirements to unban my account. Just let me know.

Thank you and hoping for your immediate response."

Step 10

After stating your issue and providing images (if necessary), simply tap "Submit". Wait for the page to load until you see TikTok's confirmation of your report.
Prove Your Age with a Valid ID
In ban cases where you mistakenly provided a wrong birthdate while making a Tiktok account, you are required to prove your age through a valid ID. This allows the app to verify yourself and review if you meet the age requirement.
Your account may be banned at this point but you can still access Tiktok settings to correct your age information.
Step 1

Tapping to your TikTok profile page.

Open TikTok and tap profile.

Step 2

Tap settings and privacy on TikTok.

Head to "Settings and privacy" by tapping the three dots or three horizontal lines located at the top right corner of your screen.

Step 3

Reporting a problem on Tiktok.

Under the "Support" category, select "Report a problem".

Step 4

Account and profile category on TikTok.

Then proceed to tap, "Account and profile".

Step 5

Reporting wrong birthdate information on TikTok.

Under "Editing Profile", select "Other". Then "Need more help?".

Step 6

Submitting an appeal for incorrect age on TikTok.

Type out your situation by explaining that you used the wrong birthday and you can provide verification to prove this. The template below could be used as your guide.

"Hello, TikTok.

I made my account and accidentally set the wrong birthday. Due to this mistake, I got banned and was labeled a minor not allowed to use TikTok. May I request that I gain access to this account? Attached is my ID for you to verify my age.

Thank you."

Then tap, "Report" or "Submit".
Note: If you can't provide a valid ID because you are indeed a minor under 13 years old then you won't have access to your account ever again. You are prompted to follow this certain TikTok for your cyber safety.
Share Your Feedback Form
If you have no means of accessing your account settings, your last resort to account recovery would be submitting a feedback form to TikTok. This method lets you submit an appeal directly to TikTok support.
Step 1

Searching TikTok feedback form on a web browser.

On any web browser, type "feedback form tiktok". Select the first non-ad result.

Step 2

Providing contact information on TikTok feedback form.

Provide your contact information. All field boxes with an asterisk (*) symbol should be filled out.

Step 3

Selecting issue category on TikTok feedback form.

Under "Topic", select "Account ban/suspension" from the drop-down menu.

Step 4

Specifying issue on TikTok feedback form.

For "Tell us More", select the "Banned account (not age-related)" from the options.

Step 5

Explaining banned account situation on TikTok feedback form.

Tell your situation in the fillable field of "How can we help". Provide more context if you must by uploading attachments. The template below could be used.

"Hello, Tiktok team.

My TikTok account suddenly got banned and I am not sure why. I don't remember violating the community guidelines or engaging in any suspicious activity. Can you please review my account and help me unban it?

Thank you so much. Looking forward to your response".

Step 6

Submitting a feedback to TikTok.

Check the boxes under the "Declaration" section. Then tap "Submit".
In addition to everything above, you could also try emailing directly to TikTok support emails. In the address, put [email protected]. Also input [email protected], [email protected], and [email protected] on the email bcc. This is to ensure that you reach out to all contact emails of Tiktok to deal with your issue.
How Long Can a TikTok Ban Appeal Take?
All methods revealed above would require patience as it would usually take hours to days before you get a response from Tiktok. Make sure you check your emails daily so that you can attend to updates as soon as possible. You should be provided with further details and follow the instructions provided on how to regain your account.
For other users, persistence seemed to work to get an immediate response from TikTok. So, consider sending multiple emails for more chances of being accommodated.
In the meantime, TikTok's blogs about its community guidelines, account bans, and appeals are just some of the helpful links you can rely on to know about its banning rules.