Both social media scheduling tools have so far stood the test of time. You've probably heard them being recommended by other users, and have now considered using either of the two. If you're at the crossroads of choosing between Hootsuite and Later as your go-to social media management platform, you've come to the right place.
In this article, we'll make a detailed comparison between the them so you can make an informed decision later. We personally tested both apps to ensure the information is accurate and relevant. Ready? Let's get started.
Need answers right away? Click here to check out our comparison table for Hootsuite vs Later.
Created way back in 2008, one can say that Hootsuite was a pioneering product of its kind when today's social media platforms are still in their early years. How the social media scheduling tool came to be was rather an interesting story: founder Ryan Holmes was looking for something he could use to manage his agency's multiple social media platforms.
When he didn't find anything to help him, he and his team developed a platform, BrightKit, as a tool to organize their social media accounts. Later on, this tool would be renamed to Hootsuite and will find its way to millions of users worldwide.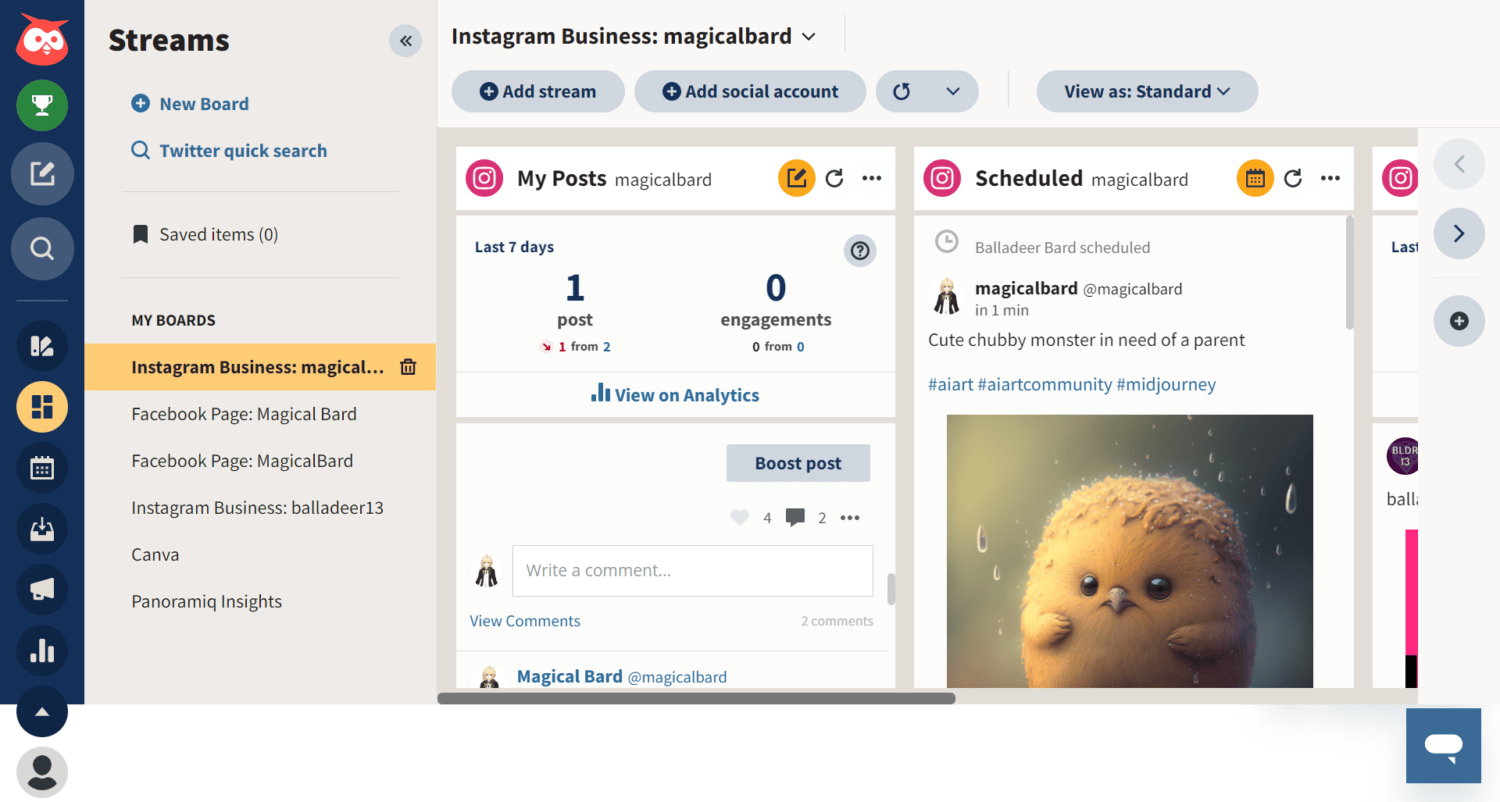 Now, that's enough history talk. The point of that is to bring up how Hootsuite was the first of its type when it was launched, and from its humble beginnings as a tool to manage multiple social media accounts for an agency, now it's used by many people because of its vast features.
Not only can you use it to plan and schedule social media posts in advance, but it also has integrations with other extremely useful tools and apps, including Hubspot, Canva, Shopview (for eCommerce websites), Zendesk Pro, and Adview.
Still, it's not without its cons. One of the biggest arguments you hear from users against using Hootsuite is its price point, which is understandable since their current most affordable plan starts at $49/month. Well, for the wealth of services and features it offers, we can see why it's a little pricey than the rest.
Below, we've laid out the pros and cons for Hootsuite:
Pros
Allows you to post on the majority of social media platforms

Perhaps the main edge that Hootsuite has against its competitors is that it can post on major social media networks, including Facebook, Instagram, Twitter, LinkedIn, YouTube, and Pinterest.

Hootsuite Integrated Social Accounts | courtesy of Hootsuite

Recently, even the previously unavailable social media platform on Hootsuite, TikTok, has now been integrated as well. Even though only TikTok Business accounts are permitted at the moment, it's still considerably a big leap from before when users can't schedule posts for TikTok on Hootsuite, given that it's now one of the largest social media platforms in the world.

MANAGE MULTIPLE SOCIAL MEDIA NETWORKS

Not only does Hootsuite allow you to schedule up to several weeks worth of posts, but it also lets you manage multiple social media accounts right from its dashboard. You can view posts from all your accounts, even ones that are still scheduled to go out. With Hootsuite, you don't need to visit each your profile to check messages, post performance, and more. You can even comment and reply from the Hootsuite dashboard.

As you can guess, Hootsuite is perfect for those who have multiple accounts in various social media platforms.

Can be integrated with 150+ apps and tools

One of the things Hootsuite is best known for is its integration with other apps and tools. These vary from analytics tools (such as Panoramiq Insights for Instagram) to CRM software like Hubspot.

Hootsuite Apps Page | courtesy of Hootsuite

With these tools, you can streamline all of your content and make high-quality posts easier. Hootsuite also has the largest library of app and tool integrations compared to its number one competitors.

AnalyticS AND INSIGHTS

You can also use Hootsuite to track your posts' performance across multiple social media apps. The best part is that you can customize the analytics and choose whichever metric you want to focus on. Hootsuite analytics is also more detailed than the native tools present in platforms like Facebook and Instagram, so it will certainly help you strategize your content from now on.

PACKED WITH FEATURES

Hootsuite is popular for social media managers and marketers for a reason. It has a wide variety of social media tools that they can use to make content creation process easier and moderate their community right from the dashboard itself.

Free Trial

In the past several years, Hootsuite has a free plan wherein users can schedule limited posts on their social media account. However, Hootsuite seems to have recently removed that, and in its place they introduced a 30-day free trial.

You must provide credit or debit card details upfront to access this free trial. Not to worry, though. You can definitely try out Hootsuite first if you avail their free trial, and you will only be charged a month later.

You can downgrade to the free plan before your trial ends, but you'll lose most of the features, including being able to schedule more than 5 posts at a time and access to analytics tools. But hey, you won't be paying for anything anymore, so it's worth a try.

Team Access

Another great reason why Hootsuite is one of the best tool to schedule all your posts for social media is that you can add your team members. On the Hootsuite dashboard, they can help you create and schedule posts for different platforms. With the use of roles and permissions, you can assign tasks and approve content from your team members.

Additional users feature are only available for the Team plan and above, starting at $249/month.
Cons
Pricing

The biggest drawback of considering Hootsuite is its pricing. There's no denying that Hootsuite is quite expensive. Their most affordable plan, Professional, starts at $49/month if you opt to pay annually. Suppose you want to pay monthly. The price doubles at $99/month, hurting small businesses' and individual influencers' budgets.

You can test out the platform with their free trial. You can thoroughly enjoy its best features for free within 30 days and choose to downgrade to the free plan whenever. Just remember that the free plan has very limited features, which might not be worth it if you're a prolific content creator active on several social media networks.

Instagram Stories

Using Hootsuite for Instagram posts is great; however, it's not so good when it comes to scheduling Instagram Stories. Did you know that half a billion people use IG Stories per day? Neglecting this part of Instagram can hurt your brand, so it's best to utilize it to its full potential. However, if you use Hootsuite, it's honestly not so efficient with posting Stories for IG.

For one, you will need to enable Instagram push notifications for your mobile so you can give Hootsuite a "go signal" whenever it will publish the scheduled Instagram story. It's a bit inefficient (not to mention a hassle) to do that everytime an IG Story is supposed to go live, but as of the moment, there's no way around it if you use Hootsuite.

Notification System

Hootsuite also lacks notification system for desktop. You won't be notified everytime your post gets a like or a comment. Therefore, if you want to check engagement on your posts, you may have to view the Streams dashboard on Hootsuite and see each of the post.

UI might be a little confusing at first

I admit that upon trying Hootsuite, I personally found the interface a bit overwhelming. To be fair, it's probably because there are too many features to check out.

While it certainly has many features worth its price, navigating the platform can a little confusing for beginners. There's a walk-through for newbies and a help center where you can search for articles.

But if you have no idea where to start, there plenty of online tutorials that can help you. Here are some of them:

What is Hootsuite? Overview and Features
Best Hootsuite Features To Manage Your Social Media Marketing Strategy
Hootsuite Features
Now that we've covered the pros and cons of Hootsuite, let's take a look at its best features:
one place to DO THEM ALL

If you need a place to create, plan, and manage your SM accounts, Hootsuite is one of the best platforms. From coming up with post ideas to executing them to ultimately posting them on your social media account, you can do all of them on Hootsuite. It can serve as your control room for all your social media activities.

Despite lacking potentially useful features such as a notification system for desktops and better engagement management, Hootsuite still has the edge over other tools of its kind since it can access most SM's.

App Integrations

I've already mentioned how Hootsuite is partnered with 150+ apps with various functions from content creation to analytics. While some of the apps require additional fees, most of the basic and useful ones don't. With Hootsuite, you are free to use the following tools and integrate them to your dashboard:

Vidyard
Canto
BMC
OpenText
Bynder
Lately AI
Digizuite
LinkedIn Hashtag Analytics
Brightcove
Isuu

Hubspot
monday.com
Brolly
Google My Business
PhotoShelter for Brands
NetX Media Library
Shopview for Shopify
HelloWoofy.com
Canva
and much, much more

Inspiration Board

Hootsuite Inspiration board to find content ideas | courtesy of Hootsuite

Hootsuite has a built-in inspiration board where you can find content suggestions. Depending on what type of content ideas you'd like for your brand (convert, educate, inspire, or entertain), you'll find tons of inspiration right on the Hootsuite platform itself. So, if you're in a slump content-wise, pay a quick visit to the inspiration board to find relevant content ideas for your brand.

Streams

The "Streams" tab on Hootsuite is where you can view your posts from each social media account you own. You can see the likes and comments and respond to them. If you also want a preview of your scheduled posts, you can check them on the Streams dashboard.

Inbox Feature

Hootsuite Inbox Dashboard | courtesy of Hootsuite

Hootsuite has a handy inbox feature where all of the comments and private messages from your integrated social media profiles can be viewed. From here, you can also respond to these comments and DMs as well.

Ad Capabilities

Advertise Feature on Hootsuite | courtesy of Hootsuite

You can also choose to advertise posts right on the Hootsuite platform itself. From the "Advertise" tab, easily boost your posts for Facebook, Instagram, or LinkedIn. Moreover, if you have an Enterprise plan, you'll gain access to additional features including ad management, analytics, and reporting.

SOCIAL MEDIA MONITORING, LISTENING, AND ANALYTICS

Hootsuite has plenty of tools and features that allows you to monitor people's opinions regarding your business. This is a very useful feature as it lets you know which social media strategy works and which one doesn't. Additionally, knowing what your target audience wants in a content and also their current thoughts on what you produce will help you build better relationships with them.
Now that we've went over on the features, advantages, and disadvantages of Hootsuite, lets move over to its contender, Later.
Launched in 2014, Later is a bit of a newcomer to the social media management tools scene compared to others like Hootsuite, Buffer, and Sprout Social. However, it quickly became a hit because it offered something that other tools aren't known for at the time: focus on Instagram social media management and visual planning.
From its beginnings as "Latergramme," it adapted into an all-around social media scheduler and planner without losing Instagram as its main focus. Today, Later is still considered the best Instagram marketing platform for a reason. Most of its features are geared towards visual planning, and visuals, as you would've guessed, is what Instagram is all about.
Later is also an official partner of Instagram, which makes scheduling all sorts of content on the platform more seamless and convenient for users.
The following are the pros and cons of using Later:
Pros
Uploading multiple media is very easy

One thing that makes Later perfect for planning and scheduling Instagram posts is that the platform makes uploading multiple media extremely easy. Planning and scheduling your social media content is as easy as dragging and dropping them around the Later calendar view.

User-friendly

Almost everything on Later is pretty straightforward. Signing up for a free account doesn't require giving credit card details unless you want to experience their 14-day free trial, which gives you limited-time access to their premium features.

Another thing that many users noted, including myself, is Later's clean and easy-to-navigate UI. You won't take hours to figure out where everything is. If you are stuck, however, you can check out their "Learning Center" tab for tutorials. There's also a chatbot you can ask for help.

Post Optimization Tools

Creating and scheduling posts on Later | courtesy of Later

As a part of making things easier for their users, Later has plenty of features to help you produce exceptional content. You can take advantage of their hashtag suggestions feature to discover relevant tags for your post, save captions for later use, and even make the first comment even before your content goes out. First comments are the best place for hashtags and additional text that can't fit in your original post.

Linkin.bio

One of the main advantages of using Later is its Linkin.bio feature. Linkin.bio is a social media reference landing page used to place all links to a person's accounts on various platforms, website, and even an eCommerce store. While it's true that there are other link landing page alternatives out there, Linkin.bio is directly integrated with Later, which will make setting it up way easier.

Later LinkinBio | courtesy of Later

More importantly, though, having a Linkin.bio instead of its alternatives will allow you to add links to your images. This doesn't mean there will be links on the post itself. Rather, users who visit your Linkin.bio can click on the images and be redirected to a specific webpage. This feature is great if you have merch on Instagram or products/services you promote.

Curated feed

Because you can easily plan and schedule posts on Later, you can set up a curated feed for Instagram. Profiles with curated feed are aesthetically-pleasing and attract followers. For influencers that are planning to create a curated feed, Later is one of the best tools they can use to plan and post content. It allows you to put filters on your images, and you can even see a preview of your profile once the images have been posted.

Forever free plan available

Later offers a free plan for all its users with no time limit. With a free plan, you can add 1 profile per social media network. However, the features of the free version are very limited, and it only allows you to schedule 10 posts a month per social media account. If you're fine with that, Later is sufficient.

Cheaper than most SMM TOOLS

Later is relatively more affordable than other social media schedulers and planners. With plans that start at $18/month, it's a far cry from tools like Hootsuite and Sprout Social. Moreover, you can use a 14-day free trial to see whether the tool fits your SM needs. Later is a solid choice if you're trying to save money while looking for an efficient SM scheduler.

Great for Instagram and TikTok

If you primarily create content for Instagram and/or TikTok, then great news: Later may be the perfect scheduling tool. It works best for visual-oriented SM platforms and has exclusive features that are extremely useful for creating and posting content for both sites.

Later is one of the best SMM tools you can use for TikTok because it allows you to drag and drop media to be scheduled seamlessly later on. Meanwhile, Later is obviously fantastic for Instagram as well for the same reasons. Moreover, many of the features on Later are built with Instagram in mind, and it's also a certified partner of the platform, so go figure.
Cons
Very few app integrations

Possibly one of the biggest downsides of Later compared to Hootsuite is its app integrations. Unlike Hootsuite, there are very few tools you can connect with Later. It doesn't have the apps that would be otherwise useful for content creation like Canva (for photo editing) and Hubspot (for CRM).

Later is integrated with other apps, though. One of these is Unsplash, which makes it easier for users to find relevant images they can use for their content.

Free features are very limited

Although Later offers a free plan, a lot of the most useful features on the platform aren't accessible, including more detailed analytics, draft saving, and social monitoring. If you wish to read TikTok or Instagram comments directly from Later, you'll have to upgrade to any of their paid plans. Other neat features aren't also available for a free plan, including:

Unlimited hashtag suggestions
View best times to post on Instagram
Schedule stories, carousels, and reels

Moreover, you're only allowed to schedule 10 posts per month for each social media account you own. You can't also add more than one account per social media network.

The free plan also doesn't support text posts.

Refreshing accounts

When I tried Later myself, I find that connected accounts do sometimes get disconnected for some reason. If this happens, you will have to refresh the account to be able to continue scheduling posts. Not sure if this is a bug, but upon doing a little research, I discovered that other users have experienced similar issues. Hopefully this gets resolved in the future.

Doesn't support YouTube

While Later is a very useful tool for many visual-oriented social media networks, it falls short on one thing: YouTube. Unfortunately, if you create content on YouTube and want to schedule posts ahead of time, Later won't be able to do that for you. On the other hand, Hootsuite allows you to schedule YouTube videos.
Later Features
Below are some of the best features of Later:
Drag and drop media

One of the best things about Later is its drag-and-drop feature. Simply drag photos and videos from your local file manager to the Later dashboard. Then, select the photos you want to post, choose the social media platform you want to post them to, and then schedule them at your preferred time. If there's a post you want to change the schedule, you can also drag them to another time and date in the calendar view.

Post preview feature and content curation

Another thing I liked about Later is their post preview feature.

Preview Feature on Later | courtesy of Later

By clicking the "Preview" button on the Later Calendar, you'll be able to see how the scheduled posts will look like once they go out. This way, you can plan or adjust posts beforehand, especially if you're curating your feed.

Hashtag suggestions and search feature

If you have no idea for a great hashtag to put in your caption, Later has a hashtag suggestions feature. It will give you relevant hashtags based on your caption, which is pretty handy and makes content creation rather convenient.

chedule and manage social media accounts

Even with a free plan, Later allows you to schedule posts on multiple accounts, but with only one profile per social media platform. With an upgraded plan, you can add more profiles and have access to features such as the conversations tab. The conversations tab is where you can read, respond, and delete comments on your SM accounts without leaving Later's dashboard.

Free guides and tips

Later Learning Center tab for tips and tutorials | courtesy of Later

Later has an easy-to-access tab where you can find tutorials, guides, and tips for using the platform. There are also a a handful of resources on running and boosting your social media profiles, which is an awesome additional feature for an SMM tool.

Analytics

Analytics Dashboard on Later | courtesy of Later

Later's Analytics tool gives you deeper insight on how well your profiles perform. Although it's mostly focused on Instagram, it's still a great tool to use if you focus on this particular SM platform.

However, the analytics option is very limited if you only have a free plan. You won't have access to most of its features, which is kind of a bummer.

Media Library

Later Media Library | courtesy of Later

Later has an easy-to-access media library. Not only you can easily drag and drop media, but you can also store them for future use. There's also a filter option to sort out which ones have been used already and which aren't. You can also label your media to organize them better.

Moreover, you can access Unsplash right from their media library option as well. If you need a free stock photo for your content, easily do so through Later's media library tab.

Creators and Brand Collabs

Later Creator & Brand Collabs BETA | courtesy of Later

This one is still in beta, but it's going to be an exciting addition to their tool kit if ever. Through this feature, you can apply to campaigns and become discoverable by brands. It will be a fantastic tool for influencers and content creators since they will be added to Later's database.
Those are the highlights of Later's features. Now that we've covered that, let's go to a head-on battle between Later and Hootsuite.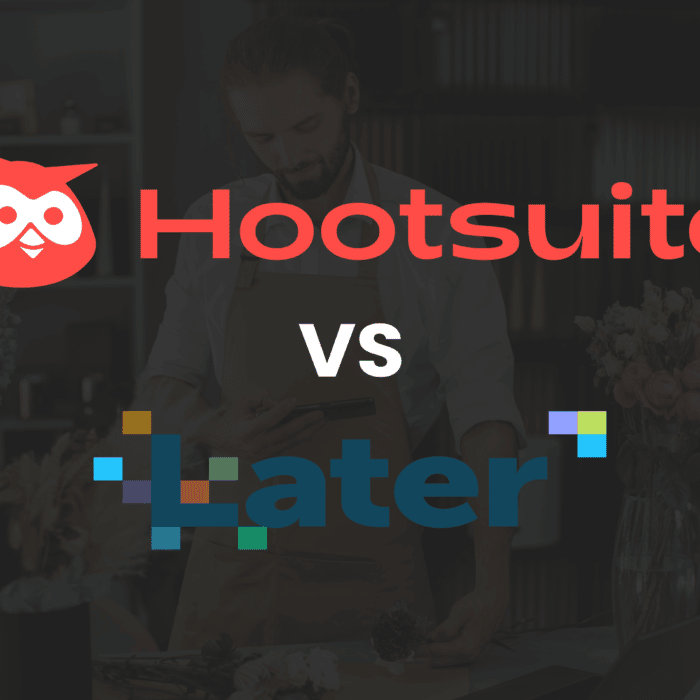 Hootsuite Vs Later Comparison
We've set three criteria to compare these two social media management platforms: ease of use, features, and pricing.
Ease of Use
Between the two programs, Later is clearly more user-friendly than the two. Even when you just signed up for an account, it's easy to navigate the interface of Later. Personally, I quickly learned the ropes of Later as an SMM platform. Moreover, they have the Help Desk and the Learning Center in case I get stuck on a particular task.
To be fair, though, Hootsuite has a lot of features. It hosts more social media platforms and integrates with many apps, so naturally, it will take more time to learn it. However, I find Later's UI more intuitive, and creating/scheduling multiple posts only took a little of my time.
Features
When it comes to features, Hootsuite obviously has more tools and perks than Later. We've already talked about how Hootsuite integrated more than a hundred apps to their platform, which is mindblowing, and how it could schedule on major social media sites. If you're a YouTube content creator, you'll probably find Hootsuite to be more useful since Later doesn't support this platform.
Besides the wealth of app integrations, another advantage that Hootsuite has is its social media listening and monitoring. You can gauge what your audience thinks of your brand and thus make a more sound social media strategy once you figure out what they want.
Pricing
If budget is your main concern, then the price of the two social media management tools might make you decide. Here's a summary:
Both Hootsuite and Later offers a free trial option. You can use their free trial to test out if the paid version is worth the cost.
Both Hootsuite and Later has a free version. Most sources would probably tell you that Hootsuite has removed its free version. However, you can still access it in a way. After the free trial ends, you can choose to downgrade to their free plan. With the free version, you can still schedule up to 5 posts.
Hootsuite is evidently more expensive than Later because it has more features and integrations.
To illustrate in full, here's the pricing of Hootsuite:
Meanwhile, here's the pricing of Later: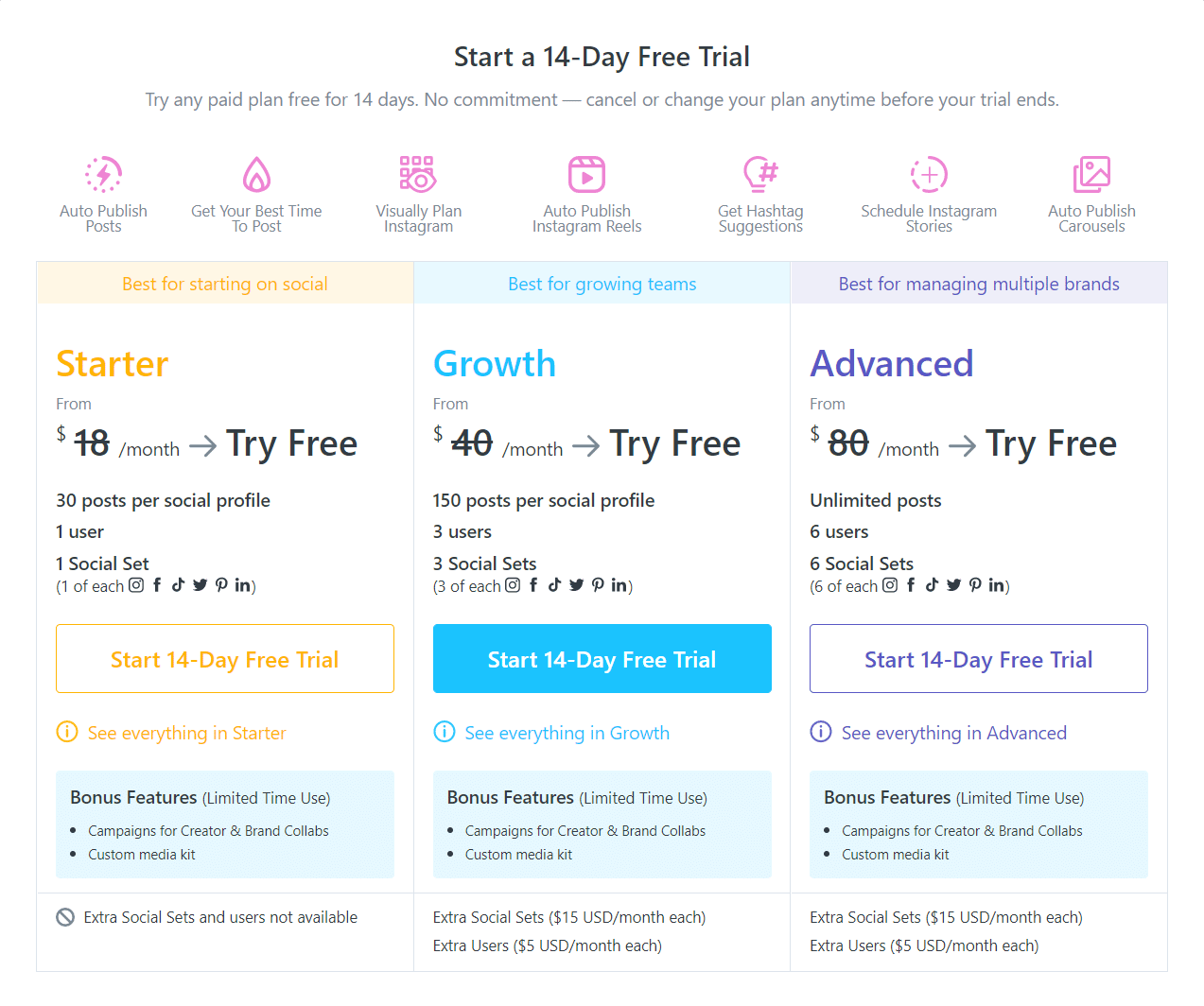 Hootsuite VS Later Comparison Table
Still, having a hard time deciding between the two? Here's a cheat sheet to help you: