Any individual or business serious about growing their social media accounts knows that producing quality content regularly is the key. But with lots of things to take care of, you need help to lessen the workload and provide more efficiency. Two of the best social media management platforms today are Hootsuite and Planoly.
These social media tools hold up to their popularity for their great features. However, if you have a hard time deciding which one to use for your brand, this post is for you.
We will pit Hootsuite and Planoly against each other while highlighting what they do best. We will also give a recommendation of who should use either of the two. We've personally used each tool to give an unbiased and accurate review of their features and pros and cons. Let's start!
Launched in 2008, Hootsuite is considered one of the oldest social media management tools. As with many interesting startup stories, Hootsuite came to be out of the need of its founder, Ryan Holmes, to have a tool that can help manage the social media accounts of his digital services agency.
Together with his team, they developed a solution that would eventually be called Hootsuite and become the primary social media management tool of 18 million users worldwide.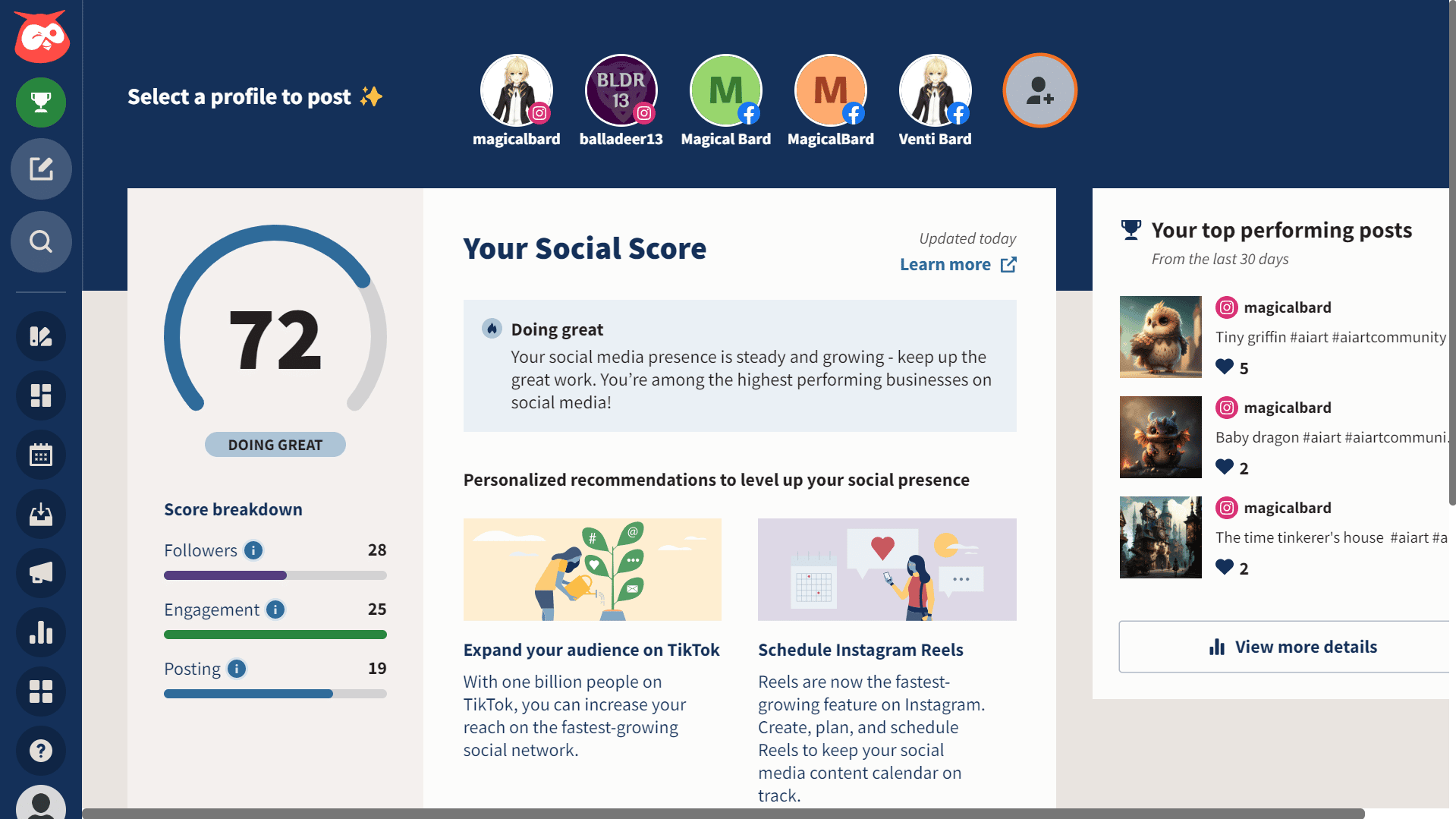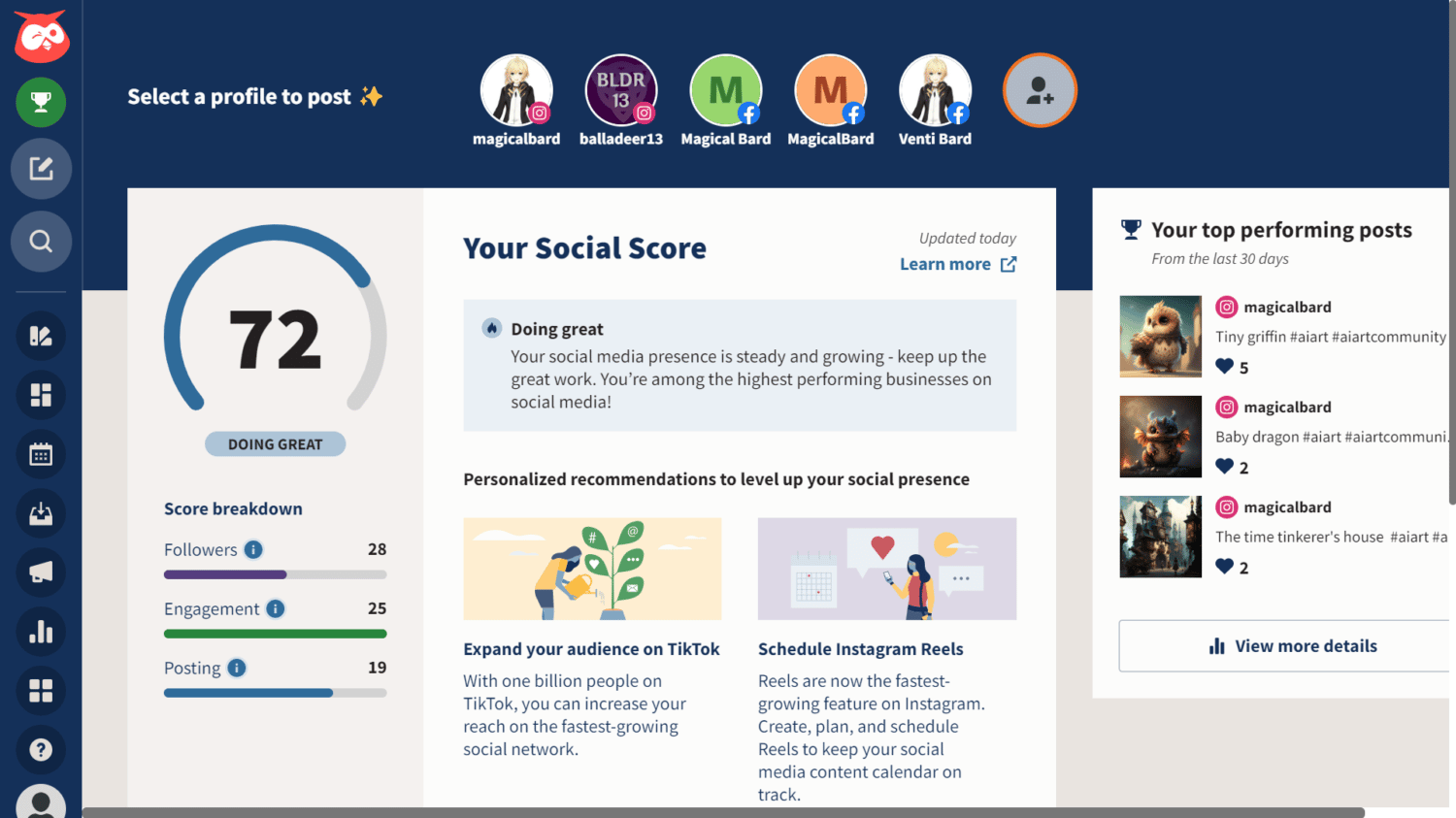 As such, many social media users turn to Hootsuite to manage their accounts more efficiently, as the platform does a good job of taking care of their products.
What was once simply a post scheduler has now become an all-in-one social media tool where users can plan their content and create and analyze it.
Hootsuite has a robust analytics feature and a very useful social listening tool that can help level up your social media marketing strategy quickly.
Now, Hootsuite is continually improving its tool kit and services, which I think is the best thing about them.
Just months ago, Hootsuite users couldn't schedule posts on TikTok, but currently, it is among the social media platforms they integrate with.
That is just one of the instances in which Hootsuite listens to its user base. So, we could safely surmise that any bug people experience or feature may want in the future, Hootsuite would be able to address them.
However, the bulk of features the social media scheduling tool has is the hefty price that comes along with it.
If you're considering using Hootsuite as your main social management tool, here are the pros and cons list to help you decide:
Pros of Hootsuite
Can post on multiple social media platforms

One of the biggest advantages Hootsuite has is its ability to post on major social media platforms. As mentioned previously, TikTok is the most recent addition to their integrations.

If you're a prolific content creator who needs to post on multiple sites simultaneously, Hootsuite is a solid choice. People who are also expanding to other social media (say, you're a TikToker who wants to grow a YouTube channel) might also consider Hootsuite as it can schedule posts easily on both platforms.

150+ App Integrations

Another thing people love about Hootsuite is its many, many app integrations.

How many, you say? How about a hundred and fifty?

From photo-editing tools like Canva to CRM software, Hubspot, Hootsuite has a wide variety of extremely handy third-party apps to help you level up your content creation game.

With Canva, you can edit your photos without leaving the Hootsuite dashboard, for example, which is very convenient if you're creating content and planning to schedule them simultaneously.

There are four kinds of apps on Hootsuite:

For video streaming
Plugins
Content source
Media library

The best part is many of the tools are free and quick to install.

Easy Social Media Channels Viewing

Thanks to the "Streams" tab, viewing your social media channels in a single dashboard is easy. You can see your feed the way it looks on their respective social media platform. Now, you can also view the likes and comments, plus respond to them if you wish.

There is also a preview of scheduled posts. Moreover, you can customize the look and feel of your streams so you can only see the information you want when you need them.

Easier Content Creation With Social Listening and INSPIRATION TOOLS

Hootsuite's social listening feature lets you know people's thoughts and opinions about your brand. That way, you can create content that is better suited for your target audience.

Meanwhile, Hootsuite's "Inspiration" tab is a treasure trove of post ideas you can check out. Their ideas catalog is divided into four categories: convert, educate, inspire, and entertain. Whether you want to amplify the digital marketing of your products and services or share something interesting, you'll find it in this tab.

Social Media Monitoring

Another thing that Hootsuite is excellent at is its social media monitoring feature.

What is social media monitoring?

Social media monitoring sounds exactly what you think it is: a listening tool that helps companies and individuals understand what people say about their brand. In other words, you use it to monitor people conversations about you.

While that sounds a little scary, it's useful for knowing what your target audience thinks of your brand and how you can improve your content/product. It can help you know the likes and dislikes of your audience. And knowing what people in your niche want is the key to having a good and effective social media strategy.

Team Access

Hootsuite's main edge over other social media management platforms is its team access feature. Users who subscribed to higher plans can add more team members, starting at 3.

Although for influencers working solo, this may not be a huge advantage, for prolific content creators who work with a team, having more additional members working on the dashboard could be a great help.
Cons of Hootsuite
Can Be Expensive

However, with extensive features comes…hefty pricing. Hootsuite plans start at $49 a month, the Professional tier. It allows only 1 user, 10 social media accounts, plus other basic tools. The features I've listed are available for the Professional tier, which is more than enough for solo influencers.

Hootsuite used to have a free plan, but now you can only have the free version if you downgrade from their paid plans. It has a 30-day free trial to help you decide whether to invest in the tool or stick to its free version.

Be warned, though, that the free plan is very, very limited: you can only schedule 5 posts a month per account.

Too Many Features that You Won't Probably Need

We've said it before, and we'll say it again: Hootsuite has A LOT of features, some of which you probably won't even need. I mean, sure, it's fantastic to have the option to integrate as many third-party apps as possible, but you may not even use them anyway.

Perhaps the main reason Hootsuite is pricey is because of its many features. Some content creators focus on one niche, while others only post on a few social media networks. If that's you, you would probably look for other, cheaper options having only the tools you need, no matter how awesome the features Hootsuite offers.

IG Stories

According to Instagram, half a billion people browse IG Stories daily, which is why it's such a waste not to post anything here.

Unfortunately, this is one of the things that Hootsuite isn't particularly good at. You will need to enable push notifications on mobile to get the IG Story you've scheduled through, which might be inconvenient. Other social media tools could post on IG Stories without a problem, so you'd probably want to look into that.

Notifications System

This isn't a major issue, per se. Some users commented that having a better notifications/inbox system could be a great help.

If you want to check every social media activity on Hootsuite alone (which could be true for those who post on many social networks), you may not know immediately that there is a comment or message.
Hootsuite Features
Those are the pros and cons of using Hootsuite. Below, we've listed some of the core features of the platform:
Multi-Platform Posting

Because Hootsuite can post and manage various social media networks, it's easy to plan and produce content.

Of course, this feature isn't unique to Hootsuite, but with their numerous app integrations, you won't have to switch between tabs and windows to schedule posts for various websites.

Moreover, it's also possible to create a single post for multiple platforms simultaneously. It saves time, and it's easy to do.

Social Media Calendar

Hootsuite has a social media calendar which can be found in the "Planner" tab. The Hootsuite calendar allows you to adjust posting schedules and edit those posts if needed.

You can also view it as a list by a week or by month. Moreover, it lets you filter the content shown on the calendar either through the platform or posting status.

Third-Party App Integrations

Hootsuite partners with apps and tools with a wide variety of features. Some of the most notable ones are:

Shopview
Google My Business
Canva
Strava
Zendesk

Vidyard
Canto
OpenText
Bynder

Lately AI
Digizuite
Brightcove
Hubspot

Many of these apps are free to add.

Social Inbox and STreams

Thanks to the Inbox and Streams tab, you can effortlessly manage your online reputation through a single dashboard.

Through the "Inbox" tab, you can check notifications and messages sent to you from all of your social media accounts.

Meanwhile, the "Streams" tab is where you can view previous and scheduled posts for every platform. You can also choose to arrange the streams and hide those inactive.

Analytics and Performance Reports

Hootsuite is also touted as having one of the best analytics tools among social media management platforms. And it's easy to see why. Their analytics tool helps you see how well your profiles and content perform across popular social media platforms.

Not only does it give you performance reports, but it also offers advice on the best times to post and other tips. It's like having an expert social media assistant by your side.

Currently, Hootsuite is running a new feature under their Analytics tab, called "Competitive Analysis." It's exactly what it says: helping you analyze how your brand performs compared to your competitors. It's still in beta, but it could be a helpful tool for many.

Inspiration Tab

Once in a while, our idea well runs dry, and it feels like there's nothing to post about. However, as you may know by now, consistency is vital to keep your audience coming back for more content. So, where to go when creator's block happens?

One great thing about using Hootsuite is that it has an inspiration board on its dashboard, which you can turn to whenever you lack post ideas. It's very handy and helpful to have.

You won't have to worry about not having post ideas if you use Hootsuite because you can click the Inspiration tab, and voila, all the inspiration for content is waiting for you.

Ad Capabilities

Because Hootsuite aims to be an all-around tool for any social media manager, it also tries to incorporate everything into its platform. Hootsuite allows you to post and boost advertisements from its dashboard.

Now that we've discussed everything you need to know about Hootsuite, here's Planoly.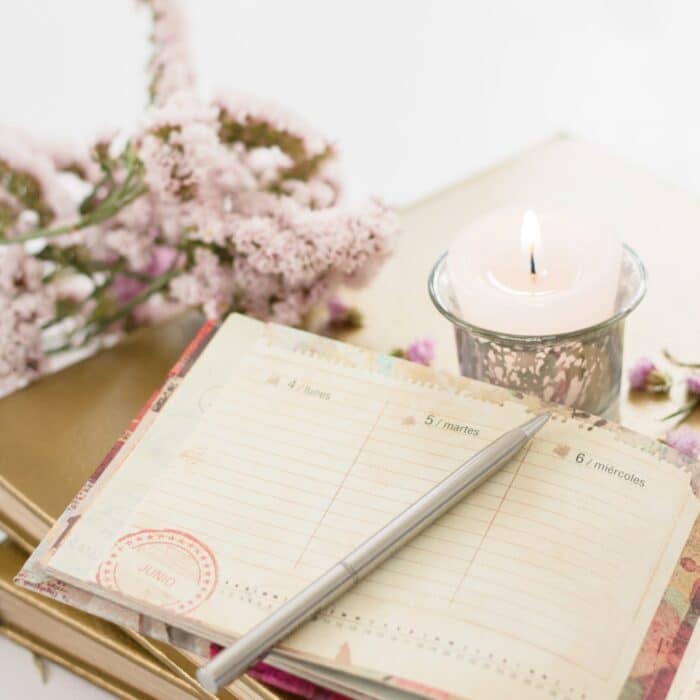 Planoly had an interesting beginning. Inspired by its co-founder Brandy Pham's struggles as she juggles managing her jewelry brand and family time, Planoly was built with one thing in mind: to help content creators plan, schedule, and strategize content using a single tool without all the complications.
The platform calls itself the "first visual planner for Instagram," and it surely lives up to its expectations. From the simple, clean, and organized UI to its wide range of tools and features that can help you create stunning social media content, Planoly is indeed one of the best platforms to use for influencers. It can help you easily plan a curated feed, especially if you create one on Instagram.
Although many of the features of Planoly are focused on Instagram social media planning, they have also integrated with other social media platforms. This includes:
You can also share posts from your accounts on these platforms with the following sites:
Here are the pros and cons of using Planoly:
Pros of Planoly
Makes Visual Planning Easy

Take a look at Planoly's social media calendar:

Personally, the main thing I like about Planoly is how easy it is to see and check practically everything on one page. On the left side is a preview of your feed, where you can see all of the posts that have been published.

Meanwhile, on the right is the social calendar where you can view your outgoing posts.

With this, you can successfully visualize and curate the content of your feed, which is a big plus for Instagram, Pinterest, and TikTok, where visuals are extremely important.

Beginner-Friendly, Simple Interface

On the Planoly dashboard, it's easy to see where everything is. All its tools are neatly arranged at the top so you can quickly access them, including the analytics, comments, and the Linkit tool.

For example, adding a new post or Instagram story is also easy. The feed preview on the left is similar to the Instagram app. Therefore, if you want to schedule a new post or story, click the button and start creating your content.

Content planning, creation, and scheduling right on the dashboard

Planoly also makes it easy to do everything right on its dashboard. Need inspiration for new content? You can check out their "Discover" tab to see trending posts by typing in a hashtag or a specific user.

Want to know the coming trends for the month? On the calendar, you can see holidays so that you can create relevant posts for your social media. Oh, and there's also the "Content Template" feature. If you want to plan your social media months, you can do that without sweat.

With these features, you don't need to create a separate social media plan on other apps because you can do everything here. Did I mention how you can schedule, adjust, and edit posts on the social media calendar itself? Yes.

Moderate Comments

Planoly makes it easy for its users to view, respond, and delete comments from their dashboards. A "Comments" tab is at the top toolbar to access it.

Product Tagging Capabilities

Selling products on Instagram is now easier with Planoly's Linkit and Sellit, a tool that allows you to place links seamlessly on your posts. Planoly's Sellit and Linkit allow its members to create a widget or mini landing page accessible through the link in the bio.

On this page, you can tag products to Instagram posts so your followers can easily browse and buy your items. You can even do so with a free plan.

Free Version Available

Good news for content creators on a tight budget: you can use Planoly for free. They have a free forever plan which lets you access its core features without paying a dime.

With a free plan, you can upload up to 30 posts a month per social media profile. Only a few social media management tools offer equally generous post slots, so this is a pro on Planoly's side.

REASONABLE PAID PLANS WITH A 7-Day Free Trial

If you're planning to upgrade to their paid plans, Planoly has some of the most reasonable pricing. Compared to Hootsuite, where prices can skyrocket to several hundred dollars, Planoly's most expensive plan starts at $36.50. Not bad at all.

They also offer a 7-day free trial if you want to try it out before making a decision.
Cons of Planoly
Free Version Is Very Limited

But since it's free, you can expect that many useful tools aren't accessible if you haven't subscribed to a paid plan. Here's a list of features not available in the free version of Planoly:

Analytic tools
Sellit (the upgraded version of Linkit)
Filter tools
Content templates
First comment posting
Reels
Product tagging
and more

With a free plan, you only have:

1 social media account
1 social media platform
1 user
30 uploads per month

Fewer Social Media Integrations

Unlike Hootsuite, though, Planoly only has 3 social media platform integrations: Instagram, Pinterest, and TikTok.

This could disadvantage content creators who are more active on other social media platforms.

Even though you can share posts to Twitter, Facebook, and YouTube, you can't post to those platforms directly without getting them on the three abovementioned social network sites first.

Lacks App Integration Feature

Compared to Hootsuite, Planoly can't integrate with various apps that could be helpful in tasks like social media monitoring, analytics, and more.

If you need tools to edit photos or software for CRM, you might want to look for other options, such as Hootsuite.
Planoly Features
Now that we've gone over the pros and cons of Planoly, here is the list of its features:
Social Media Calendar

Planoly's social media calendar is the first thing you will see once you log in to your dashboard. Their social media calendar is easy to navigate. You can also view both previous and scheduled posts in one window.

On the content calendar, you can also view the following:

Posts with the corresponding number of comments
Holidays
Scheduled posts
Notes

You can also drag posts around the calendar to adjust their posting schedule. Double-clicking the scheduled post will open the edit window.

Moreover, you can also switch to a weekly or monthly view.

Content Templates

Running out of ideas to post? Not confident with your design skills? Planoly has a Content Templates tab which you can access to get a month's worth of content templates ready to include in your social media calendar.

Although it costs a $13-a-month subscription fee, it can save you a lot of time.

Linkit and Sellit

Linkit and Sellit are Planoly's exclusive offerings which allow you to tag products to posts. For free plan users, you can use this tool to place product links on your posts.

Meanwhile, paid plan users can directly tag products in their posts. It's a fantastic way to set up a shop on your Instagram profile.

Analytics

Planoly has an analytics tool that helps you track the performance of your posts and profile. However, the basic analytics is only available for Starter Plan and above.

You can only see limited information with a free plan, such as a post-engagement overview.

Multi-Platform Posting

Planoly allows you to post on multiple platforms: Instagram, Pinterest, and TikTok. You can also share these posts on Twitter, Facebook, and YouTube.

Moreover, Planoly lets you post IG Stories and Reels as well.

Post Discover Tab

Planoly's "Discover" tab helps you know the current top posts in your niche. You can also search particular hashtags and users to see trending posts.

With this, you can get inspiration and ideas. Moreover, you can also gauge the current trend and what your audience would probably like to see in your posts.

Collections

"Collections" is Planoly's equivalent to drafts. Here, you can upload and store multiple images to be scheduled later.

This feature makes it easy to plan content since you can choose to arrange and reorganize media before posting. You can upload images in bulk and then put them into separate collections to organize them.

Team Access

Planoly lets paid plan members add more users to their accounts. The highest-paid tier, Professional, can add up to 6 people, which is neat for social media profiles with multiple people managing it.
Those are all of Planoly's features. Now, let's compare Hootsuite and Planoly head-on.
Hootsuite Vs. Planoly Comparison
For this comparison, we've set three criteria to help you select the perfect social media management platform: ease of use, features, and pricing.
Ease of Use

Regarding ease of use, Planoly has the edge over Hootsuite. When you sign up, Planoly asks you to fill out the information about what type of social media account you are running and other necessary details.

Then, it walks you through the onboarding process, making it simple for beginners to catch on.

Hootsuite also has a tutorial process. However, what makes Hootsuite a little more difficult to use than Planoly is that because it has too many features, it can overwhelm some users.

It takes longer to master than Planoly and isn't as intuitive.

Features

Hootsuite wins when it comes to features. It has one of the best analytics tools when it comes to SMM tools, plus it has many integrations.

However, even though Planoly has fewer features, it can be enough for solo content creators and influencers.

Pricing

As you probably know by now, Hootsuite is more pricey than Planoly. Its cheapest paid plan costs $49 a month, which can be heavy on an individual creator's budget.

Meanwhile, Planoly's most expensive plan is only $36.50. Planoly is, therefore, a more affordable and better solution for many influencers: if you mainly post on the social media platforms it supports.

Hootsuite Pricing:

Planoly Pricing:

Both have a free plan, however. To compare:

Hootsuite's free plan allows you to schedule 5 posts, per social media account, per month. You can only connect 2 social media profiles.
Planoly's free plan allows you to schedule 30 posts, per social media account, per month. You can only connect 1 social media profile.

If you want to try upgrading to Hootsuite and Planoly's paid plans, they have a 30-day free trial and 7-day free trial, respectively.
Hootsuite Vs. Planoly Comparison Table
Still having a hard time deciding? Here's a table to help you see their features at a glance:
| Feature | Hootsuite | Planoly |
| --- | --- | --- |
| Manage multiple SM platforms | 7 social media integrations | 3 social media integrations |
| Social Media Calendar | | Yes |
| Instagram | | Yes |
| TikTok | Yes | Yes |
| YouTube | Yes | |
| Analytics | Yes | |
| Social Media Monitoring | Yes | |
| Social Media Listening | Yes | |
| Pricing | | Yes |
| Free Trial | 30-Day free trial | 7-Day free trial |
| Free Plan Threshold | Up to 5 posts, 2 accounts | Up to 30 posts, 1 account |
| Ease of Use | | Yes |
| UI | | Yes |
| Team Access | Yes | Yes |
| Unique Features | Apps like Canva, Hubspot | Linkit and Sellit |