Yes, you've read that right: YouTube. I bet you're asking, "wait, do we now need to pay to watch content on YouTube? Are the videos uploaded there not free anymore?"
Of course, most videos uploaded on YouTube are still free. I say "most", because nowadays, there are content, perks, and features available on the platform that you need to pay for in order to get access. What I'm referring to here, are YouTube Premium and YouTube Memberships.
YouTube Premium versus YouTube Memberships
You might be already familiar with these two already. Perhaps, you've seen the banner on the YouTube front page that encourages you to upgrade to Premium to enjoy exclusive features, such as ad-free streaming. Or perhaps, you may have noticed the "Join" button just beside the "Subscribe" button on some videos you have watched.
YouTube Premium and YouTube Memberships, although they are both paid services offered by YouTube, are vastly different from one another.
With YouTube Premium, you are paying the platform to enjoy perks exclusive only to its subscribers, such as watching videos without ads, background play, and more.
Meanwhile, YouTube Memberships is a program launched by YouTube designed to help content creators earn from their content. It works quite similar to the Subscribe feature on Twitch where you can support streamers by subscribing to their channels. On YouTube, this feature is dubbed as Memberships. You can become a member on YouTube channels by clicking the "Join" button, like this: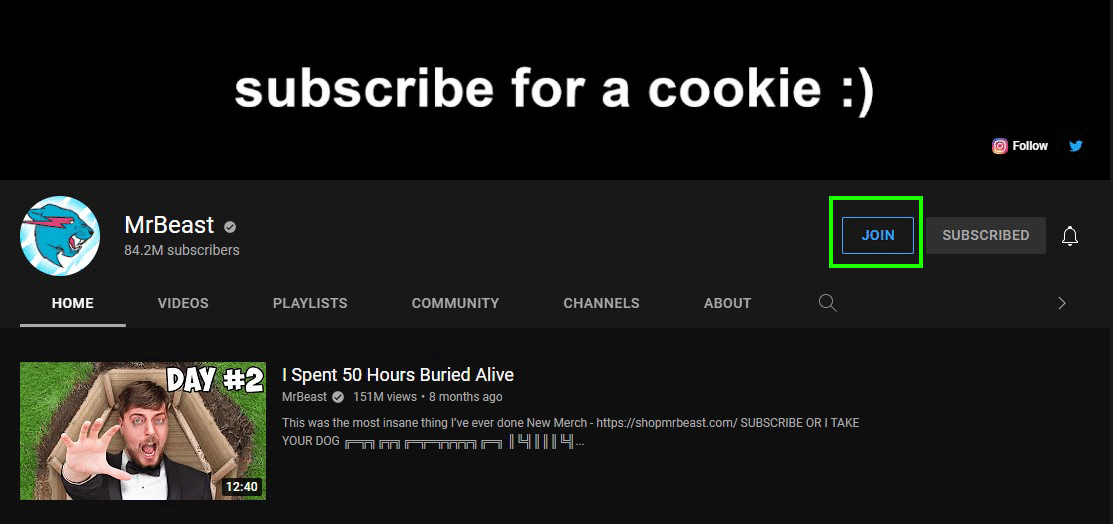 If you are confused between "subscribing" and "joining" a channel, "subscribing" to a channel means that you will be following that YouTube, similar to how following works on Twitter and Instagram. Their videos will be shown on your YouTube homepage and recommendations. "Joining" a channel, on the other hand, lets you support the YouTuber financially by paying a monthly subscription. In return, you will have access to several perks the channel offers, including exclusive emoticons, public badges, and other privileges, depending on what the creator offers.
So, if you're asking:
Do I have to pay money to subscribe to a YouTube channel?
The short answer is no. However, you can support the creator by joining their membership program.
Using YouTube costs you nothing. However, you can enjoy more privileges by paying for their services, such as YouTube Premium and YouTube Channel Memberships. Read on to know how much will it cost if you decide to subscribe to either of these two.
YouTube Premium, formerly called YouTube Red, allows you to enjoy a few more features that aren't available in the free version, such as ad-free videos.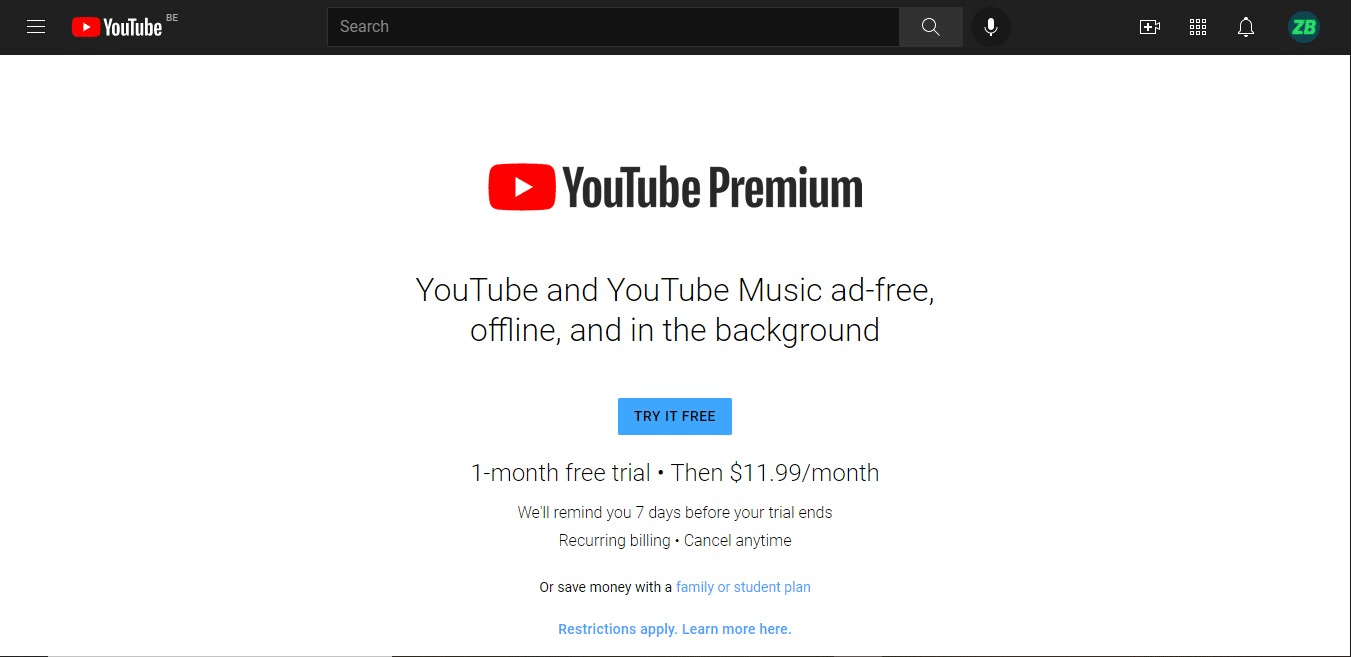 YouTube Premium price differs from one country to another. In the US, YouTube Premium costs $11.99 per month, while in the UK it costs £11.99 monthly. In other countries, subscription fees can be higher or lower. In Singapore, for example, it costs SGD 11.98, which is roughly just nine bucks in the US and a bit lower than its subscription fees. To know how much YouTube premium costs in your country, you can check it by going to their website or clicking here.
YouTube Premium also has Family and Student subscription plans, which costs $17.99 and $6.99 per month, respectively. With the Family subscription plan, you can add up to five users, as long as they live in the same household and are 13 years or older. Meanwhile, Student subscription plan, only eligible students can apply and it will require a monthly verification.
Recently, YouTube has launched YouTube Premium Lite in some parts of Europe. It offers the same ad-free viewing experience to users, minus other features that come along with the regular YouTube Premium. One of the countries where YouTube Premium Lite is now available in the Netherlands, which costs €6.99 per month.
YouTube Premium, on the other hand, is available to a lot of countries. If you're interested in upgrading to premium, you can do that by going to YouTube. Click your profile picture, select "Purchases and Memberships" on the drop-down menu, and then choose YouTube Premium.
YouTube accepts payment via debit or credit card, as well as PayPal.
What Do You Get With a YouTube Premium Subscription?
With a YouTube Premium subscription, you will get:
Ad-free videos. You won't have to sit through numerous ads while watching videos. Of course, this only includes ads shown by YouTube itself. If the uploader has embedded the ad within their video (such as a sponsorship or similar to that), you still have to choice but either to watch through it or skip it.
Background play. Now, you can use other apps or turn off your screen while playing videos in the background. If you're someone who likes to listen to hours-long ambient, background, or ASMR music on your YouTube app, then this feature might be a tempting offer.
Download videos and offline viewing. While you can download YouTube videos using the free version, you will get unlimited, higher-quality videos with Premium.
BONUS: YouTube Music and YouTube Kids
By upgrading to YouTube Premium, you will also have access to YouTube Music Premium. YouTube Music Premium is an app similar to Spotify that lets you listen to millions of songs, download them to your phone to listen even without an internet connection, and play music in the background. YouTube Music Premium alone costs $9.99. If you purchase YouTube Premium, it's like getting YouTube Music Premium at only 2 dollars.
You also get access to YouTube Kids and watch videos without ad interruptions. It also includes offline play.
Note: Access to YouTube TV is not included. You have to pay for it separately.
How Much Does a YouTuber Earn From a YouTube Premium Subscription?
Of course, since you will be paying YouTube to enjoy these premium features, the money goes directly to them. Unfortunately, YouTubers don't really earn money if people subscribe to YouTube Premium.
However, it's not like it's not helping them at all. YouTube is still a platform that hosts countless ads to earn revenue and run the website. After all, ads are still pretty useful to YouTubers.
Ads are still one way for a YouTube content creator to earn money. If you choose to remove the ads by purchasing a premium account rather than using an ad-blocker, it's like supporting YouTube itself. By doing that, you're indirectly helping content creators to earn revenue instead of relying on ads.
Is a YouTube Premium Subscription Worth It?
Admittedly, YouTube Premium Subscription isn't much of a tempting offer. Some people don't mind watching ads, while others work their way around to remove them without having to go through a paywall.
However, if ads bother you and you want to get rid of them in a way that supports YouTube, then YouTube Premium is a good deal. Plus, you get YouTube Music Premium as a bundle where you can listen to your favorite songs ad-free and download them online. In the end, it all depends on your personal preferences.
YouTube Channel Memberships Costs
YouTube Channel Memberships, on the other hand, is where you pay monthly subscription fees to a particular YouTuber. In exchange, you will get exclusive perks from the channel you joined. Perks vary from one YouTube channel to another, but what they have in common are public badges and channel emojis.
YouTube Membership costs vary from one channel to another. Depending on what the content creator offers, the prices and membership tiers also differ. Usually, YouTube Memberships costs $4.99 per month, but it can go lower or higher than that, especially if the channel has a tier system.
What Do You Get With YouTube Memberships?
Joining a channel generally gives you two types of perks:
Loyalty badges or banners. This will be shown next to your name whenever you type in live chat and comments.
Custom emoji. You can use these channel-exclusive emojis in the live chat and comments, too.
Some YouTubers also give other privileges to their channel members, including the following:
Merch or merch discount
Early access to new content
Access to past videos or live streams that are usually no longer available
Shoutouts in their videos
Invitation to Discord servers exclusive to paying members only
Live chat
Content creators can offer any kind of perks they like to their members, as long as it meets YouTube guidelines. You cannot, for example, arrange an in-person meet-up with your member or have perks directly marketed to kids.
How Much Does a YouTuber Earn From Memberships?
As a content creator, you can keep 70% of their membership revenue after all applicable taxes and fees are deducted, while YouTube covers all transaction costs. Creators who are part of an MCN (Multi-Channel Network) may receive less than 70% depending on their agreement.
Are YouTube Memberships Worth It?
If you are an avid supporter of a YouTube content creator, then yes, it's definitely worth it. Although you will only get perks like emojis and badges, you are helping a YouTuber to create more content and make a living doing what they love. However, you might want to check if the creator has other means of funding, like PayPal donations and Patreon. If they also have those available, it's up to you to decide how you are going to support them.