What is Art vs. Artist on Instagram?
The trend "Art vs. Artist" challenge refers to a style of post that an artist can use to present their artwork alongside an image of themselves to let viewers see the person who created the art.
The post is intended to act as a mini portfolio to showcase the artist's talent, often using pieces in various styles and mediums to allow Instagram users a decent glimpse into the artist's body of work. The photos of the art pieces are posted with a selfie of the artist, giving people a chance to put a face to the name.
The trend started as a way to combat the issues that modern social media have created. Often times pictures are posted to the internet and circulated in a way that effectively takes away from the creators. The Art vs. Artist hashtag began as a way to allow art to be traced back to the artist who made it, allowing anyone who enjoyed the piece to more easily offer their support.
The trend isn't only on Instagram, as well. Many artists have brought Art vs. Artist to Twitter, Facebook, and really any social media you can imagine.
While there are no true "rules" to how you create an Art vs. Artist post, there is a standard that most artists follow: A 3×3 grid with the artist's selfie in the middle surrounded by 8 examples of their art.
A basic setup would look something like this: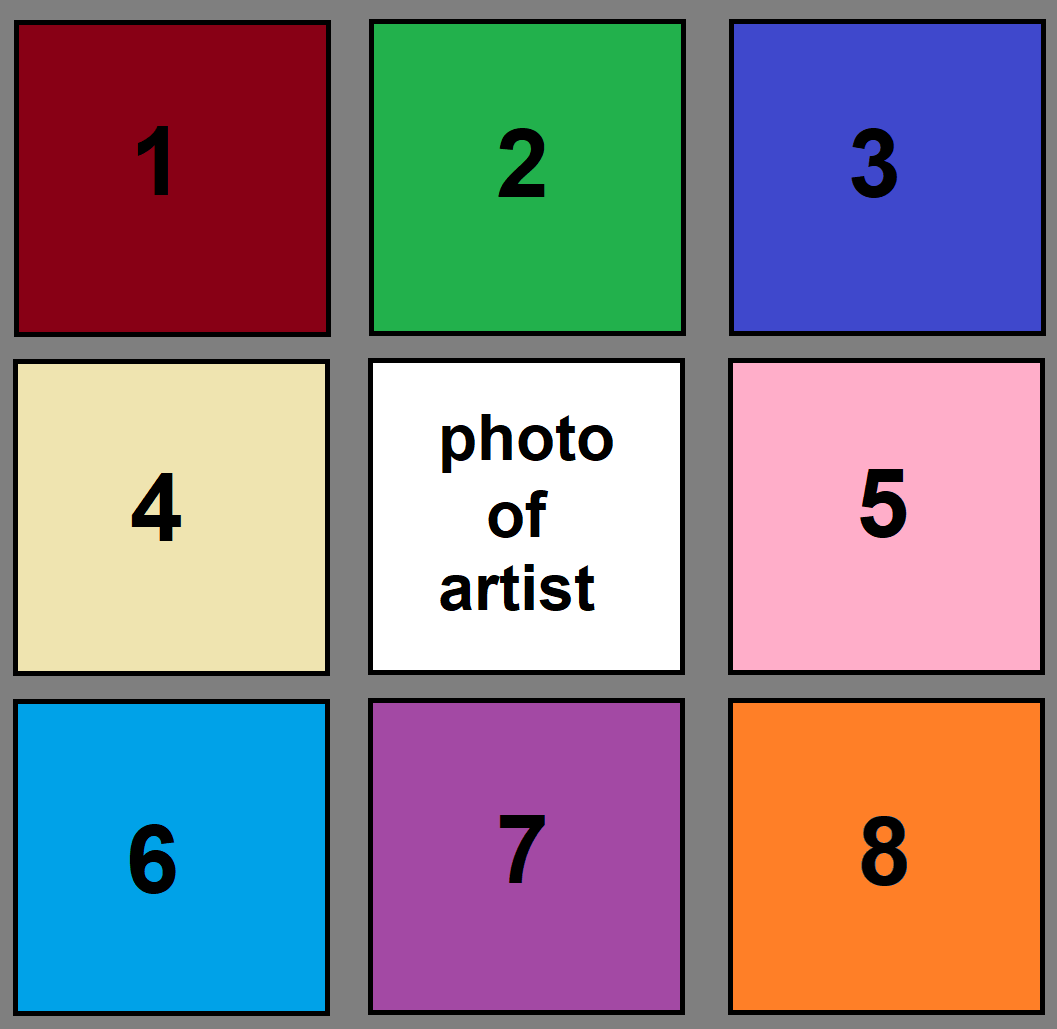 To get started, first put together 8 pieces of your own art that really show your skill as an artist. Or show off your growth over the years by starting with a very early piece and each other piece, gradually moving toward your latest creation. Ultimately the choice is yours. Just make sure the images you choose really let people know what kind of art you produce.
Now you want to find a good picture of yourself that really shows who you are. A good photo can be anything from a close-up headshot to a full-body picture. Again, the choice is yours, but the idea is to give users on the Instagram app a true look at you as an artist.
Finally, when posting, you want t make sure you include the relevant hashtags that will let users searching for posts in the various Art vs. Artist categories.
Below is a list of the most popular hashtags included with #artvsartist posts. Feel free to remove any that do not apply to your style of art.
#artvsartist #art #artist #artistsoninstagram #artwork #illustration #drawing #artoftheday #digitalart #painting #sketch #draw #arts #instaart #fanart #watercolor #portrait #arte #artofinstagram #sketchbook #artgallery #illustrator #handmade #artistsofinstagram #artistoninstagram #procreate #digitalillustration #drawings #artistvsart #digitalpainting
Now that you have the images of your artwork and a good picture of yourself, you need to create the post. While not necessary, a piece of software like Photoshop can make this process very simple. If not, using a free site like Photopea can work just fine.
If you are having trouble creating a template for your Art vs. Artist post, you can check out this BrushWarriors post with a great template for PhotoShop (and other image editing software) you can download to make this step a breeze.