TikTok gift points, coins, and diamonds–are the ways users can support creators so they can earn money on the platform.
The system may be a little hard to learn at first, but don't worry. In this article, I'll explain everything you need to know about TikTok gift points, and how, as a content creator, you can use them to earn a living on the app. So, let's start!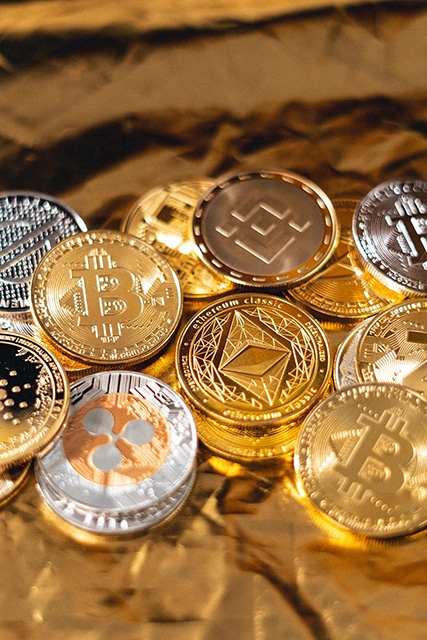 What Are TikTok Gift Coins?
TikTok virtual gifts are a way for anyone on the platform to send monetary support to their favorite creators, much like the bits and Cheer system on the live streaming platform Twitch. LIVE gifting is one of the easier methods to earn money on the TikTok app as an influencer or content creator.
Basically, viewers can give them gifts in stickers or emojis during their LIVE stream or even on regular videos (if they are eligible). Each of these has an equivalent value–referred to as TikTok coins–which can be converted into diamonds. These diamonds can be exchanged for real-world money, redeemable through payment methods such as PayPal.
However, before you can start sending gifts to content creators, you must buy TikTok coins first.
TikTok coins are the only monetary purchase allowed on the platform. To buy and send gifts on the platform, you must have coins on your TikTok balance.
Each TikTok gift has a corresponding coin value. For example, a "Rose" is worth 1 coin, while a "Rocket" is equivalent to 20,000 coins. There's also "Planet" that costs 15,000 coins. If you have five coins, "Italian Hands" is one of the virtual gifts you can send. You can spam a certain gift that has a lower coin "price" if, for example, you want to donate 50 coins.
By clicking a TikTok gift, you will be transferring the coins in that amount to the creator whom you sent them to. They can exchange TikTok coins they have received via gifting for diamonds. Once they accumulate enough diamonds, eligible content creators can redeem them for real cash.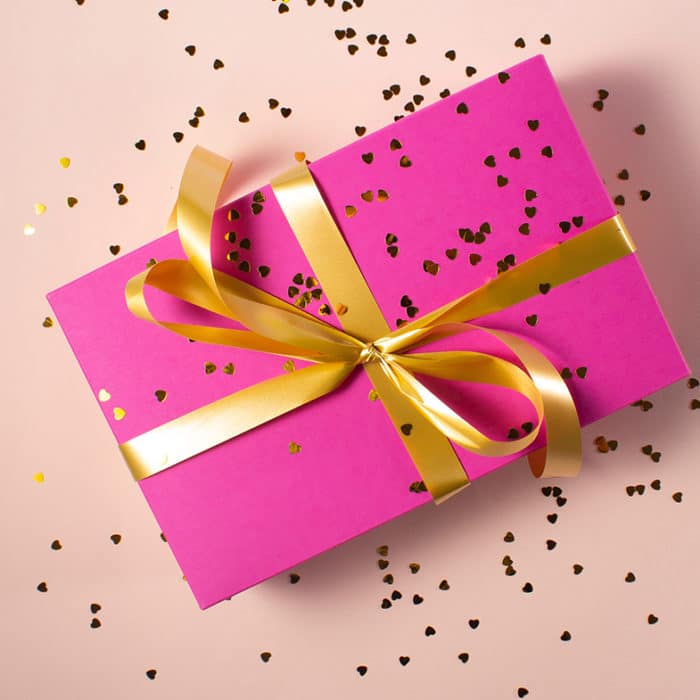 How Much Are TikTok Gift Points and Coins Worth?
As you know by know, each type of gift has its equivalent value in coins. Here are some examples of TikTok gifts and their corresponding worth to give you an idea:
Rose – 1
Panda – 5
Ice Cream Cone – 1
Instant Noodles – 5
Italian Hands – 5
Lollipop – 10
Doughnut – 30
Gamepad – 10
Disco Ball – 1,000
Planet – 15,000
Rocket – 20,000
TikTok Shuttle – 20,000
TikTok Universe – 34,999
As of the time of this writing, "TikTok Universe" is perhaps the most expensive virtual gift you can send during a TikTok LIVE video.
It's hard to ascertain how much exactly is TikTok gift points worth, especially since they are in-app currencies which basically means it's up to ByteDance to determine their value. They can even change it without prior notice. Moreover, TikTok doesn't give a concrete detail of how gift coins to diamond conversions work.
According to their Frequently Asked Questions page, however, creators can earn approximately $1 per 200 diamonds. You earn diamonds when you receive a gift from your audience.
How many coins do you need to get one diamond? Well, it's reported by some that diamonds are equivalent to half the coins' worth since TikTok gets a commission of 50% from your earnings. So, for example, if you earned a total of 1,000 coins, you might get 500 diamonds. Now, if 200 diamonds are equal to $1, then you will get probably get $2.5.
If that doesn't sound too promising, well, don't worry too much about it. These are just estimates, and TikTok may have another way to calculate earnings, and the actual sum could be vastly different from our guess.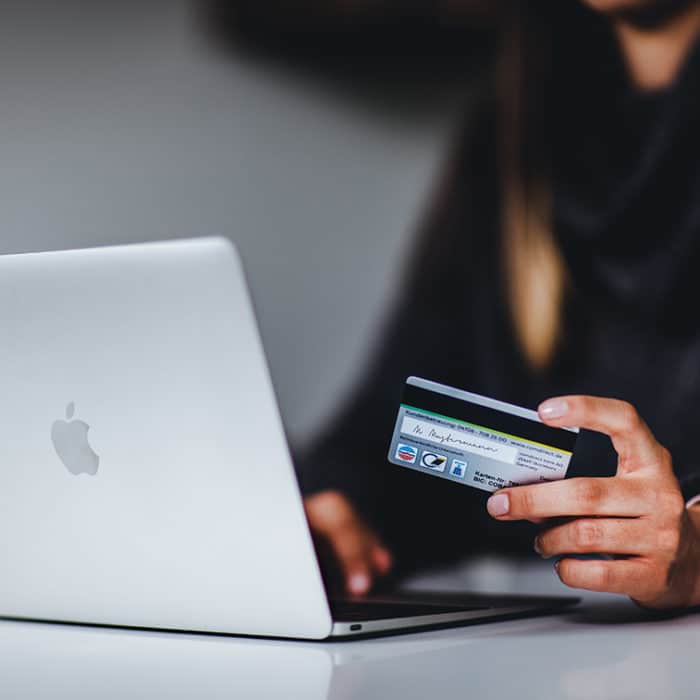 How to Purchase TikTok Coins
Purchasing coins on TikTok is easy. Please note though that to buy coins on TikTok, you need to be:
At least 18 years old or above
Have a valid account and can use an authorized payment method, like PayPal
So, if you have met all of those requirements, here are the steps on how to buy coins on TikTok:
Step 1

Open the TikTok app on your mobile device. Log in to your TikTok account if you haven't done so already.

Step 2

Head over to your profile page by tapping the person icon at the bottom right corner.

Step 3

Tap the hamburger icon (three horizontal lines) at the top right corner).

Step 4

Select "Settings and privacy".

Step 5

Choose "Balance".

Step 6

Tap the pink "Recharge" button beside the Coin balance counter.

Step 7

On the Recharge page, choose the Coin bundle you would like and tap the corresponding price beside it, which is on the pink button.

Step 8

Pay using your preferred method. Some of the payment methods TikTok accepts are Google Pay, Apple Pay, and PayPal. Follow the on-screen instructions to complete the transaction.

After this, your new TikTok balance should now reflect on the Recharge page.

If you want a more in-depth guide on purchasing and using coins, check out this guide we've made on the topic.
How to Send TikTok Gifts?
Now that you have TikTok coins in your balance, you can send gifts to your favorite creators. Remember that you can only send and receive gifts if you're 18 or older.
Sending gifts to TikTok creators usually happens during a LIVE stream. Even though TikTok allows creators to receive gifts from their regular videos, the person needs to have at least 100,000 followers to do so.
If the content creator has met this requirement, you can send TikTok gifts in the comment section of their regular post. Just tap the gift icon and select the sticker or animation you want to send: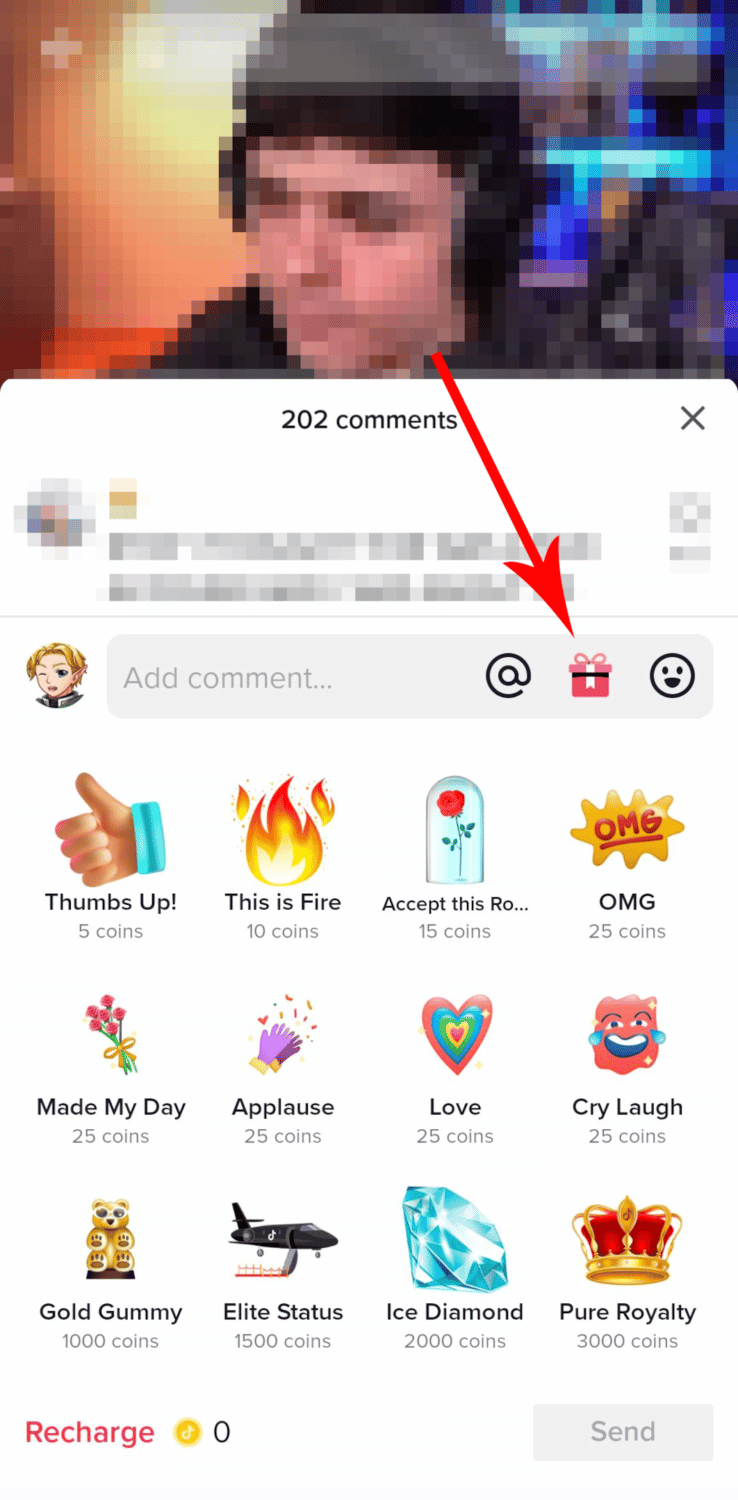 To send a TikTok gift during a LIVE stream, do the following:
Step 1

At the bottom part of the screen, tap the pink gift icon.

Step 2

Choose the gift you would like to send. Remember that the TikTok gift's worth will be deducted from your coin balance.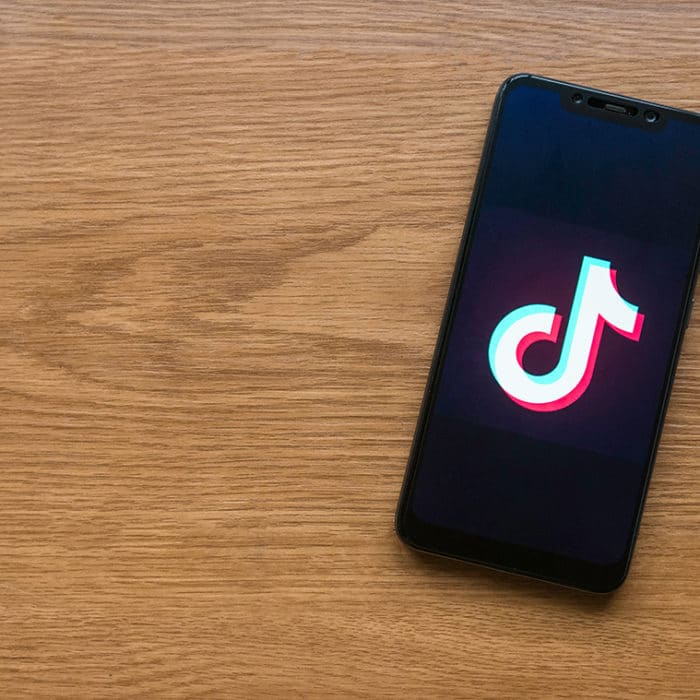 TikTok Coins vs TikTok Gifts vs Diamonds
If you're still unsure what are the differences between TikTok Coins, TikTok Gifts, and Diamonds, let me break it down for you:
TikTok Coins

TikTok coins are bought with real-world money, which is one of the main currencies on TikTok. Coins are used to buy virtual gifts, a.k.a., TikTok Gifts.

TikTok GIFTS

Gifts are virtual tips you can send to a TikTok creator. They can either come in the form of animated images or emotes. By sending TikTok gifts to your favorite creators, you give them financial support because it will be converted into diamonds.

TikTok DIAMONDS

Diamonds are tips earned from the virtual gifts your viewers sent you. These diamonds can then be exchanged for real-world cash, but they do not have a monetary value on their own. You need to redeem them to earn the money.
All in all, this is one of the ways a content creator can earn money on TikTok. By knowing how these three interconnect, you will have a much clearer idea of how you can earn money on TikTok and how to support other creators as well.
If you want to know more about TikTok's rules about this, check out their Virtual Items Policy.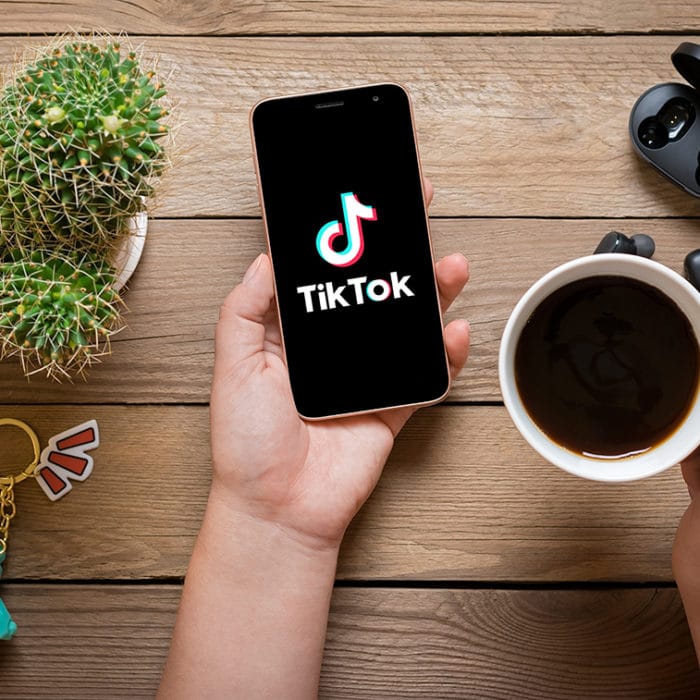 How to Cash Out TikTok Gifts and Coins
If you've met the minimum requirements and have a valid payment method, you can cash out your TikTok earnings. Do the following:
Step 1

Open TikTok and log in to your account.

Step 2

Select the person or "Me" icon to access your profile page.

Step 3

Tap the hamburger symbol.

Step 4

Go to "Balance."

Step 5

Choose "Gift revenue," which is just below the "Recharge" button.

Step 6

Tap "Withdraw."
Generally, you can cash out your earnings in US dollars. Also, make sure that your name on TikTok is also the same name on account of the payment method you will provide. For example, if you are using PayPal, your account name should be the same as the one on your TikTok profile. Make sure to check all your details first to avoid errors or possible legal issues.
For more info about withdrawing TikTok earnings, read here.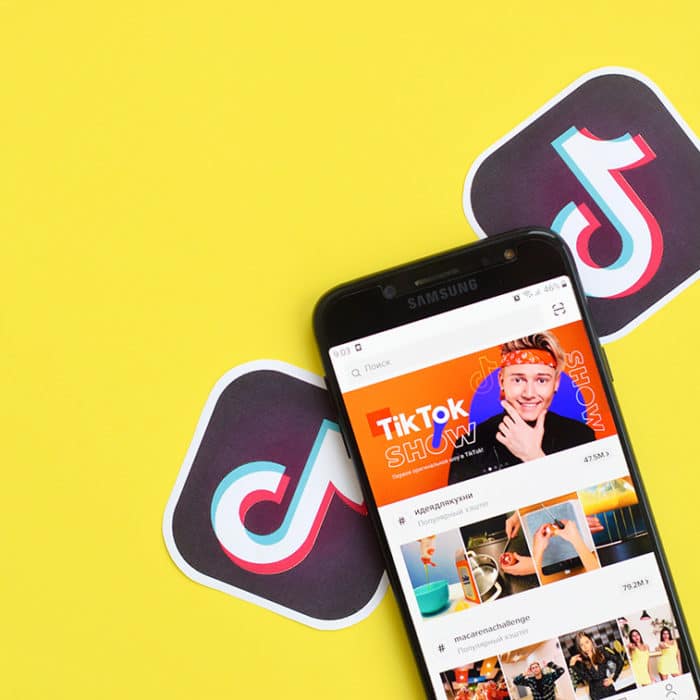 Tips for Earning TikTok Points
By now, you know how important it is to earn gift points if you want to make a living on TikTok. But how do you boost your virtual gift earnings? Here are some tips:
Don't make false promises.

Avoid telling your viewers the benefits and perks that they may get if they follow you, especially if they aren't true. For example, don't ask them to send gifts in exchange for your follow back. While granted that earning money is one of the main goals of your LIVE stream, don't scam your viewers so that you could get their hard-earned cash.

Don't force your viewers to give you gifts.

Never lash out at them if only a few people send you virtual gifts because remember, these are purchased with real money, which came from their own pockets.

Always thank your viewers.

People appreciate creators or influencers who show gratitude and humility.

Improve and create.

Earning gift points is hard, especially if you're just starting to build your fanbase on TikTok. But, no matter how slow the trickle of diamonds that come your way, don't be disheartened. Continue creating content, because after all, that's why you chose to be an influencer, right?

Stick to TikTok's Community Guidelines.

Creating content that violates TikTok's rules might get you banned, and that could spell the end of your account, including your hard-earned diamonds.

Interact with your audience.

LIVE streams are created for that purpose–so you and your audience can interact in real-time.

Observe how other creators use their LIVE videos to earn gifts.

You might get an idea for your content this way, such as Q&As, requests, or anything. You can also learn some tricks on how to keep your viewers entertained.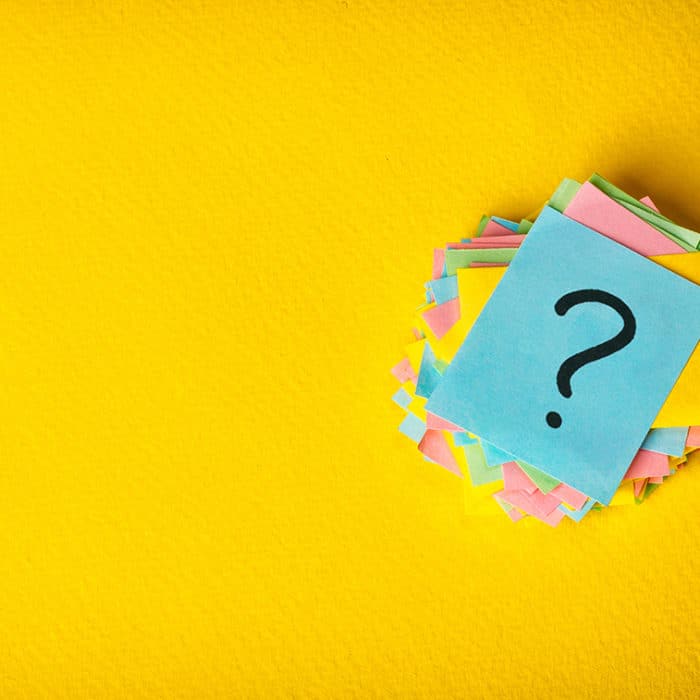 Frequently Asked Questions
Now, let's take a look at some of the most frequently asked questions by people on the web. Here they are.
Why Can't I receive TikTok Gifts?
LIVE gifting has requirements you need to meet first, such as the number of followers and age. If you couldn't receive gifts on TikTok, then it means you aren't eligible yet.
To be eligible for receiving gifts during LIVE videos you must:
Be at least 18 years old or above
Have a Personal Account (not a Business Account)
Has 10,000 followers
Has at least 1,000 video views in the last 30 days
Have posted three times during the same period
An account that doesn't have a repeating Community Guidelines violation
Be in these countries: US, UK, Spain, Germany, France, Italy
To be eligible for receiving gifts on regular videos, you must:
Have met the abovementioned requirements
Has 100,000 followers
In addition, your video post must not be any of the following to be eligible for gifting:
Ad
Stitch
Duet
Sponsored Content
Promoted Post
Why Won't TikTok Take My PayPal Information?
Always see that your PayPal information matches the one you have on TikTok. Therefore, make sure to use your actual first and last name on TikTok (just make sure it's private, though) so PayPal can get through.
In addition to that, your PayPal account must be at least 6 months and verified.
If you are sure you've met all the requirements and still can't connect your PayPal to TikTok, send a message to their support team. The "Report a problem" function can be seen on the Settings page or by going here.
What Are TikTok Gifts?
TikTok gifts are one of the currencies on the platform and can be purchased through coins. Viewers can send a virtual gift to their favorite content creator either during their LIVE video or on a regular post. These gifts will then be converted into diamonds. Creators can exchange their diamonds for real-world money. In its essence, TikTok gift points let you earn money on the platform.