Known as one of the best social media management tools, Hootsuite is sought out by businesses and influencers to make their job easier. However, it can always be tricky to determine what plan you should be on, especially since the site itself is a bit unclear at face value.
This post will help you focus on what you should consider when picking your Hootsuite plan, go over the features for each one, and even offer a comparison to some of the other top management tools in the industry.
What to Consider When Choosing Your Hootsuite Plan
There are a few things you can consider when choosing which of these social media management plans will suit your needs best:
Key Features You Need

While standard social media management features will be available on all plans, if you need advanced tools, you will likely need a business plan or above. Discuss with your team what features you need and compare your list to the plans.

Team Members

If you need team members added to your account, you must have a business plan or above. Managing social profiles can be a lot of work, and you want to ensure you have the right people on board.

Social Media Platforms

Regardless of which social media management tools you use, you need to ensure that they work with the social networks you need to manage. Check the list of the 20+ social networks that work with Hootsuite to ensure it is the right support for you.

Hootsuite Pricing

Most people don't have an unlimited budget, and you will definitely need to factor in the cost of this platform. While it is worth the investment for businesses and larger influencers, it is not cheap. Consider if you have the budget to use it for your social media efforts.
Hootsuite Pricing Plans – How Much Does Hootsuite Cost?
Hootsuite has four paid plans designed to help you with your social media strategy. These plans range from $49 – $739+ per month. Here is a breakdown of the pricing plans: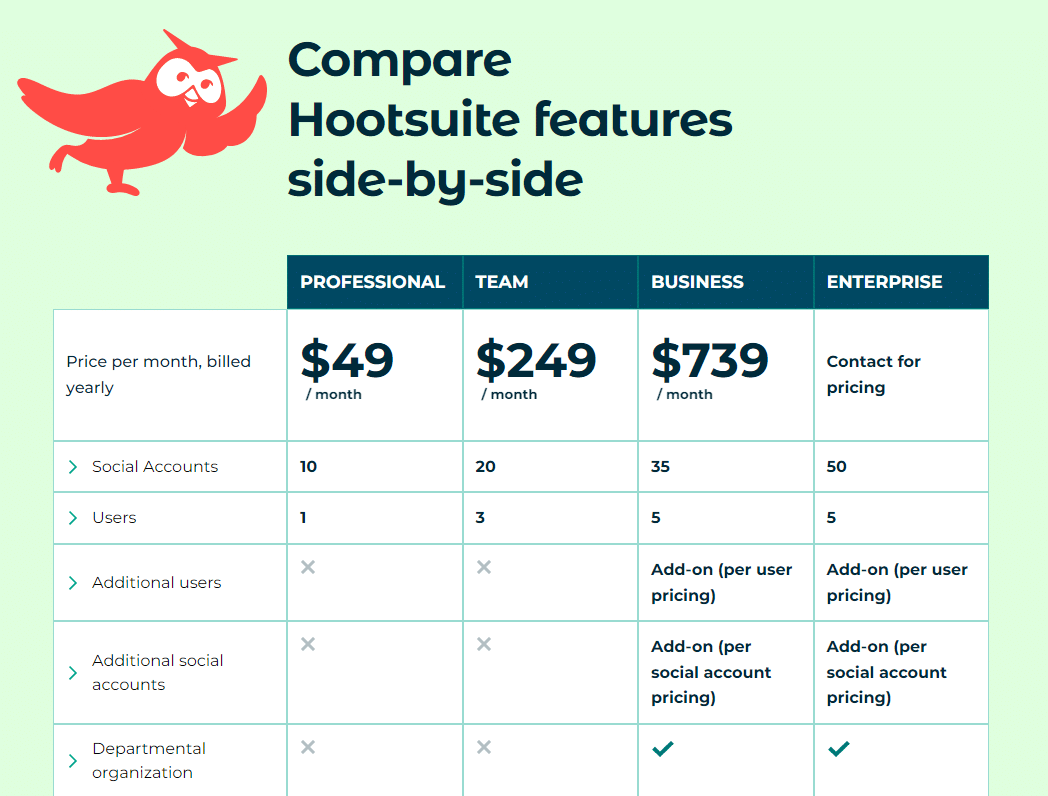 Professional Plans

The lowest-paid plans cost $49 per month. It allows 1 user and up to 10 social media accounts.

Team Plans

You will need to upgrade to a team plan if you want more than one user. These cost $249 per month and can be used by three people. You can manage up to 20 social accounts with this plan.

Business Plans

The Hootsuite cost for a business plan is $739 per month. This plan will allow you to have up to 5 users who can manage 35 social media accounts.

Enterprise Plans

As with many premium apps, you will need to contact Hootsuite and talk to their sales team. This will determine the price of the Enterprise plan. It will likely vary depending on how many users you need, the number of social accounts you want to add, and more.
You may be able to find a coupon code for Hootsuite that will allow you to save a little extra money when you sign up for a plan.
Is There a Hootsuite Free Plan?
Hootsuite does have a free plan that you can sign up for after a 30-day free trial of one of the professional and team plans. Before the trial ends, change the settings on your account.
You will need to input your credit card information when you sign up for the trial, so you must change your plan before you are charged.
While you will need to use the Enterprise plan to get all the tools that Hootsuite offers, you may find the features you need in a lower-priced plan. Here are a few of the best features that Hootsuite offers per plan:
Hootsuite Professional Plan
This is the perfect plan for budding influencers or sole entrepreneurs who need to manage everything. This plan comes with the following features:
Unlimited Social Media Posts

You can create unlimited posts with any of the paid plans on Hootsuite. Additionally, you can duplicate these posts to make slight edits and publish them periodically in the future or even on multiple platforms. The platform will also give you a recommended time to publish content.

Post Scheduling

The ability to schedule posts in advance will allow you to choose strategically the times they are published, maximizing your social media efforts. You can also set up 350 bulk scheduled posts simultaneously but schedule unlimited posts in all.

Incoming Messages

You can receive and send messages from all of your social media accounts in one place. This will allow you to quickly answer potential customers or brands that wish to work with you. Part of having a social media presence is keeping your followers happy.

Hootsuite Dashboard

You will be able to see your social inbox, Hootsuite analytics, and a publishing calendar for each of your social platforms. You can even create customizable reports that will make social media management easier.

Ad Spend

Ad spending is made easier through Hootsuite, which will track a certain amount depending on your plan.

Third Party Apps

You will be able to integrate any free third-party apps with Hootsuite, making your social media management a little bit easier.
Hootsuite Team Plan
You may need the team plan if you need multiple people on your plan or manage more accounts than the base plan. This plan is typically best for small businesses that want to make a big social media push over multiple streams.
In addition to all the features on the professional plan, you will receive the following features:
Roles

You may not want each member of your entire team to have the same amount of access to your social media accounts. Fortunately, you can set the team roles to give each person the necessary access to do their job.

Team Assignments

You will be able to assign tasks to the best member of your team. This is especially helpful when you manage multiple platforms, and some people do better with specific tasks.

Custom URL

You can track analytics from custom URLs that you share on your social media accounts.

Suspend scheduled posts

With this feature, scheduled posts can be edited or paused before publishing, so you won't have to worry about setting things up, then changing your mind later.
Hootsuite Business Plan
The business plan is best for medium-sized businesses publishing social media content to many social networks, managing more followers, and needing a bigger team to manage these social profiles.
In addition to all the features in the professional and team plans, you will also be able to take advantage of the following things:
More Users and Social Accounts

With this plan, you will be granted the ability to pay extra to add on extra users/extra social media accounts. That way, if you need more than 35 accounts, you won't need to upgrade to enterprise until you are ready.

Workflows

You will be able to set up specific departments, teams, or workflows that will help your employees manage all the social media activity with ease.

Tagging

You can tag campaigns and run reports on how things operate. These will offer basic analytics you can use to improve in the future. You will also be able to tag messages to be tracked in Hootsuite analytics as well.

Approve Messages

When running a business, you want to ensure that you connect well with other market leaders who have messaged you through your Hootsuite inbox. You can set up a system that allows your team to write out responses but have them approved by you (or a manager) before they are sent.

Asset and Content Library

You can easily create new social posts using the many templates and assets available in Hootsuite's content library. Their templates have been tested across many social media platforms to help maximize success.

Customer Support

You will be given customer service (and will be able to add premier service as an add-on. You will also be given access to some training modules.

Campaigns

You can work with a team to create campaigns right in Hootsuite. You will be able to analyze analytics to grow your social media profiles through these strategies. Don't forget that you can bulk schedule posts on multiple social media accounts so that everything works as planned.

Social Listening

You will also be able to add social listening as an add-on. This will allow you easy access to what other brands and influencers are saying about your brand.

Premium Apps

You will also be given access to premium apps that integrate with Hootsuite (or those that you already use). This will help you create better social media strategies.

Better Security

You will be able to single sign on as an add-on and be able to integrate Proofpoint for better security. This will keep your account (and social media posts) safe from anyone messing with it.
Hootsuite Enterprise Plan
The enterprise plan is typically best for larger companies that run accounts on multiple social media platforms and social profiles. To get the enterprise plan, you need to reach out to Hootsuite and set it up with them.
Not only will you receive the benefits of all the other paid plans, but you will also get the following features:
Ad Management and Analytics

You can run your ad campaigns within Hootsuite. They also include 10 ad profiles and allow you to purchase more slots.

Team Productivity Reporting

You can overlook team productivity reporting to ensure that everything is still on the right track. These will include metrics that will help you ensure things are published on your social profiles on time, and that customer service is at its peak.

ROI Reporting

You will get reports on the ROI of your investments in both paid and organic social media strategies. Learning how to improve your social media presence through this can increase your overall sales.

Customized Training

You will have access to custom one-on-one training that will help you onboard yourself and your team to Hootsuite.
How Hootsuite Plans Compare With Competitors
When writing this section of the article, I used the above metrics on what to look for in a plan to compare how Hootsuite compares to some of its top competitors. This is what I found:
Sprout Social

Sprout Social is a platform for businesses and mega-influencers who are serious about managing their social media. Their standard plan is $249 per month and allows 5 social profiles. On this plan, you will receive many of the same features you would see on Hootsuite's team and business plans.

With the Sprout Social advanced plan, you can set up automated link tracking and even chatbots for automation. You can also be alerted if you receive alerts if your brand suddenly gets a higher influx of messages or other social media activity related to it.

Later

Later is the most affordable plan on this list. The plan structure is also a little different as it allows you to manage "sets" of social media accounts. This is perfect for an influencer or small business that doesn't need to manage more than one account of each type.

Businesses that are managing more than one set can upgrade to either the growth or advanced plans, which will unlock more social media sets.

Social Champ

Social Champ works with 8 major social networks (Facebook, Twitter, LinkedIn, Pinterest, Instagram, YouTube, Google Business Profiles, and TikTok). Like Hootsuite, it offers several tools that allow you to schedule posts (and even bulk schedule) in advance.

Unlike Hootsuite, Social Champ is very clear about what they offer on their pricing page and has affordable plans for people just starting social media. They even allow two users on their Champion plan so that you can strategize with a partner.

AgoraPulse

If you are looking for entry-level social media management tools and need lower-point pricing plans, you will be saddened to hear that AgoraPulse's standard plan is the same price as Hootsuite.

That being said, it seems to be a lot more flexible in the features offered to base users. They even offer a free plan that you can try out immediately (other than after a free trial.

AgoraPulse's professional and advanced plans are far more affordable and will also track social media activity on a large scale. While their analytics may not be as tight as Hootsuite, it is still a very powerful tool that is perfect for small-medium businesses on a budget.

SocialPilot

SocialPilot is another social media management platform that offers smaller businesses and influencers tools for their budget. Their professional plan starts at $25 per month and allows a single person to manage up to 10 social accounts.
Frequently Asked Questions
Is a Hootsuite Plan Worth It?
Whether or not Hootsuite is worth it will depend on the business or person who wishes to use it. Even the Hootsuite pro plan comes at a high cost (unless you use the limited free version). Unless you have a strong social media strategy going in, it likely isn't worth it for smaller companies or individual users.
That said, Hootsuite offers detailed analytics, a content library of content, organic ROI reporting, and more. You can easily schedule, boost posts, and edit posts with your team with the right plan. If you have the budget for it, Hootsuite is definitely worth it.
Is Hootsuite the Best Social Media Marketing Tool?
Hootsuite has won awards for being the best social media marketing tool. At the 2021 MarTech Breakthrough Awards, it was named "Best Social Media Scheduling Software." It also won the same award in 2022. In November 2022, it won the "Best in Social/Influencer Tech, Social Market Management Platform" in AdWeek's annual Reader's Choice awards.
Who Uses Hootsuite?
Typically, Hootsuite users are people who manage medium-sized businesses (or larger companies) or mega-influencers who manage a social media team. The tool offers many features, such as managing multiple accounts, social listening, and team access.
Can You Change Your Hootsuite Plan?
You can change your Hootsuite plan anytime you want. Not only can you upgrade (or downgrade) your plan, but you can choose between monthly and annual billing. You can also manage your users at any time. You are not locked into any specific contract.