It is worth noting that if you are creating an account and only make adult content and perform then your success will be very unlikely. The most important factor in your ability to grow subs and build on Onlyfans really comes down to how effective you are at marketing yourself. Building on other social media platforms is a must if you want to become a top creator and make Onlyfans a primary source of income.
Your odds of a positive result will increase dramatically if you already have a following on Instagram, Snapchat, Tiktok, or Twitter. The ability to promote to an existing audience will often result in a small few willing to pay money for more intimate material. Onlyfans also makes getting to know your favorite performers easy and allows influencers to set their own pricing and even charge for sending and receiving direct messages. It is worth noting that a large portion of earnings for men on Onlyfans comes from live cam shows. If this is something you are not comfortable with or have no interest in pursuing then Onlyfans might not be the platform for you.
It is difficult to start an Onlyfans account with under 10,000 followers on Instagram.

Reno Gold (top 0.02% Male Performer on Onlyfans)
This post will cover a few examples of males that are successful on the platform and how they established their personal brands.
How Much Can Guys Actually Make on Onlyfans?
According to our research, a male on Onlyfans who is actively producing exclusive content will make an average of $80 dollars per month. This is just shy of short of half the amount of money the average girl makes. A great deal of this is due to the platform's demographics with most of the fans being male themselves.
While there is a growing demand for LGBTQ performers, straight models who are aiming to gain female fans will have a difficult time on the platform. Most of the top male talent promote to multiple markets including gay and bisexual demographics. Content creators who focus on explicit content on a regular basis also have higher odds of success.
Example of a Top Male Earner
Men make up the majority of fans that purchase photos and videos from Onlyfans. Therefore if you are willing to sell to a gay or bisexual demographic you have a far higher earning potential. Reno Gold is a top model that earns $100,000 a month on the platform.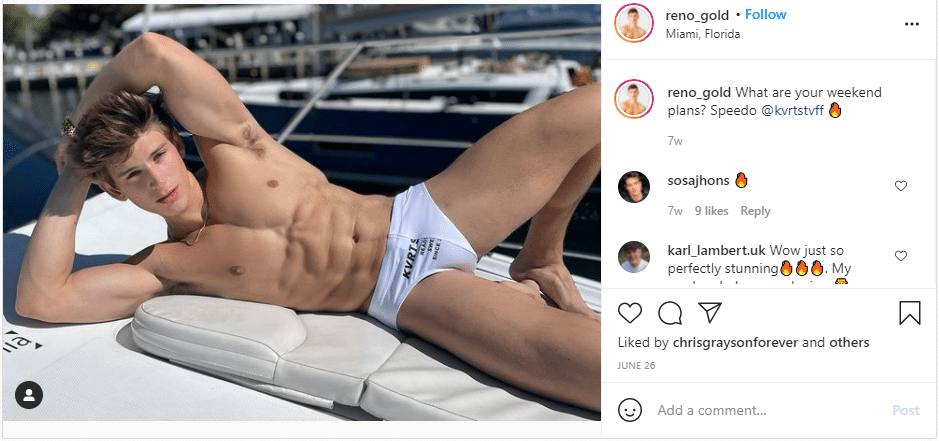 What is his secret? He understands his audience and has built his profile to encourage tipping by earning exclusive videos at set dollar amounts. He charges $15 per month for a subscription and posts a minimum of one new photo every day but will regularly release even more. Per week he will put out one long solo scene that is at least 15 minutes long in duration. He also regularly surprises his viewers with secret bonus extras not mentioned in the video descriptions.
"Make your top tippers feel special. Follow them on Instagram, build a connection."
His super high earnings are also due to the structure of his profile. While a lot of content is released through the subscription he will also post videos with other male performers. For these, he will charge anywhere from $20-$50 depending on the level of production and video length.
Understand Your Audience

You should consider the kind of content you're going to produce before signing up. If you don't know much about your target audience, then this might cause problems down the line and prevent you from growing.

To find out what your fans want to see, the simplest way is to ask them. Once you get started direct message a few of your active subscribers. Most people will be more than willing to answer and the more you ask the more information you will have to make decisions with. If you are yet to start on the platform you could ask followers on other social media platforms or even other models you would like to emulate.

Be Creative With Your Content

If you want to be successful on Onlyfans, it's important to create unique content. The best thing you could do is try different things until something clicks. This means creating original content rather than copying what others are doing. There's always room for improvement!

The key is finding ways to stand out among all the competition. So instead of trying to copy someone else's style, think outside the box and come up with ideas that no one else is doing. That's when you'll find yourself getting noticed and attracting followers.

Most Top Talent Uses Multiple Platforms at the Same Time

How capable you are really varies depending on several factors, the most important being how much time you spend on promotion. Making a free account is a great way to build popularity and funnel your more active users to a secondary premium account.

Top male performers also use other similar sites like MyFreeCams, Chaturbate, LiveJasmin, CamSoda, etc. These websites provide additional features such as live chat rooms, cam2cam feature, private shows, etc. If you are using just Onlyfans alone then you don't have the same reach as other performers in an already saturated market. You can see our full article on the top Onlyfans alternatives here.

Tips to Help

If you need some basics to start, try out some of the following:

Be Yourself – Don't worry too much about being perfect because nobody expects perfection anyway.
Make the type of content you enjoy – If you hate what you're doing it won't be sustainable.
Switch up the location – No one wants to see photos or videos in the same spot all the time.
Collaborate with other performers – While this isn't for everyone and holds higher risks in terms of safety, working with other top models is a great way to build your brand.
Try some niche content – There are plenty of different types of adult content. Why not try a single month where you experiment with doing something new and exciting?
When shooting adult content, there are two main aspects that need to be considered: lighting and equipment. Both play a huge role in producing high-quality images. Here are some tips to help you get started:
Lighting

There are many options available today but if you plan to shoot outdoors, natural light is usually the most effective option. It doesn't matter whether it's sunny or cloudy; sunlight provides enough illumination to make any scene look good. However, if you prefer indoor shoots, artificial lights are often used. They offer better control over color temperature and intensity which makes them ideal for professional productions.

Camera

A DSLR camera is by far the most popular choice for amateur photographers. Its compact size allows easy handling while providing excellent image quality. A tripod is highly recommended since it helps stabilize the camera during long exposure shots. When choosing lenses, wide-angle ones are preferred due to their ability to capture large areas without losing detail.